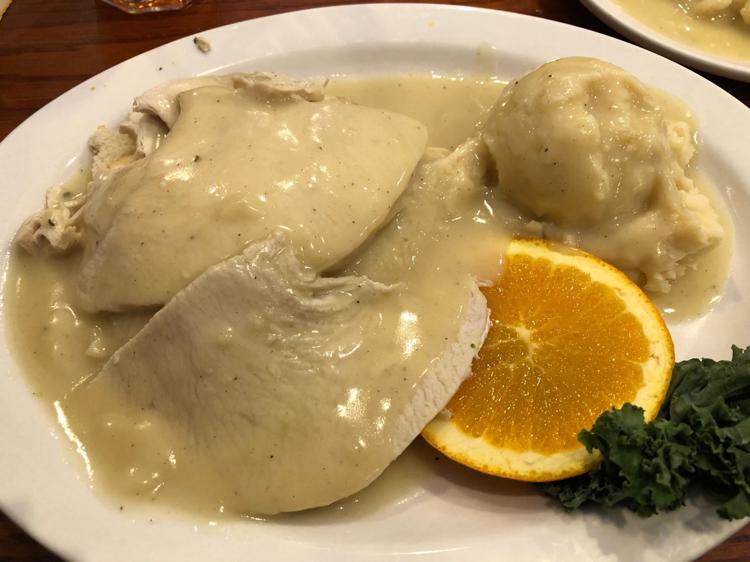 If you're looking for a hearty meal, journey to Eli's Golden Apple Restaurant and Pancake House.
The restaurant, in Crown Point,  offers diners a large selection of meals for breakfast, lunch and dinner.
Whether you have a taste for old-fashioned pancakes or waffles, assorted crepes, egg dishes, sandwiches, quick appetizers, full meals or tasty desserts, you won't go wrong visiting Eli's Golden Apple.
The eatery, which is comfortable, and features table and booth seating, also has a bar on the premises. TVs abound throughout the eatery. There are even small television sets at each of the booths for diners' enjoyment.
While diners will find a traditional American menu at the restaurant, there's also a menu of Macedonian specialties at Eli's. That specialty menu features items such as Smoked Macedonian Leek Sausage (Lukanci) for $12.95; Chebapi ($10.95);  Pork or Chicken Kabobs ($12.95) and more.
You have free articles remaining.
Keep reading for FREE!
Enjoy more articles by signing up or logging in. No credit card required.
We visited Eli's on a recent Saturday afternoon for lunch. Our meal choices were the Hot Turkey sandwich ($8.29); and the Half Fried Chicken ($9.59). The meals came with a choice of soup or salad so we tried both a cup of lemon rice soup and the dinner salad with creamy garlic dressing.
The lemon rice soup had a medium consistency and was well seasoned. The garlic dressing was one of the best we'd tasted and was on the sweet side.
Both the turkey and chicken meals were substantial servings and proved flavorful.
Eli's menu also features assorted breakfasts such as Golden Brown Oven Baked Large Apple Pancake ($11.95); Oven Baked German Pancake ($10.89); Crepes Suzette ($7.69); French Opera Crepes ($7.95); Bacon Waffle ($7.89); Gypsy Skillet ($7.95); Sonoma Skillet ($8.59); various omelets, Benedicts; French Toast; and other dishes.
Assorted lunch and dinner items include an appetizer Sampler Platter ($12.95); Taco Salad ($7.89); BLT Cheese Wrap ($7.59); Burritos ($7.95); Full Slab Ribs ($17.95); Ribeye Steak ($13.95); and a lot more.
There's much to choose from at Eli's and it's safe to say no one will leave hungry.