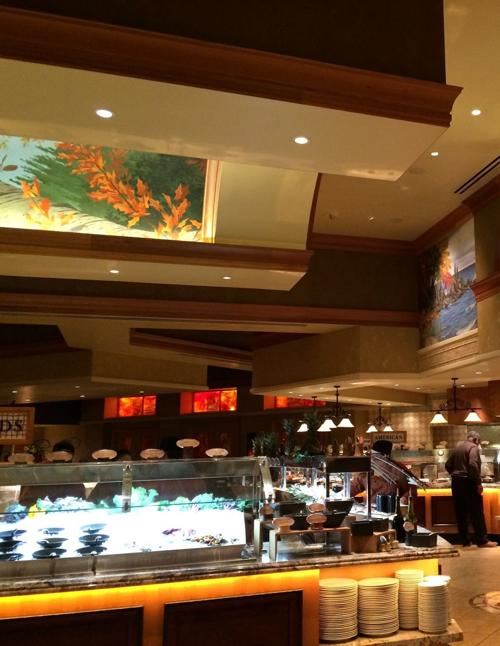 If you're looking for a place to enjoy a buffet or brunch, the following list is just a sample of eateries that offer a buffet or brunch regularly or for special occasions. Call for more information.
Ameristar, 777 Ameristar Blvd., East Chicago. Visit ameristar.com. The Heritage Buffet features an assortment of stations, including an omelet station, carved meats, breakfast and brunch items, Asian offerings, seafood, salad, desserts and more.
The Bennett-Curtis House, 302 W. Taylor St., Grant Park, Illinois. Call 815-465-2288. The restaurant features special occasion brunches.
Blue Chip Casino, 777 Blue Chip Drive, Michigan City. Visit bluechipcasino.com. The casino's Options buffet features an assortment of food stations.
Ciao Bella, 1514 U.S. 41, Schererville. Call 219-322-6800 or visit ciaobellaonline.com. The Italian eatery features a luncheon buffet. Call for more information.
Four Winds Casino, 1111 Wilson Road, New Buffalo, Michigan. Call 866-4WINDS1 or visit fourwindscasino.com. An international buffet is featured at the Four Winds Casino's The Buffet.
Glenwood Oaks Rib and Chop House, 106 N. Main St., Glenwood, Illinois. Call 708-758-4400 or visit glenwoodoaks.com. The restaurant features special holiday brunches and more. Call for details.
Harbor View Buffet, Majestic Star Casino, Gary. Visit majesticstarcasino.com. The Harbor View Buffet features a variety of stations, including carved meats, various side dishes, seafood, desserts and more.
Horseshoe Casino, 777 Casino Center Drive, Hammond; horseshoehammond.com. The Village Square Buffet at the casino has different-themed stations. The buffet is open from 10 a.m. to 9 p.m. Call for more details.