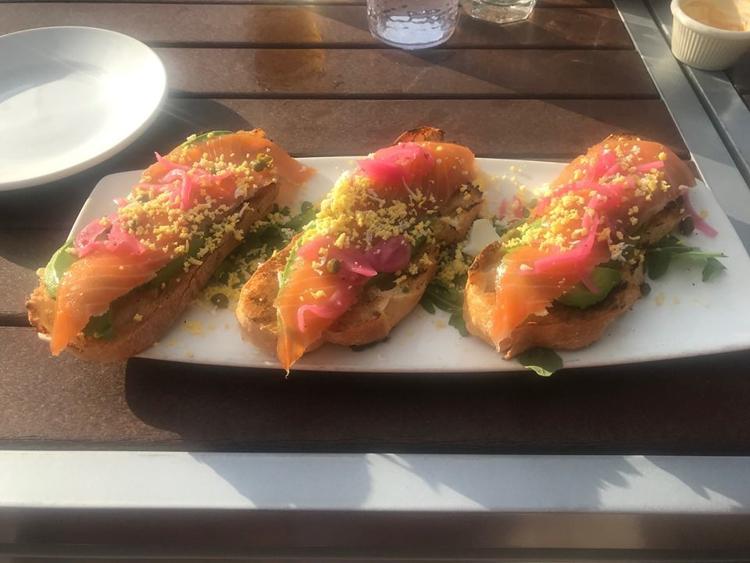 Here in coastal Indiana, people savor the summer flocking to the beaches along the sandy South Shore of Lake Michigan. 
With its idyllic, highly Instagrammable lighthouse and sweeping views of the dunes, the Michigan City beachfront is one of the top attractions along the lakefront in Northwest Indiana.
Many dining options are clustered a short walk from the beach, including Sunset Grille, Fish Camp, Mateys Restaurant, Galveston Steakhouse and Shoreline Brewery.
Nestled in a former train station, Arcadia Cafe + Bar, at 100 Washington St., by the Amtrak station and the Lubeznik Center for the Arts, has a patio with tiki torches that offers a sweeping view of Trail Creek emptying into Lake Michigan. The upscale contemporary eatery boasts many seafood options, including fresh catch specials, as one would expect with its lakefront location.
Among its many small plates like Thai curried mussels, carbonara deviled eggs, ahi tuna ceviche and blistered shishito peppers, Arcadia offers an interesting spin on the trendy avocado toast that features smoked salmon. Rustic artisanal sourdough bread is topped with rich, creamy slices of fresh avocado and a cured smoked sockeye salmon that's savory without being too salty. It's garnished with pickled onions and capers.
Grated eggs add richness and texture. The ingredients blend together in a sublime way, and are plated in an impeccable fashion.