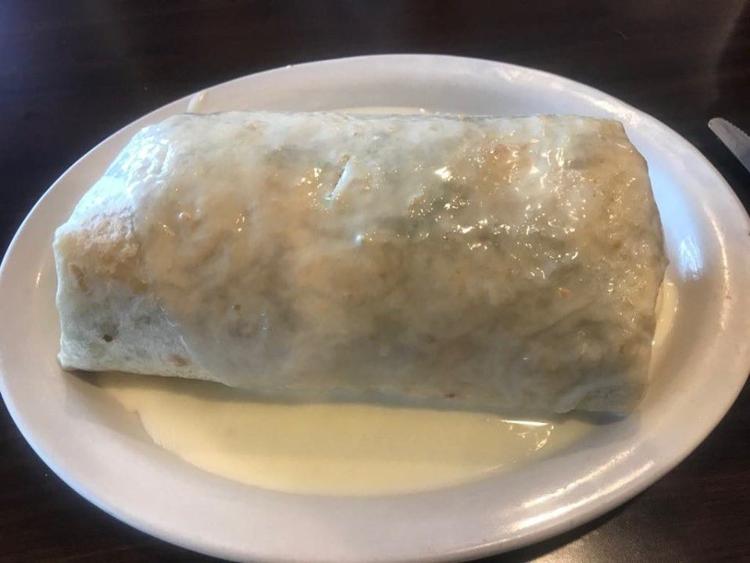 There are burritos, and then there are fat burritos.
No one could accuse Fat Burrito at 1302 N. Main St. in Crown Point of false advertising. The Mexican restaurant's wet Mission-style burritos are indeed ginormous, a feast not for the faint of appetite.
The menu also includes tacos, breakfast items and appetizers, but why would you go to a place called Fat Burrito and order anything else?
Fat Burrito, which recently opened a second location called Fat Burrito #2 at 2128 45th Ave. in Highland, offers an eponymous Fat Burrito in which cheese, beans, lettuce, tomato, sour cream and your choice of pork, ground beef or chicken are stuffed into a massive 16-inch tortilla. It's 50 cents extra if you'd like steak or chorizo.
The huge brick of food – about the size of a Nerf football – is blanketed with a rich, savory melted cheese and finished off with your choice of red or green sauce. The green sauce is more mild and complex in flavor. The meat is succulent and well-seasoned.
The portions are – needless to say – generous.
In fact, if you're not hungry, you'll likely leave with a to-go container.
For more information, call 219-213-2382 for Crown Point or 219-513-8027 for Highland, or find the business on Facebook.
Stay up-to-date on what's happening
Receive the latest in local entertainment news in your inbox weekly!