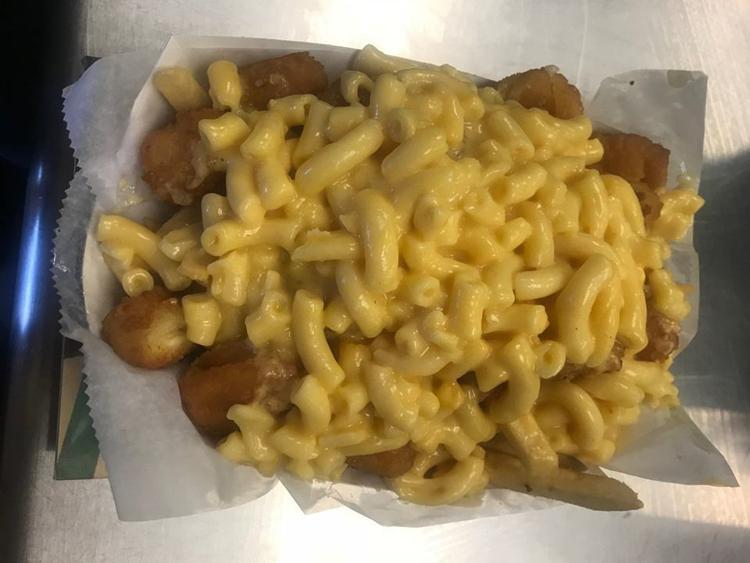 Ballparks, both major league and minor, are notorious for over-the-top menu items like foot-long hot dogs, Coney Dog egg rolls, baseball helmets full of ice cream, and the Texas Rangers' Fowl Pole, a two-pound chicken tender served on a bed of waffle fries.
Such culinary monstrosities, often straight out of the deep frier, get fans talking, make great Instagram photos, generate free word-of-mouth publicity and give you something to brag about if your team falls short that night.
The U.S. Steel Yard – home of the Gary SouthShore RailCats – is getting into the game this year with fries that best could be described as "redonkulous."
The Region concession stand behind home plate sells 219 Fries, a basket of crispy golden French fries piled high with cheese curds, corn fritters, and mac and cheese.
Technically, there could be more Region-y fry toppings like Gyros, elote, cevapi, halupki, Italian Beef, Polish sausage, jerk chicken, taco meat, halupki meat, or maybe even lake perch nuggets, pulled or shredded frog legs, a blanket of party-cut pizza cheese or something like that. Maybe you could chop up some pierogi and sprinkle it on there.
The toppings seem arbitrary and not geographically bound to Northwest Indiana specifically. Cheese curds are more of a Wisconsin thing, corn fritters more of a downstate delicacy. Mac and cheese at least feels grounded in the soul food tradition that's often enjoyed in Gary.
But the symphony of flavors works in a hearty, starchy dish that could easily be shared as a meal for two. The mac and cheese solves a common problem with cheese fries in that the cheese sauce gets glooped and too heavily concentrated in a small area, over just a few fries. It's more evenly distributed under a blanket of mac and cheese, which also makes it easier to drag the other fries through for a coating of cheesiness.
The cheese curds offer the pure euphoria of melted cheese, while the creamed corn in the corn fritters lends a contrasting sweetness.
These loaded fries are so loaded that it's the kind of dish you can boast about finishing, which is the whole point in the end.