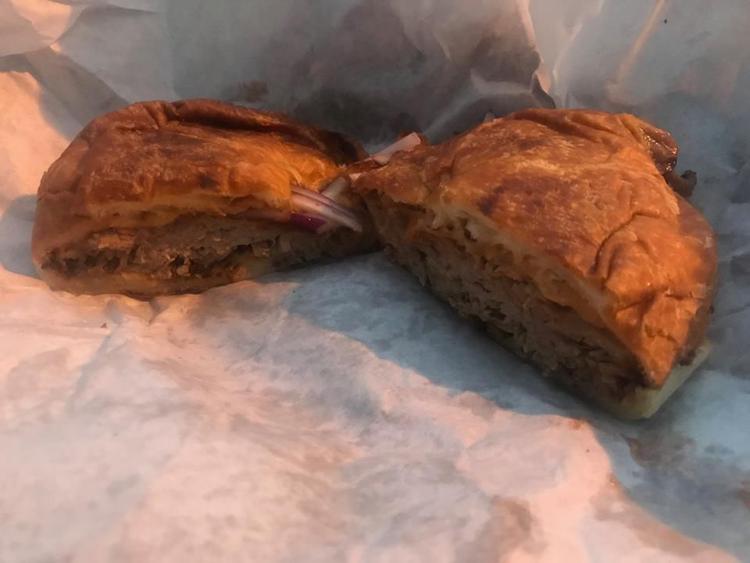 GRIFFITH  — "Nihilist Arby's" has established itself as a popular Twitter humor account that puts an absurdist spin on the generic content brands normally post on social media with tweets like "You're older than you've ever been, younger than you'll ever be again, and you're also a pointless biological accident in an entropic void and your sentience literally has zero significance. Eat Arby's." and "When you consider that nothing matters, checking nutrition facts, being vegan, voting, loving your spouse, getting out of bed each day, it's all pretty meaningless. Soon the sun will eat the earth and nothing you've ever heard of will even exist at all. Eat Arby's."
Such black humor has helped it amass more than 357,000 followers. 
Grindhouse Cafe in Griffith pays homage to the subversive "Nihilist Arby's" and the meat-havin', cowboy hat-wearing fast food chain itself with the "Nihilist Grindhouse," a far superior and more sophisticated version of the roast beef sandwich that Arby's is known for.
Keep reading for FREE!
Enjoy more articles by signing up or logging in. No credit card required.
Thinly sliced roast beef is piled high and topped with tangy barbecue sauce that evokes a classic Arby's roast beef topped with Arby's sauce. Sharp cheddar cheese and piquant red onions add more flavor without distracting too much from the fresh deli meat that takes center stage. All that beefy goodness is served in a buttery, savory croissant.
It's one of many high-caliber sandwiches available at Grindhouse, where they're served with a side of chips. There's also of course a wealth of coffee and tea options at the eclectically decorated coffee shop at 146 N. Broad St. in downtown Griffith, where one can find locally produced zines, posters for upcoming punk shows or bags of coffee beans from area roasteries.
For more information, visit grindhouse.cafe or call 219.595.5678.