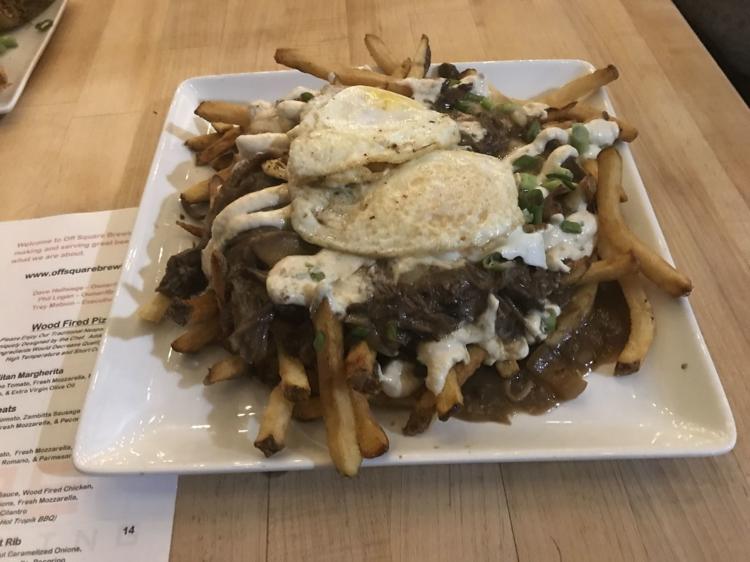 Off Square Brewing has been a hot table in Crown Point, usually requiring a wait to be seated on weekend evenings.
Northwest Indiana's newest craft brewery is, of course, off the downtown square at 1100 Delaware Parkway near Interstate 65 on Crown Point's east side. It pours many interesting craft beers such as the Howeler in the Rye rye pale ale, the Native Son Saison farmhouse ale, and the Bold Betty Nitro Stout that's brewed with Dagger Mountain espresso from Valparaiso and served on a nitro tap to create a cappuccino-like experience.
Off Square offers a spacious industrial environment with an executive chef who works from scratch. The pub food is familiar but high-end and impeccably executed. Many dishes incorporate the beer, such as a pulled chicken sandwich topped with apple jalapeno slaw and barbecue sauce infused with Tropik Thunder New England-style hazy India Pale Ale that's loaded with pineapple.
The kitchen braises short ribs with Off Square's Angry Betty Stout made with cocoa nibs, cocoa shells and flaked oats, and plops the tender, slow-stewed meat atop its phenomenal poutine, the heavy, greasy Canadian cuisine that's arguably Montreal's greatest gift to the world.
Like many craft breweries, Off Square offers poutine, perhaps to help sop up all the hoppy and well-crafted beer you'll consume there. Its Beer Braised Short Rib Poutine builds upon a base of hand-cut fries with a beef and mushroom gravy, roasted garlic crema and fresh cheese curds.
It's a savory, salty, chewy pile of culinary goodness that's heftier and more filling than many an entree. You can add an over-easy egg, and dear Lord why wouldn't you? Break the yolk and let it drizzle gloriously over everything.