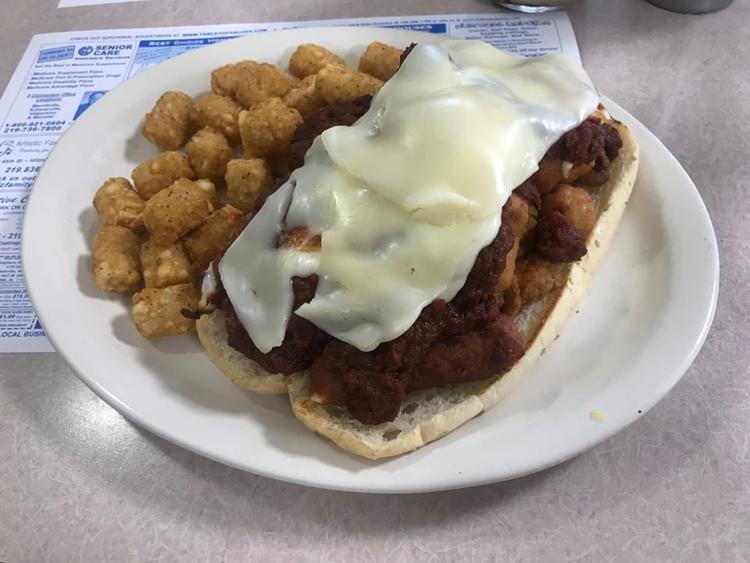 HIGHLAND — There are mere sandwiches, and then there are the hulking "Overstuffed Bombs" at Overstuffed Skillets and Sandwiches in Highland.
Chef Tim Champagne opened the breakfast and lunch restaurant in the old Zorba's space at 3309 45th St. on the border of Highland and Griffith. He's run the concessions for the Chicago Fire, Colorado Rockies, Oakland A's, San Jose Sharks, and Gary South Shore RailCats.
Champagne likes to feed his customers at the 140-seat restaurant and warns it's not a place for those looking to cut calories. The portions are so large no one will leave hungry and you may even need a to-go container.
The menu includes skillets, omelets, fried bologna sandwiches, Philly cheesesteaks, burgers, wings, and salads. Champagne also uses the old ballpark trick of having extreme menu items to get people excited and talking, as with the Churro Dog offered by the Arizona Diamondbacks or the baseball helmet full of ice cream served at Guaranteed Rate Field.
Keep reading for FREE!
Enjoy more articles by signing up or logging in. No credit card required.
The Overstuffed Bomb sandwiches are too massive to be eaten like sandwiches – they have to be tackled with a knife and fork. The open-face Italian Bomb for instance is piled so high it would be impossible to fold the sub roll into any semblance of a sub sandwich.
The Italian Bomb tops chicken fingers with mozzarella sticks, pepperoni pizza bites, cheese curds, chunky marinara sauce and a warm blanket of mozzarella cheese. It is a lot of fried food if that's not your thing. It almost seems like a fantasy wish list dreamed up by an overly enthusiastic kid at a cafeteria table.
For the daring, it offers four different cheeses and two meats in a glorious pile of delicious goodness. It's almost like a Chicken parmesan on steroids. It's so huge you feel like your name should be hung up on the wall if you can finish it in one sitting.
It comes with your choice of fries, tots or onion rings.