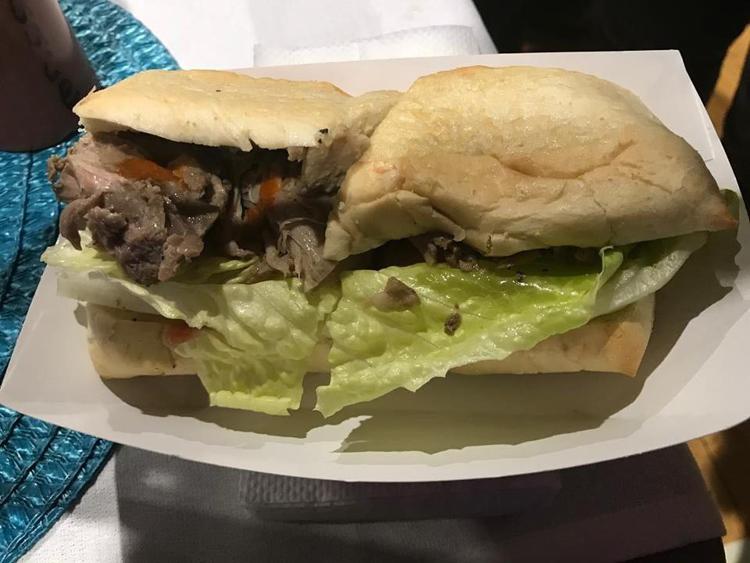 Solita's Puerto Rican Food at 4906 Indianapolis Blvd. in East Chicago serves up grandma's recipes with fresh ingredients and "no short cuts."
The Puerto Rican restaurant serves up a variety of traditional favorites such as lechon, or slow-roasted garlic pork, with Puerto Rican rice, potato salad and bread. It has lechon, fish, steak, and steak/lechon versions of the jibarito, the Puerto Rican sandwich that uses fried green plantains instead of a bun and that has taken off in popularity since it was invented in Chicago's Humboldt Park neighborhood in 1996.
If you're not in the mood for chewy, rich plantain, Solita's also offers a lechon sandwich on a less adventurous hoagie roll. The thinly sliced lechon is well seasoned and expertly grilled. It's topped with savory grilled onions and the crisp contrast of fresh romaine lettuce and Roma tomatoes. 
A schmear of garlic mayo gives it a kick. 
The steak sandwich and the various jibaritos all come with a side of rice or fries.
Solita's Puerto Rican Food is open from noon to 7 p.m. Tuesday through Friday, and from noon to 5 p.m. Saturday.
For more information, call 219-397-0338 or find it on Facebook.