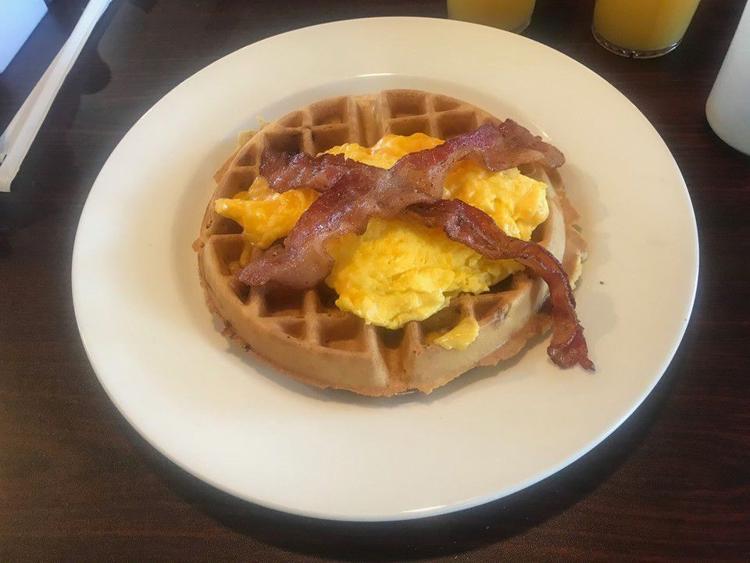 A man of strong opinions, the uber-masculine and mustachioed Ron Swanson from the cult show "Parks and Recreation" is known for his hatred of skim milk that's "water lying about being milk" and love of steak, more steak, whiskey, woodworking, still more steak and, of course, breakfast foods.
Swanson asserts at different points that "there is no sadness that can't be cured by breakfast foods" and "I can't think of anything more noble to go to war over than bacon and eggs."
Buttermilk Pancake House at 805 Ridge Road in Munster, one of the Region's newest pancake houses, pays tribute to Pawnee, Indiana's deadpan parks director with the Ron Swanson Sweet N Savory.
Keep reading for FREE!
Enjoy more articles by signing up or logging in. No credit card required.
Owner Sam Yfantis came up with it as an alternative to the trendy but nearly ubiquitous chicken and waffles while watching the show, and it's something the real Ron Swanson would have loved, packed as it is with his favorite food.
The Ron Swanson Sweet N Savory is a bacon-filled waffle topped with more bacon and scrambled cheesy eggs. It's hearty, meaty and satisfying, combining popular breakfast staples so you can spear them all on one forkful. It's also better constructed than many similarly over-the-top items with just the right proportion of bacon to waffle so it's not just an onslaught of saltiness from the bacon, which it could have been. Pour some maple syrup on there to maximize the sweet/salty dynamic and go to town.
Buttermilk Pancake House is open from 7 a.m. to 3 p.m. daily.
For more information, call 219-513-8119.