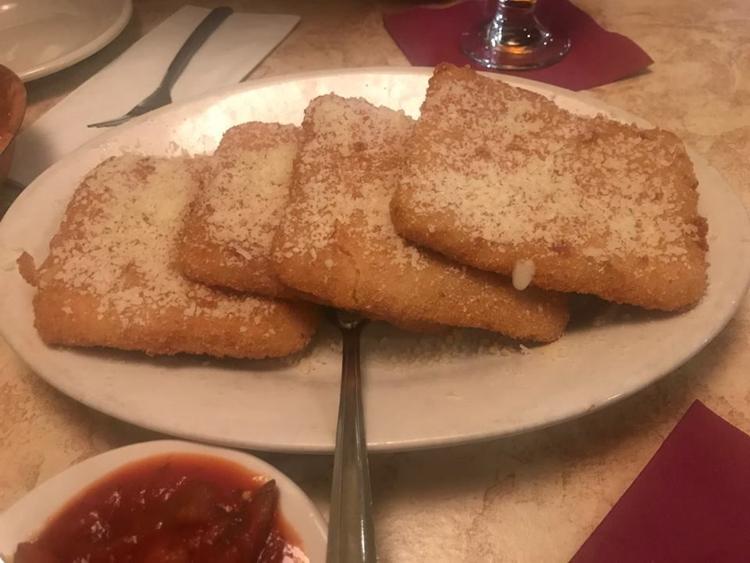 There comes a fateful, momentous time in every person's life when they need to get their fried cheese on.
Should one reach such a critical juncture, they might want to consider a trip to The Town Club Restaurant and Lounge at 2904 45th St., Highland. The vintage steakhouse and seafood place was founded in 1947 and has maintained a cozy neighborhood feel.
A traditional menu includes many crowd-pleasers like steak, prime rib, chops, corn-fed Indiana duck, lake perch, frog legs, and Canadian walleye. It's a time-tested place that has stayed true to its roots and also pours a large martini.
Starters include shrimp cocktail, crab cakes, and many fried items, including onion rings, zucchini, and mushrooms. You can't go wrong with the huge cheese squares that make mozzarella cheese sticks look like toothpicks.
You can get a half order of two squares of fried mozzarella and cheddar for $6 or a full order of four for $10. If you ask for the full order, the waitress will always ask if you've tried them before and caution you that it's a lot of food.
It is indeed a lot of decadent melted cheese, lightly breaded, fried to gooey perfection and sprinkled with fresh Parmesan in case you weren't already getting enough dairy. The cheese squares are the size of saucers and deeply satisfying, and are so big they can only really be tackled with a fork and knife. One or two of them will probably exceed your daily dietary requirement for calcium.
For an extra $1, you can order the house-made marinara sauce for dipping. An ideal accompaniment, it's fresh and filled with sliced peppers and mushrooms.