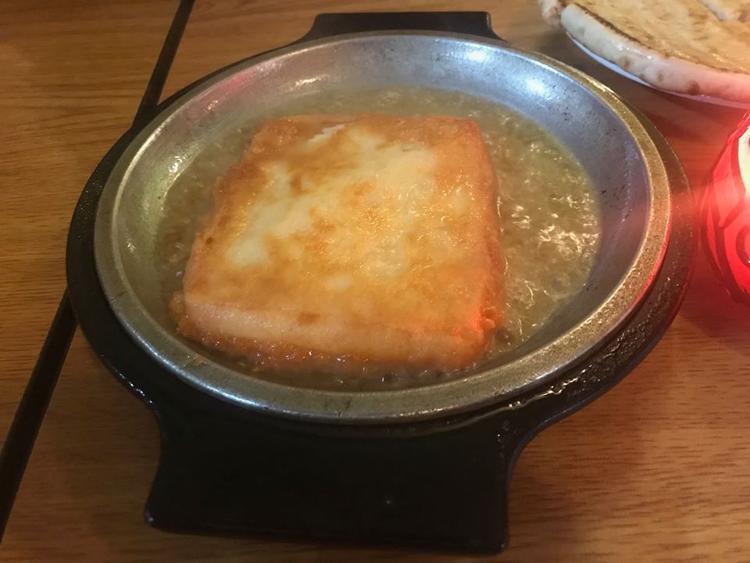 HAMMOND — Much in the way that General Tso's Chicken was invented in New York City and not China, saganaki is a North American Greek food that was first conceived of here.
By most accounts, the popular staple at Greek restaurants originated at The Parthenon in Chicago's Greektown neighborhood in 1968. 
When it's on the menu, it's hard not to order because it's, well, fun. It's easy to be delighted by the showmanship of the waiter bringing out the frying pan, dousing the cheese in liquor, lighting it aflame while shouting "Opa," and extinguishing the leaping flames by squeezing lemon juice on it.
Go to a busy Greek restaurant for dinner and you'll see a thousand little fires shoot up throughout the dining room amid a chorus of Opas. And every time, everyone will pause to watch.
Tzatziki Greek Street Food at 7231 Indianapolis Blvd #2 in Hammond, formerly The Stuffed Pepper and with a lot of the same menu items, offers the fiery appetizer, and it's a treat that's expertly flambéed at your table.
The exterior of the fried cheese is crisp, while the melted interior is gooey and bubbling. The melted cheese is savory and absolutely decadent. You can enjoy it on fresh pita bread or just devour it with a knife and fork. 
Your only complaint will be when it's gone.
For more information, call 219.803.0273 or find Tzatziki Greek Street Food on Facebook.
Stay up-to-date on what's happening
Receive the latest in local entertainment news in your inbox weekly!