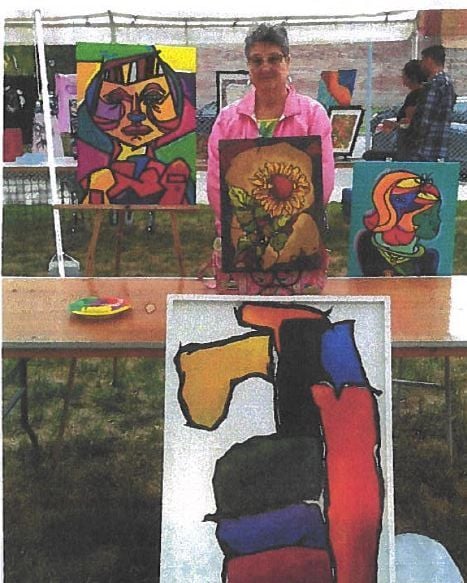 Dunes artist Madeleine Schooley is exhibiting her brightly colored artwork at the Queen of All Saints Catholic Church in Michigan City this summer.
Schooley, a 43-year retired children's art educator who now lives near the shores of Lake Michigan, will show her paintings in the Legacy Center Gallery at Queen of All Saints Catholic Church at 1725 E. Barker Ave. in Michigan City. Her colorful work is influenced by Matisse, Modigliani and other European painters, especially of modernist and expressionist schools.  
"The Legacy Center Gallery is proud to host the artwork of dunes artist Madeleine Schooley in their next installation. Located on the campus of Queen of All Saints Catholic Church in Michigan City, the Legacy Center serves as a multi-use gathering space for community and parish functions," the church said in a press release. "The Gallery seeks to incorporate the parish with the greater arts community."
The solo exhibit is entitled "Diversity." It will be on display through Sept. 30.
"Her acrylic style of painting is representative of curvilinear lines and objects, stained-glass windows and the art nouveau period with influences from Picasso, Matisse, Tiffany and Klimt. Madeleine is inspired by her faith, the dunes, and garden nature," the church said in a press release. "She works in a strong sense of lines, shapes and color. This exhibit is titled 'diversity' due to the differences in the thick, black outlines seen on the paintings; Madeleine calls these lines her signature style. She also works in mixed media and collage. Four of her pieces are hanging in the Uptown Arts District as banners."
An artist reception in which the public can meet the artist will take place from 8:30 a.m. to noon on Aug. 8. Schooley will have cards for sale, with some of the proceeds benefiting the school's art department.
The exhibit is free and open to the public. It can be viewed during the regular Legacy Center hours between 6 a.m. and 8 p.m. Monday through Thursday, from 6 a.m. to 6 p.m. Friday and Saturday, and 6 a.m. to 3 p.m. on Sunday. 
People can enter the gallery through the Esther Street entrance.