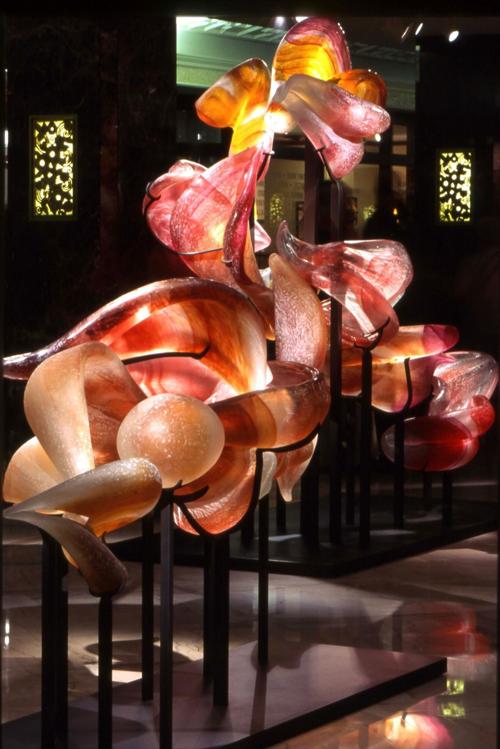 If you're planning a trip to or passing through Northeast Indiana any time soon, make sure to stop by The Fort Wayne Museum of Art.
Seattle-based artist Martin Blank, a premier glass sculptor whose work is on display at museums in New York City, Boston and Shanghai, recently installed "Repose in Amber" which is billed as one of the largest hot-sculpted landscapes in the world, at FWMoA in downtown Fort Wayne. He and his team visited in late November to erect the massive sculpture of a reclining feminine figure comprised from five islands of hot-sculpted glass in various tones of amber.
The sculpture in FWMoA's Karl S. and Ella L. Bolander gallery was hand sculpted with 2,000-degree heat at the end of a 200-pound glass blowpipe. It was originally commissioned for Chicago's 120 S. LaSalle Building by real estate developer Mike Kurzman.
"This sculpture embodies the mirroring principle in my work: the way two juxtaposed objects relate to one another," Blank said. "When walking around 'Repose in Amber,' the eye moves and flows through each object, and the negative spaces created between empty space become as powerful and potent as the actual objects themselves."
The immersive artwork museum-goers can walk through and around is filled with "intentional hidden objects intended to draw your eye in from the field of color and evoke notions of surprise and wonder."
"The viewer can look closely at one cubic inch and find something intriguing, like the veils created from crushed glass floating inside each element, or the way the grains of color are stretched and pulled by the heat. The air bubbles captured inside are like insects in amber, trapped for eternity," Blank said. "I've expressed the continuity between the landscape and the human in 'Repose in Amber.' My work revolves around trying to reconnect with our natural source – drawing on humanistic and naturalistic qualities, and honoring their connection."
Known for massive public installations, Blank worked early in his career with Dale Chihuly, one of the best known and more revered glass sculptors in the world, before striking out on his own and starting his own studio.
"For me, great visual art is like music. All you have to do is feel it," Blank said. "I believe it can connect you back to the source of a simple being."