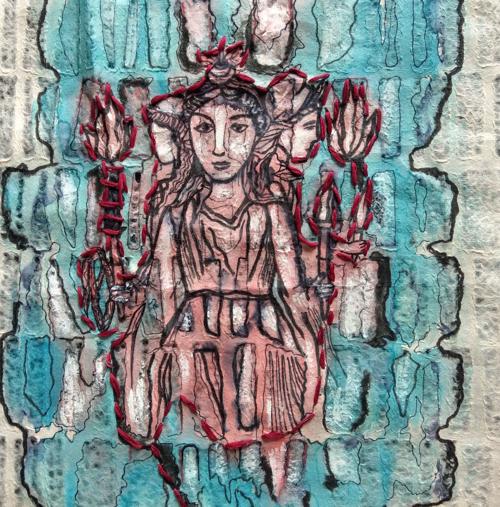 South Suburban College graduate and established artist Jessica Ann Wagner is returning to exhibit her art at the Dorothea Thiel Gallery in the community college in South Holland.
Her solo exhibition "Goddess Guide Us – Divine Feminine Intervention" will be displayed from Oct. 24 through Nov. 15 in the fourth-floor gallery at the campus at 15800 State St.
The Chicago-based artist has exhibited her work nationally, including in Chicago, New York, Los Angeles, San Francisco, Austin, Connecticut, and Vermont. She earned a Bachelor of Fine Arts in Painting from the University of Illinois at Chicago and a Masters in Visual Arts from the Vermont College of Fine Arts. She created the artist collective "The Witch House" while working in Austin, which she left for Chicago in 2017.
"Her work explores her relationship to the Divine Feminine and the magical inner workings of the cosmos," South Suburban College said in a press release. "Ceremony is an important aspect of her artwork and they are often performed prior to the creation of her work to bring forth goddess energies."
Wagner will give an artist lecture at the reception in Room 4340 at 1 p.m. on Thursday, Oct. 31. The event and the exhibit are free and open to the public.
The gallery is open from 9 a.m. to 4 p.m. Monday through Friday.
For more information, email jtassin@ssc.edu or call 708-596-2000, ext. 2316.
Stay up-to-date on what's happening
Receive the latest in local entertainment news in your inbox weekly!