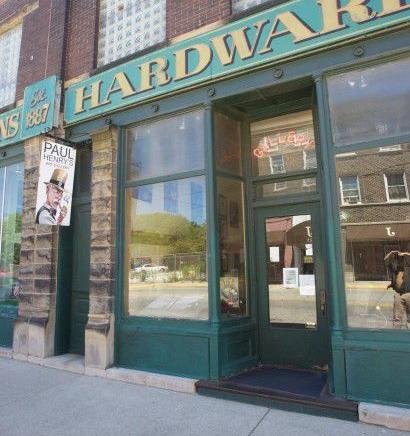 Graffiti artists will be painting live Saturday in downtown Hammond for the 2016 Hammond Art Tour, when galleries across the city will open their doors.
The Downtown Hammond Council stages the annual event, now in its fifth year, to showcase the arts in Hammond, including at Paul Henry's Art Gallery, the South Shore Arts Substation No. 9, the Hammond Arts Center and the Towle Theatre Downtown. Artists will be on hand at many of the venues, often creating new pieces over the course of the day.
"Art has transformed our city and downtown," said Karen Maravilla, owner of It's Just Serendipity and president of the Downtown Hammond Council. "We use this event to showcase how beautiful downtown has become."
Hammond businesses also will be displaying artworks all day Saturday. The Yale Building at 200 Russell St. will showcase a collection of circus art posters from the 1920s to 1940s, while Hammond-based artist Felix Maldonado will show his work at the new EAT restaurant at 5201 Hohman Ave. Cafe Borgia owner Mike Jesso's band, Two Bukk Chukk, will play at the eatery between 6 and 8 p.m.
A variety of local graffiti artists will work on a permanent installation at Dan Rabin Plaza at 425 Sibley St., while the Northwest Indiana Artist Collective THE UNWONTED will have a pop-up outdoor gallery and music festival outside of the South Shore Arts Substation No. 9 at 435 Fayette St. Maldanado will paint a new mural in the alley that leads to his FLEX Studios at 5129 Hohman Ave.
Visitors can pop in his gallery, where there will be a DJ and light refreshments.
About 750 people attended last year, and the art tour has gotten bigger every year, Maravilla said.
"Downtown is diverse with the federal courthouse and the attorney's offices and doctors and the hospital," she said. "But there's also the Towle Theatre, It's Just Serendipity and the Arts. We have a lot of downtown professionals who are here from 9 to 5, and then go somewhere else for relaxation and fun. We need to show that there's a lot to do here, a lot of different options."
The Hammond Art Tour is free and takes place from 10 a.m. to 10 p.m. Saturday.