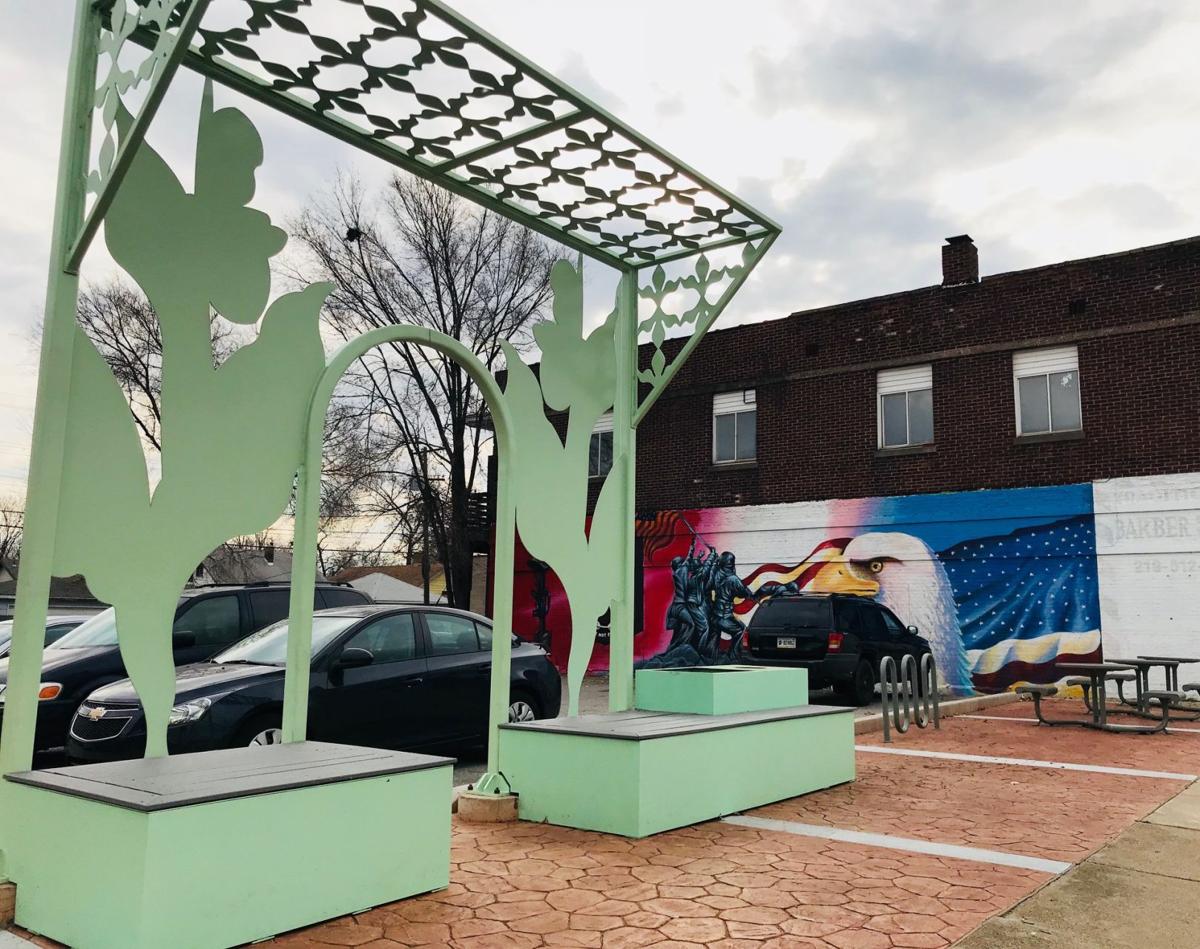 HAMMOND — The city has added a striking sculpture with a pinch of green space along the Kennedy Avenue corridor in the Hessville neighborhood.
Jocelyn Jane Prue's new 14-foot-tall sculpture on Kennedy Avenue and Martha Street pays homage to the native lady's slipper orchid, a flower that can be found in the nearby Gibson Woods. The public art includes built-in seats, built-in trash cans, planter boxes and a parklette, or the type of small urban park that's been popularized in cities like New York, San Francisco, Milan and Tokyo.
"The sculpture and parklette celebrate the local beauty of our community and its native orchid and is the first step in many to reinforce the positive and softer aspects of this community on the rise," said Prue, director of the nearby White Ripple Gallery.
She hoped to depict the indigenous flower as "majestic, verdant pillar of hope and beauty springing forth from the industrial concrete that serves as its soil, mirroring the transformation that this traditional Midwestern community has endeavored to accomplish."
Prue also designed sister sculptures along the Kennedy Avenue side of Hessville Park for the project, which was commissioned by the Hessville Commerce and Community Creative. Other sponsors include Hessville 6th District Councilman Scott Rakos, the Legacy Foundation, Thomson Reuters, Hammond Mayor Thomas McDermott Jr. and the city's gaming grant program.
"When I saw the actual drawings, I got excited," Rakos said. "This is a great beginning for what we can do to start revitalizing Hessville and its business community."
A hope is the sculptures will draw more people to the burgeoning arts district, which includes White Ripple Gallery, Chess Gallery and Frida's Cafe, as well as many long-established bars and businesses.
"We are already seeing residents and visitors enjoying their lunch or reading a book, or even riding their bikes to our newly created spaces," Prue said. "Businesses have told us how much they appreciate our mayor and councilman for making this a reality, and they say it's driving foot traffic into their stores."
She traveled to study parklettes, "a cutting-edge trend to reclaim small portions of densely developed areas in large cities for green space and gathering places usually installed on sidewalks, street corners and parking lots."
"The built-in modular seating in Italy and the artistic public spaces in Midwestern and Mid-Atlantic cities similar to Hammond have shown success in bringing communities together," Prue said. "Through their example, I created a custom design tailored to this area, the first of its kind in Indiana."
Prue plans to install a second set of sister sculptures and seats near the entrance of Life Point Church in Hessville by spring of next year.
"I hope to continue partnering with our city and councilmen as well as other communities in Northwest Indiana to expand artistic corridors and green space throughout the Region," Prue said.