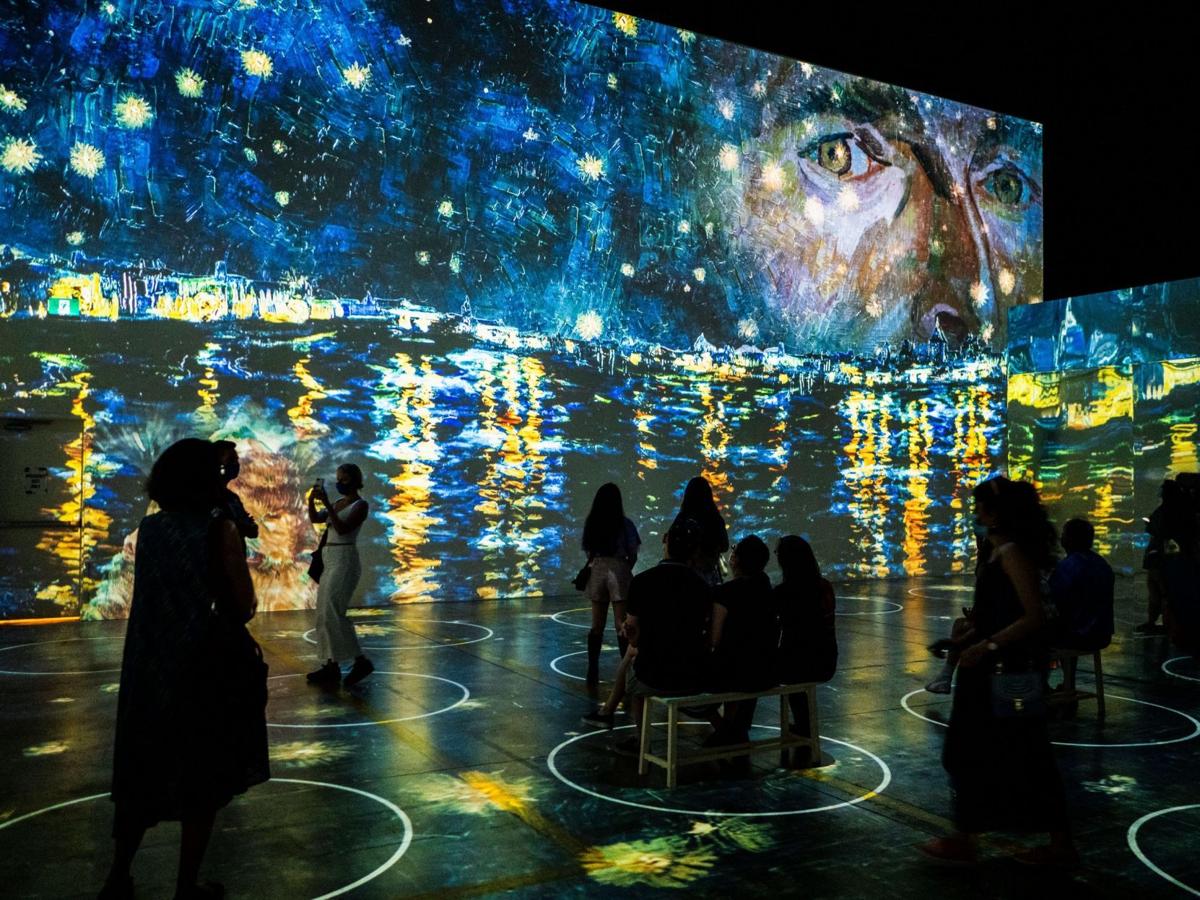 The makers of the hugely popular Atelier des Lumières show in Paris and Toronto are bringing the their Immersive Van Gogh Exhibit that gives people the sensation of stepping inside a Van Gogh painting to Chicago.
"Experience art like never before – lose yourself in 500,000 cubic feet of flawless projections animating Vincent van Gogh's oeuvre. Wander through entrancing, moving images that highlight brushstrokes, detail, and color – truly illuminating the mind of the genius," organizers said in a press release. "You will be immersed in Van Gogh's works – from his sunny landscapes and night scenes to his portraits and still life paintings. The installation includes the Mangeurs de pommes de terre (The Potato Eaters, 1885), the Nuit étoilée (Starry Night, 1889), Les Tournesols (Sunflowers, 1888), and La Chambre à coucher (The Bedroom, 1889), and so much more."
The exhibit will be displayed at the Germania Club Building at 108 W. Germania Place in Chicago's Gold Coast neighborhood from Feb. 11 through May 31.
Designed by Massimiliano Siccardi and scored by Luca Longobardi, it features 500,000 cubic feet of projections, 60,600 frames of video, and 90 million pixels. They came up with the original immersive digital art experience that more than 2 million people visited in Paris.
"The three-story facility is dedicated to immersive art presentations, merging the boundaries between entertainment and culture to give visitors the sense that they are encountering art as never before," organizers said in a press release. "Utilizing the building's Victorian Era architectural details, 35-foot-tall walls and multiple levels including balconies, the venue will present vibrant art exhibitions that surround the viewer on all sides. Experience the organic landscapes of Van Gogh's imagination, and ride the roller coaster of Van Gogh's descent into madness. It is astonishing in scale, breathtakingly imaginative, and a completely new look at the master's work."
The exhibit is taking a number of coronavirus precautions, including reduced capacity, temperature checks, touchless hand sanitization, Plexiglas barriers at payment locations, contactless payment, face coverings, social distancing floor markings, regular cleaning and contact tracing.
Tickets range from $39.99 to $49.99.
Region restaurants that closed in 2020
Region restaurants that closed in 2020
2020 has been a hard year for restaurants in the Region with the coronavirus pandemic and the lockdowns and restrictions that followed. Here's a look at the restaurants, brewpubs and chain eateries Northwest Indiana lost in one of the toughest years in recent memory: