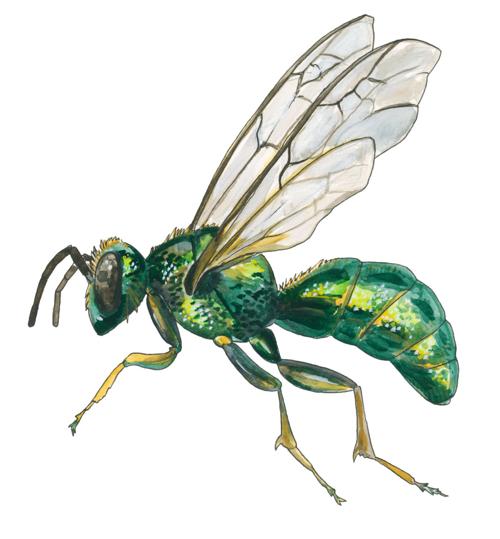 Well-known local artist Melissa Washburn will exhibit her work in a solo exhibit call "All the Little Things" at the Chesterton Art Center.
The Valparaiso-based painter will showcase her work Aug. 3 to Aug. 28 at the art center at 115 S. Fourth St. in Chesterton.
"The biggest inspiration for my work over the last decade has been the natural world. When I first moved to the Midwest in 1996, it took me a long time to discover and appreciate the beauty here," Washburn said. "I was familiar with the Adirondack Mountains, where everything is tall trees and majestic peaks. Illinois and Indiana are flat horizons and miles of prairie. What I've come to realize is that so much of the beauty around us requires slowing down, looking closely, asking questions, and examining things on a much smaller scale. What are the subtle differences in markings that can help differentiate between one butterfly species and another? How are the petals of a compass flower arranged? What are the shapes of the scales on a snake's snout?"
The upstate New York native grew up in the foothills of the Adirondacks but has lived amid the flat prairie of the Midwest since 1996.
"Once I start asking these questions, and understanding the ecological role of every tiny piece of what's around me, it becomes much easier to be kind to the spider skittering across my kitchen floor and more wondrous by far to get down on my belly and see what's living in my lawn," she said. "In a time of profound ecological crisis, I believe that truly paying attention to All the Little Things, getting to know and understand them, is a way to be more mindful of our own role and impact in this complex, weird, wonderful world."
The artist, who is also an illustrator, graphic designer and member of the Valparaiso Creative Council, has exhibited throughout the Region and appeared in Edible Indy, Charlotte Home & Garden and Smithsonian magazine.
"Many of the pieces in this exhibit started as studies or elements of what would eventually become larger/more complete illustrations, but making these mixed-media pieces (generally in watercolor, ink, and gouache) is my way of getting to know the life around me," Washburn said. "I'll never name them all, but it's a joyous process of discovery to at least try."
An opening reception will take place from 2-4 p.m. Aug. 11.
The exhibit is free and open to the public.
Stay up-to-date on what's happening
Receive the latest in local entertainment news in your inbox weekly!