VALPARAISO — Actor Joey Lawrence donned an orange inmate uniform and spent countless hours behind bars in Porter County Jail for a in-production movie that takes place in the Region.
The film will tell the story of a Michigan City pastor's journey from being in prison to being behind a pulpit.
"It's been surreal," Lawrence said. "When I work on 'Hawaii Five-0' playing the role of Aaron Wright, I'm working on sets. Here, we are shooting in a real working jail facility, and it's no joke. You hear things and see things and sometimes it's uncomfortable. As an actor though, it's everything you could ask for. It's cool to be entrenched in it."
From dark scenes in cells to triumphant moments of redemption, Lawrence is acting out pieces of Scott Highberger's life for the film-in-progress, "Pardoned by Grace." The movie is based off Highberger's autobiography, "Behind the Wire: A Prisoner's Journey to the Pulpit."
Highberger's book begins in the midst of 35 arrests, eight felony convictions and five prison sentences — a time he said he was on the path of drug addiction and personal turmoil. It ends with his new life as an outreach pastor at Road to Life Church's Michigan City campus who ministers to inmates at Westville Correctional Center.
However, Highberger's story is still far from over. The jail cells and hallways the cast and crew walked as they filmed in the jail are familiar places for Highberger, who spent many days behind bars in Porter County Jail.
"It's been unreal," Highberger said. "It's also very emotional. I lived it, and it's surreal watching it all unfold. It's been moving, and I've felt a sense of God all the way through. It shows that anyone is able to change. And I hope if other people can see that I did it, then they might say, 'I can do it, too.' If you're not dead, God's not done with you yet."
Capt. Ryan Taylor, of the Porter County Sheriff's Department, recalls meeting Highberger years back when Taylor was a new officer, and Highberger was a young inmate. He has since seen Highberger's transformation from a troubled young man into a pastor who ministers to inmates.
During filming, Taylor helped escort the crew around to different scene locations in the jail.
"I hope his story will help someone find the right path," Taylor said. "I am pretty proud of Scott. He changed his path and found a new one to get where he is today. It's hard for a lot of people to do that."
From Wednesday to Friday, film crews, actors and extras spent long hours in Porter County Jail to shoot some of the movie's most crucial scenes. Real jumpsuits and police uniforms were lent to the crew by the Porter County Sheriff's Department.
"It's been a challenge," Director Kevan Otto said. "We have a movie to shoot and they have a jail to run. Sometimes we have to put our scenes on hold because someone got arrested and they're bringing them through."
The movie is being produced by Graham Family Films, a faith-based movie company.
Otto has worked on popular Christian-genre films such as "Grace of God" and "Question of Faith." The movie's director of photography, Brian Shanley, has been the cinematographer for "God's Not Dead," "The Case for Christ," "Do You Believe" and more.
Otto said while "Pardoned by Grace" has a Christian message, it will also hit more gritty moments.
"We are not trying to water stuff down," Otto said. "If we want to show true redemption, we have to show the starting point. It's important to the arc of Scott's character. To know how amazing this story is, you have to see where he began."
On Friday, a scene where Lawrence preached to inmates took place in the jail's chaplain room, where Highberger said he first came to faith.
Highberger grew up in Michigan City and spent his young adult years in Chesterton, the next filming location. He said there will be a lot of scenes filmed in Chesterton's downtown area, including a scene that will involve Lawrence in a brawl in front of a bar. Crews also filmed at Road to Life Church in Michigan City and many congregation members volunteered to be extras, including filling orange inmate suits for jail scenes.
As for having Lawrence play him on the big screen, it's been a "whoa" moment for the pastor.
"I grew up watching (Lawrence)," Highberger said. "When he took the role, I was amazed. I felt blessed. He is a really cool guy, and I'm glad I've got to know him."
For Lawrence, it was Highberger's story that attracted him to take on the role.
"Scott is a cool dude, and I've had a lot of time to talk to him," Lawrence said. "I read his book, and I think his story is incredible — that's why I'm here."
Another notable player is actor and musician Michael W. Smith, a big name in contemporary Christian music, who will play the role of Pastor Dave Gargano of Road to Life Church in Michigan City and Chesterton.
On top of his book, Highberger shares his testimony with inmates at Westville Correctional Facility for Road to Life Church's prison ministry. Highberger said he hopes the movie, which will have a theatrical release expected sometime next year, will reach even more people.
"It will show the rough life I had," Highberger said. "All of those arrests. Those times when I was homeless living on the street, strung out on alcohol. But in it all, the way out was through Christ. I hope people who struggle will see there's a way out."
11 movies you may or may not know were filmed in the Region
11 movies you may or may not know were filmed in the Region
"Natural Born Killers"
One of the most famous scenes from the 1994 movie "Natural Born Killers" was shot in Hammond, specifically at the Hammond City Hall. The interior and exterior of the vintage 1930s building were used to recreate a city courtroom for a scene with Woody Harrelson's character plunging a knife into another man. Alas, much of the scene was cut from the final released film. The water towers in Calumet City can also be spotted in the movie.
The movie, starring Woody Harrelson, Juliette Lewis and Tom Sizemore, was released in 1994.
"Pearl Harbor"
Aerial shots of U.S. Steel in Gary are used in "Pearl Harbor," although the shots are not intended to depict U.S. Steel but instead industrial Japan in 1942.
The movie, starring Ben Affleck, Kate Beckinsale and Josh Hartnett, was released in 2001.
"Prancer"
The 1989 Christmas film classic "Prancer," is a claim-to-fame for LaPorte County. It's about an 8-year-old girl, played by young actress Rebecca Harrell, who rescues an injured deer, believing he is one of Santa's famous antler team. The movie's director John Hancock hails from LaPorte, Ind.
The movie, starring Sam Elliot, Cloris Leachman and Rutanya Alda, was released in 1989.
"Public Enemies"
"Public Enemies" starring Johnny Depp as John Dillinger was released in 2008. The film starred Northwest Indiana and Chicagoland residents for onscreen roles and was filmed in the Region, particularly in Crown Point.
The movie, starring Christian Bale, Johnny Depp and Christian Stolte, was released in 2009.
"Regionrat"
"Regionrat" was written and directed by Javier Reyna and stars Natassia Halabi and Connor Williams, who also starred in independent films like "UnMiracle" and "American Nobody."
The movie, released in 2018, is the indie film adaptation of Rich Laskowski's cult novel set in Northwest Indiana.
"Rudy"
The movie "Rudy" was not only filmed at Notre Dame in South Bend, but there are also scenes that were shot in Whiting.
The movie, starring Sean Astin, Jon Favreau and Ned Beatty, was released in 1993.
"Small Towns are Murder"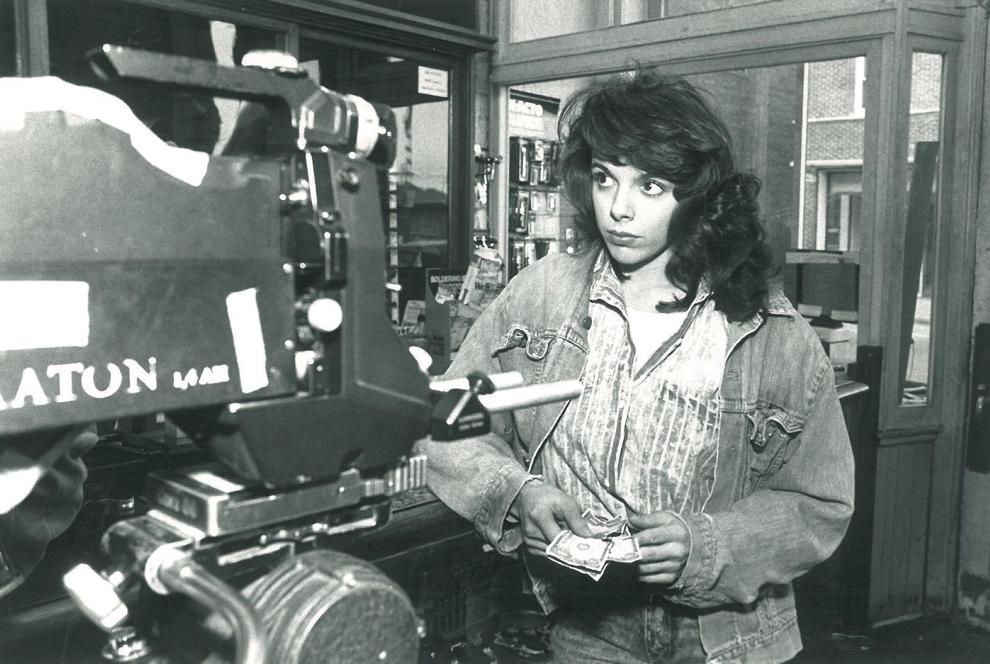 Actress Donna Burns readies for her close-up in "Small Towns Are Murder," filmed in Hammond's Mueller Hardware in November of 1987.
The film also stars Albert Julkes and Gerry Langedon.
"The Fugitive"
The 1993 runaway hit "The Fugitive" included scenes filmed around East Chicago's steel mills and in Whiting.
The movie, starring Harrison Ford, Tommy Lee Jones and Sela Ward, was released in 1993.
"The Package"
Production assistant Chris Albrecht quiets the crowd before filming starts on "The Package" in Dolton, Illinois, in December of 1988.
The movie, starring Gene Hackman, Tommy Lee Jones and Joanna Cassidy, was released in 1989.
"Transformers 3"
Adams Street in downtown Gary teems members of a film crew in 2010 during the shooting of "Transformers 3" at City Methodist Church in Gary. Scenes from the movie were filmed there.
The movie, starring Shia LaBeouf, Rosie Huntington-Whiteley and Tyrese Gibson, was released in 2011.
"When Jeff Tried to Save the World"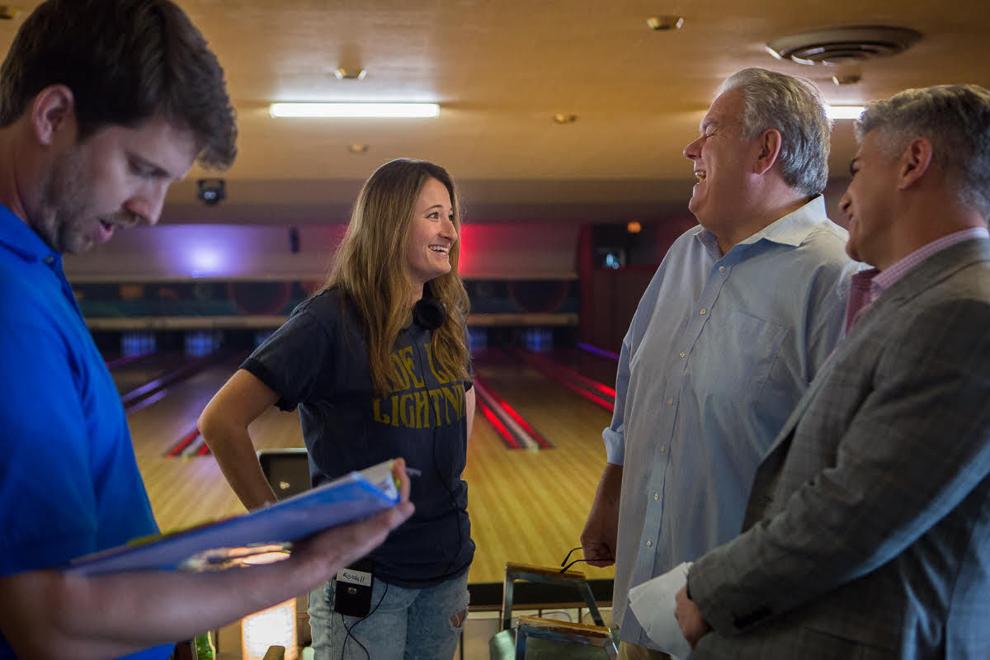 "Napoleon Dynamite" star Jon Heder, "Parks and Recreation"'s Jim O'Heir and other Hollywood types have taken over Lan-Oak Lanes in Lansing to film the indie movie "When Jeff Tried to Save the World."
The film crew scouted more than 40 bowling alleys in Los Angeles, but didn't find any with the right vintage look until former Munster resident and director Kendall Goldberg saw the 16-lane Lan-Oak Lanes, which still looks largely the way it did during the 1960s. The film crew has added an arcade and several neon signs, including a "Winky's World" one, for the filming.