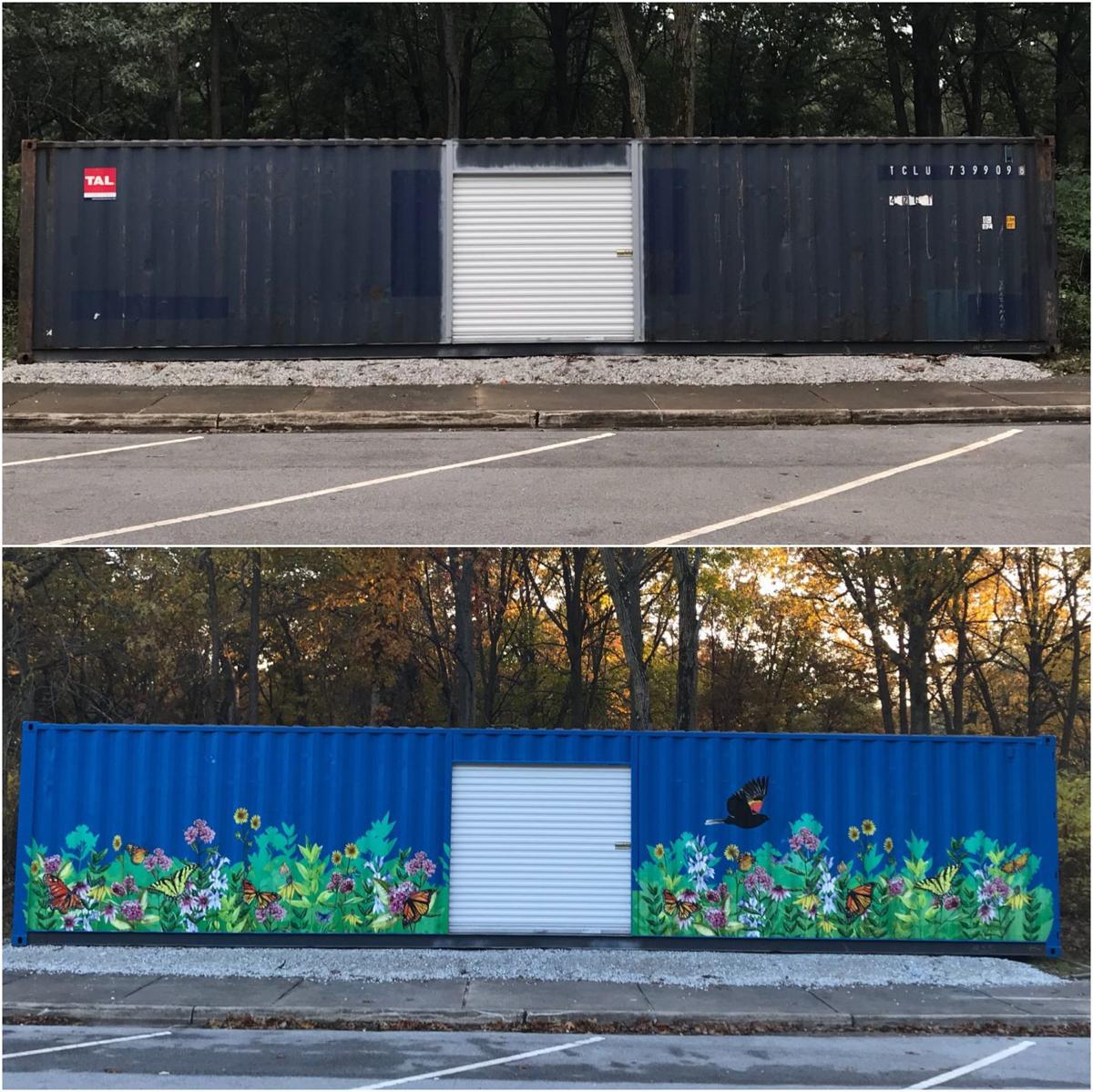 Local artist Melissa Washburn painted a mural of vibrant prairie grass on a shipping container by the Douglas Center for Environmental Education in Gary's Miller neighborhood as part of the Calumet Artist Residency's Gary Nature Project, a year-long effort to educate the public about the environment and ecology in Gary.
It's the latest large-scale public mural for Washburn, who also painted bees hovering over a honeycomb on the side of a building in downtown Highland.
"Visitors to the Douglas Center for Environmental Education will enjoy a vision of a summer color all winter long," Calumet Artist Resident president Sam Love said in a press release. "The Calumet Artist Residency was pleased to commission 'Native Prairie,' a beautiful mural by Northwest Indiana artist Melissa Washburn."
Washburn painted the work on a vinyl wrap in her studio, which was installed on the trailer on-site Digital Graphics Solutions in Valparaiso.
A dedication with National Park Service staff and local artists will take place in the parking lot of the Douglas Center at 100 N. Lake Street at 1 p.m. Tuesday, Nov. 20, followed by a hike into the Miller Woods. Love and Calumet Artist Residency member Corey Hagelberg will discuss "their vision of connecting people, art, and nature in Gary."
"Artist Melissa Washburn used a shipping container as a canvas to showcase the natural beauty of the national lakeshore's Miller Woods," the Indiana Dunes National Lakeshore said in a press release. "Melissa is an artist/illustrator/graphic designer who grew up in upstate New York, in the foothills of the Adirondacks, but has lived in the Midwest since 1996. Her fascination with things that run, fly, and grow has led to editorial commissions for publications such as Edible Indy, Charlotte Home and Garden, and Spirituality and Health Magazine. She was a 2012-2013 recipient of an Individual Artist Program grant from the Indiana Arts Commission, serves on the board of the newly formed Valparaiso Creative Council, and is one of the founders of Community Supported Art Valparaiso, a unique project that supports local art and artists."
The Gary Nature Project also plans to hike the Little Calumet Levee trail on Nov. 18, starting at the Steel City Academy at 2650 W. 35th Avenue. And then on the day after Thanksgiving, Nov. 23, the Gary Nature Project will celebrate Outdoors Friday with a 6-mile hike along the paved Oak Savannah trail through Gary, meeting at 9 a.m. in the parking lot by Robinson Lake in Hobart.
For more information, call the Indiana Dunes National Lakeshore at 219-395-1821 or visit calumetresidency.com.