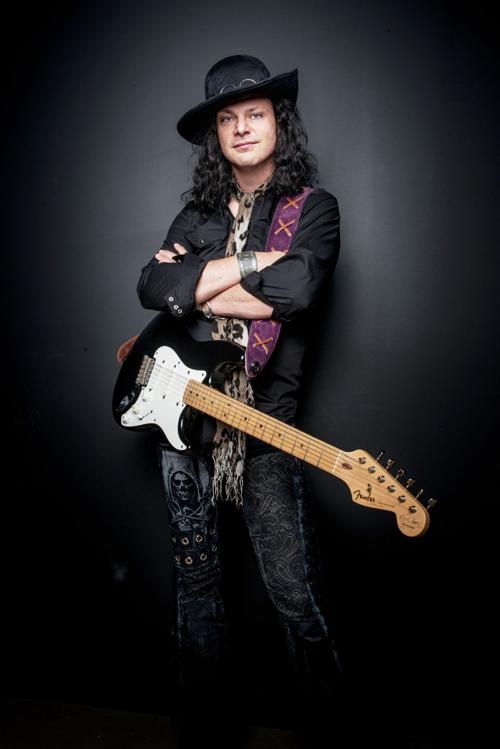 Toronto-born Anthony Gomes -- guitarist, vocalist and songwriter -- is a powerful musical force whose fingers squeeze out a torrid of emotions from the strings of electric guitar with a style as much rock as blues. With a rich catalog that's now 14 albums deep , the musician has grown into one of the top drawing blues-rock artists in North America and beyond.
Gomes is the headliner of this Saturday's "Rock The Park" concert at LaPorte's Fox Park Band Shell. Music for the day-long event presented by the LaPorte Firefighters begins with performances by the local bands Remedy (3 p.m.) and Point 'N' Fingers (6 p.m.), before Gomes and his band hit the stage at 8:30 p.m. Michigan City's WIMS-AM/FM morning radio host, Ric Federighi, will emcee the event which starts at noon. Tickets are $10.
Gomes' most recent album, "Containment Blues," debuted at #1 on the Billboard Blues Chart and is his seventh consecutive album to crack the Billboard Top Ten. This album was clearly inspired by the recent lockdown which gave musicians all over the world plenty of time to write new material and rediscover their passion.
Like his past albums, this latest collection of songs is the culmination of a life spent honoring old Blues traditions while striving to make new ones. Gomes knows he is standing on the shoulders of giants, and is reverent, while never losing his own unique identity. Like the brashest and best of the new Bluebloods, Gomes is willing to push boundaries as he works to push Blues music back into the mainstream.
"I want to bring back the thrill longtime Bluesmen created in their day. At the same time, I think it's very important for the music to grow and evolve," Gomes said.
Being inspired by and weaned on the electric blues of Jimi Hendrix, Eric Clapton, Buddy Guy and B.B. King, Gomes began playing guitar in his very early teens and is grateful to his Portuguese father and French-Canadian mother for their support of his dream to make music.
A disciple of old school blues, Gomes spent much of the 1990s living in Chicago, so he could soak up the spirit of the old blues masters while gigging in blues haunts on his own and as a sideman for Magic Slim & The Teardrops. The artist described that period of his early career as being like a Blues boot camp.
In 1998, Gomes scored top honors in the first annual "Best Unsigned Blues Band" competition at Buddy Guy's Legends, which led to the release of his debut album, "Blues In Technicolor," the title track of which was co-authored by Gomes and Jim Peterik of The Ides Of March.
"I was working in a music store and Jim walked in to buy a guitar," said Gomes of his first encounter with the Grammy Award-winning Peterik. "I asked if he was a guitar player," recalled Peterik of that chance meeting. "Anthony took the guitar I was looking at and started playing it. The kid just blew me away. I left the store that day with a new guitar and a new musical friend."
That was nearly a quarter century ago and Gomes has grown into a seasoned and accomplished artist who himself has inspired and mentored many a young player. During his journey from then to now, Gomes has performed with some of the world's top artists, including B.B. King, Buddy Guy, Robert Plant, Heart, Sammy Hagar, .38 Special, Jonny Lang, Robert Cray and Kenny Wayne Shepherd.
"My goal is to keep the Blues fresh, exciting and even dangerous," Gomes said. B.B. King once told me  'The Blues are like the laws of the land. They need to be amended to the times we live in.' As an artist, it's very exciting to think that the Blues can be just as ground-breaking today as it ever was."