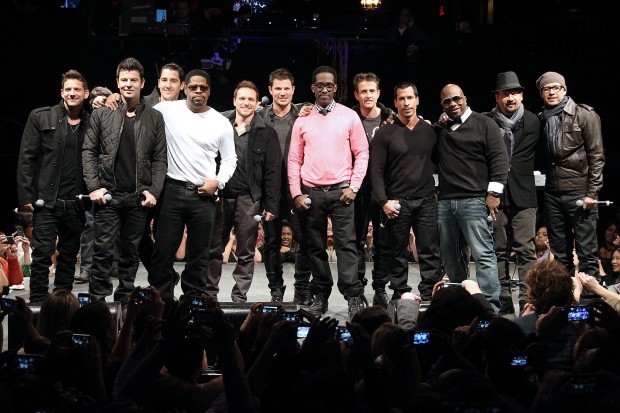 What's been dubbed "The Package Tour," actually turned out to be quite the deal for fans in Chicagoland on July 18 and 19.
Popular late '80s and '90s heartthrobs New Kids on the Block (NKOTB), 98 Degrees and Boys 2 Men performed to a full house of screaming females, most in their 30s and 40s, at Rosemont's Allstate Arena. While NKOTB remained the evening's headliners, 98 Degrees and Boys 2 Men received their share of squeals, cheers and female adoration during the July 18 four-hour musical "boy band' extravaganza.
Trade magazine Pollstar rankings last week put "The Package Tour" at number 7 on the current Top 20 List of Concert Tours. The rankings are made by looking at average box office gross per city.
Leaving talk of any "cheesy" factor aside, no one can say these "boys" didn't give fans their money's worth. NKOTB alone performed for two hours while 98 Degrees and Boys 2 Men entertained for nearly one hour each.
Starting the show was Boys 2 Men, formerly a quartet, but now a trio starring Shawn Stockman, Wanya Morris and Nathan Morris. The R & B harmonizing group delivered emotional renditions of their biggest hits such as "End of the Road," "I'll Make Love to You," and Motown Philly" to adoring audience members. Their stage performance even included a showering of pink and red heart-shaped confetti and decorations which blew through the air.
The group 98 Degrees, featuring members Justin Jeffre, Jeff Timmons and brothers Nick and Drew Lachey offered their share of hits to the frenzied ladies in the house. Lead singer Nick Lachey, former husband of pop singer Jessica Simpson, received extremely high decibel screams during what the group called their popular Wedding Song titled "I Do (Cherish You)"
The group also showcased sleek choreographed dance moves, a throwback to their '90s concerts. While 98 Degrees has been out of the music spotlight for awhile now, it's been Nick Lachey and his brother Drew who have been seen most by television viewers in the last decade. Drew was the winner of the second season of "Dancing with the Stars."
By the time New Kids took the stage, the audience was in mega party mode and NKOTB delivered in energy, charisma, and the ability to take their women fans back in time and away from their responsibilities for the night. Groups of lady friends were obviously having the time of their lives as they not only screamed but held up signs and rushed the stage. (Yes, very true.)
New Kids, starring Jordan Knight, Donnie Wahlberg (now of "Blue Bloods" fame), Joey McIntyre, Jonathan Knight, and Danny Wood, performed a few tunes from their latest album "10" but also entertained the crowd with hits such as "Step by Step," "Please Don't Go Girl,"  "You Got It (The Right Stuff)" and more.
Colorful lights, a hydraulic stage, multi-media technology, and several costume changes, including one where they donned Boston Bruins jerseys, moved the fast-paced "eye candy" show along. This band of "boys" from Boston had no trouble recapturing Chicago fans' hearts.