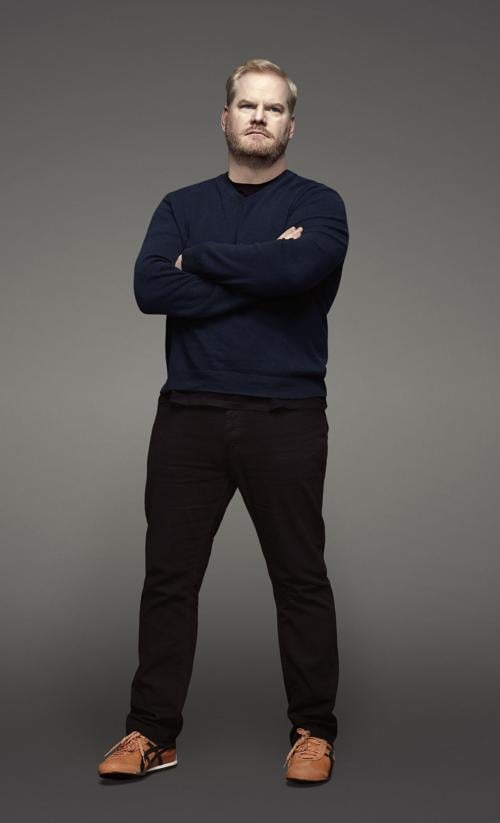 Chesterton native, Grammy Award-nominee and international comedian, Jim Gaffigan, will premiere his new comedy special July 24 via Amazon Prime Video. It's his second for APV following last year's well-received "Quality Time" special.
"Jim Gaffigan: The Pale Tourist" was filmed prior to the start of the COVID-19 pandemic in Ontario, Canada and Barcelona, Spain. It is described as Gaffigan performing a comedy high-wire act of sorts, as he arrived in each country with no previously scripted jokes, instead writing all new material only after experiencing the local culture and food in each respective country.
"(I am) so happy for everyone to see 'Pale Tourist'," said Gaffigan, a La Lumiere School graduate via a prepared statement. "It's pretty ironic it has such a focus on international tourism given that is something so unattainable right now."
Gaffigan has enjoyed one of his busiest years, appearing in eight films, including his first leading role in a comedy, "Being Frank," and his first lead role in a drama, "American Dreamer." The Northwest Indiana-raised comic was also featured in the films "Troop Zero," "Them That Follow" and "Light From Light."
Recently named one of the world's highest-grossing comedians by Forbes, Gaffigan was declared the most popular comedian by the streaming audio company Pandora, having gotten more than 1 billion plays to date.
• After two months of delay, The Highland Park Department's 2nd Sunday Concert in the Park at the town's Main Square Park kicked off last Sunday as about 80 people showed up and practiced social distancing while relaxing on their own lawn chairs and blankets. Some couples even took advantage of the large concrete deck of the stage to dance as the IPA Polka Tribute Band rolled out the barrel as everyone enjoyed the beautiful sunshine and mild temps. The Andy Sutton Quartet opened the day with tunes by jazz greats like Miles Davis, Wayne Shorter and others. The next show of the series is Sunday, Aug. 9 and will feature Soundz of Santana and Nawty Lite.
• Region rockers M&R Rush announced the cancelation of July and August performances, including the group's annual Rock And Roll Chicago Golf Outing, due to the recent spiking of the COVID virus across much of the nation. "We plan on giving the situation a little more time and hopefully we will play our September dates," said band leader and drummer Marty Mardirosian. The group is also still on schedule for its annual Christmas Concert at Hobart Art Theatre on Dec. 5. Keep up at mandrrush.com.
• This Saturday, Hobart Art Theatre (230 Main St.) in downtown Hobart will feature three heavy alt-rock bands, beginning at 8 p.m. with Lethal Dose (Mudvayne tribute), Succubus (Incubus tribute) and Concentric (Perfect Circle tribute) for $10 (advance)/$12 (day of) ticket. More: facebook.com/HobartArtTheatre.
• The annual Jimmy J. Memorial Concert will take place Tuesday (7-21) at Beer Geeks (3030 45th St.) in Highland with local blues band C4 performing. That 7-11 p.m. gig also finds C4's two guitarists Derek Caruso and Phil Hardesty both celebrating their respective birthdays. Special musical guests scheduled to perform next Tuesday include Donald Kinsey, Rocco Calapari, Nic Bird, Andy Sutton, along with Keith and Smootie Jackson and others. 21 & Older/$5 cover. More: 219-513-9795 or beergeekspub.com.
• Valparaiso's Elements Wine Bar (23 N. Washington St.) has Jack Whittle and Susan Williams co-hosting the venue's new weekly Open Mic Night this evening from 7-10 p.m. Then it's a weekend of live blues with Kenny Kinsey's Funky Mojo Daddy on Friday and the Marty "Big Dog" Mercer Band on Saturday. No cover for the 7-10 p.m. weekend performances. More: 219-309-1660 or elementswinebar.com.
• Leroy's Hot Stuff (333 W. U.S. 20) in Porter welcomes the acoustic sounds of Darrell Ritchea on Friday from 8 p.m. to midnight. Then on Saturday, country music will fill the now smoke-free venue's confines as Steel Country takes the stage from 9 p.m. to 1 a.m. More: leroyshotstuff.com or 219-926-6211.
• This Saturday at Verona's Pizza VII (1689 Morthland Drive in Valparaiso, things will get a little tropical once veteran Region rocker Doug Lins and his band Island 49 start their 8 p.m. performance of covers, pulled from the songbooks of such artists as Bob Marley, Beach Boys, and Jimmy Buffet. More: 219-707-5429.
• The Lazy Lightning Band performs an acoustic show of popular jam band covers by the likes of Grateful Dead, Allman Brothers, Led Zeppelin and others in Valparaiso from 2-5 p.m. as the featured artists at Anderson's Winery & Vineyard (430 E. US 6) ongoing Saturday Acoustic Afternoon concert series. More: 219-464-4936 or andersonswinery.com.
• Looking ahead a week, music fans may want to mark their calendars now for the July 24 Six Stings Music Fest, happening from 4-10 p.m. at Central Park Plaza (70 Lafayette St.) in Valparaiso. Performers for that family friendly event will include The Mike Wheeler Band, Head Honchos, Marco Villareal Trio, The Blues Project Band, Fayde, and The Six String Students. In addition to music, there will be food, bar, vendors, and raffles. Tickets are $15/kids 12 and younger, free. More: 219-252-3636.
•· Local music duo The Closets -- Aristotle Galanos and Brett Butler -- have released a 3-song EP titled "Bump On a Log." It's the second such release by the NWI pair, following their debut, "These Cobwebs." More: facebook.com/theclosetsband.
• This Friday afternoon finds a double shot of musical guests from 1-3 p.m. on 89.1FM-Lakeshore Public Radio's weekly program, "Midwest BEAT with Tom Lounges." The first hour finds Franke Previte (of "Dirty Dancing" film soundtrack fame) talking about his long career and the revamping of the song, "One World," a global anthem to raise money and awareness about groups of importance during the current state of global pandemic and racial justice concerns and issues. The second hour will feature new East Coast-rooted, Americana singer/songwriter Tom Sless and focus on songs from his latest collection of songs, "California Dream." Lakeshore programs stream live at: lakeshorepublicmedia.org).
Stay up-to-date on what's happening
Receive the latest in local entertainment news in your inbox weekly!