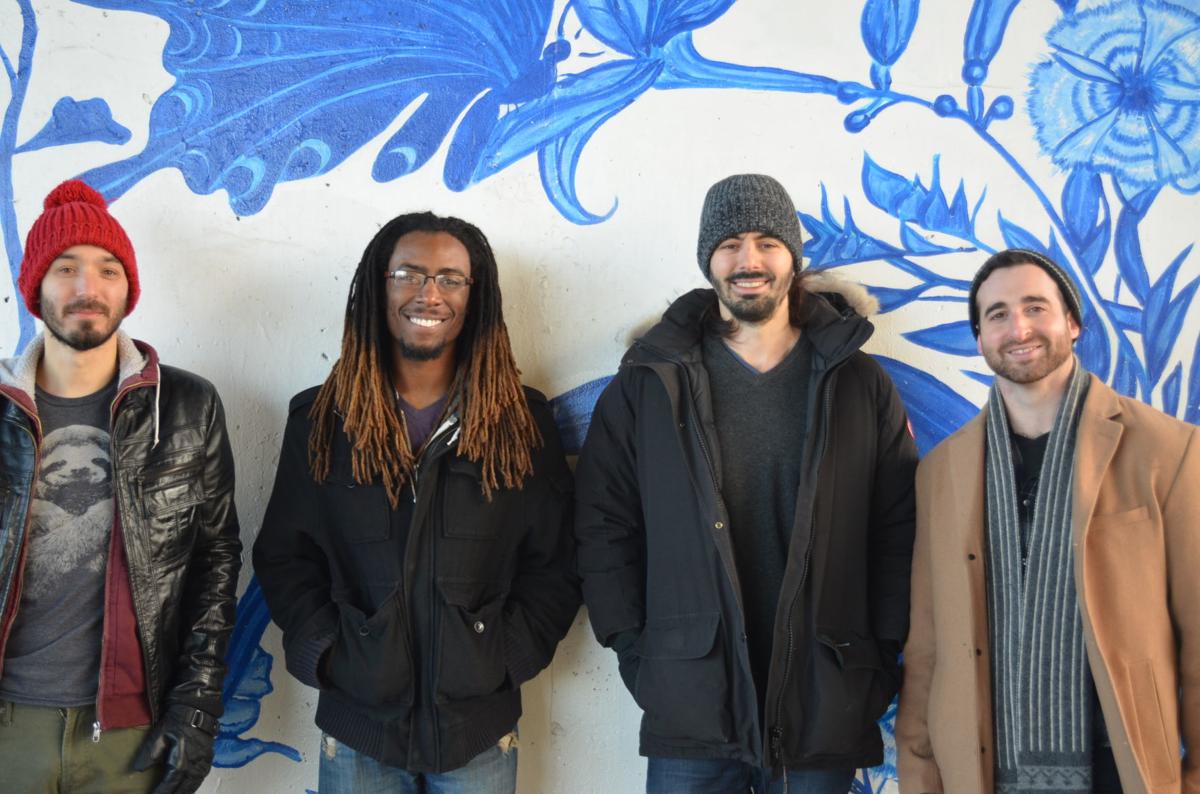 Like frequent stage mates District 97 with whom they often share gigs, Marbin began its career in 2006 as an all instrumental quartet. Unlike D97, Marbin has stayed true to its original vision of letting only instruments be their "voice."
The group's name Marbin is a last name mash up of its founding members Danny Markovitch (Mar) and Dani Rabin (Bin), who met up while living in Israel and two years later relocated to Chicago, where they initially formed Marbin with the former rhythm section of the Pat Methany Group.
When the first incarnation turned out to be short-lived, things evolved until the current line-up rounded out by bassist Jon Nadel and drummer Everette Benton, Jr. ultimately came together. "When we first got together to make music, we just wanted to play well and play the way we wanted to play, and to improvise," said Rabin. "Our songs are our vessels for communicating what we have to say and what we are feeling.
"Chicago is a great music city and it's central to everywhere," said Rabin on why he and Markovitch chose the Windy City to embark on their joint musical career. They released their self-titled debut in 2009 and have added six more titles to their catalog, the latest being last year's "Israeli Jazz."
"We had a few of our early albums out on the Moonjune Record label, but these days it's just easier to self-release," said Rabin, adding that they work opposite of most bands by playing their songs for over a year before taking them into the studio to record. "The more time you spend with the song and the more times you play it, the better it gets. It only makes sense."
An exception to their method of breaking in things first, is their newest internet only release, "Alabama Sock Party (Bootleg)," a six-song live set recorded in Florida in February of 2019. It not only featured some relatively new tunes, but was actually the very first show they played with new drummer, Everette Benton, Jr. That digital EP is available for free download at: marbinmusic.com, where their latest album and other studio efforts are found for purchase.
"We're more on the jazz side (of the progressive spectrum) and be-bop was huge for us. Charlie Parker in particular was a big influence on both Danny and I," said Rabin, adding that while they sit on the shoulders of American Jazz giants like Park, Davis and Gillespie, to name a few, many other influences meld into the Marbin soundscape.
"We have deep jazz roots, but we also have a lot of rock in there and some blues too," Rabin said. "We're in our 30s and have heard a lot of music in that time. Danny and I spent a good part of our lives in Israel, so there's that influence in our music too. In the world we grew up and the world we are all living in now, everything is so connected that it makes it hard to be a purist. I've certainly had a lot of influences as a guitarist. Seeing Metallica when I was a little kid is really where this all started for me. I'm a big fan of Stevie Ray Vaughn and of Jeff Beck as well, so you will hear 12-bar blues guitar in some of our music as well as other influences. We're more jazz than anything, but we're not purely jazz because of having been exposed to so many things in life. Stuff tends to seep in to what you create whether it's intentionally or subconsciously, making your sound an amalgamation of things you like and things you've heard."
Through word of mouth, non-stop marketing, and virtually non-stop touring across the U.S. and periodically at international jazz fests, Marbin has built a worldwide fan base for the jazz cocktail they bring to the party.
Stay up-to-date on what's happening
Receive the latest in local entertainment news in your inbox weekly!