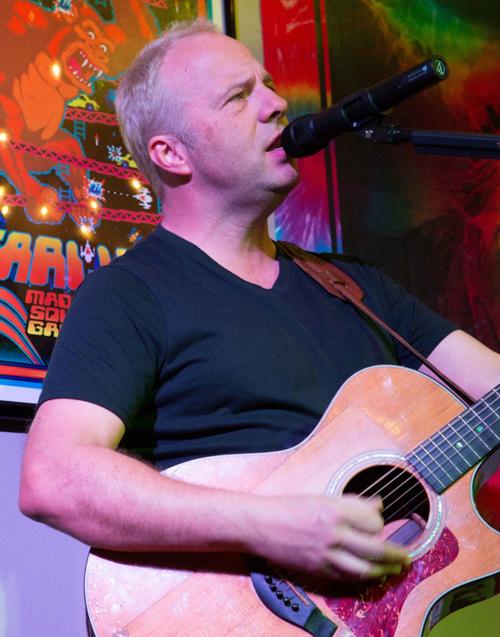 Live broadcasts by regional acoustic artists resume at The Record Bin (218 Main St.) in downtown Hobart on Sundays from 4-6 p.m., starting Oct. 20 with veteran NWI musician, Cousin Dave Neeley. He'll return to host the new season's first "Open Mic" night, after which "Open Mic" night will be scheduled for the first Sunday of each month.
The Sunday performances will be broadcast live via RegionRadio.Live, giving the world an opportunity to hear NWI and Chicago-based artists performing in an intimate setting before a small live audience. Local music-makers already on board to do live sets in coming weeks include Chad Clifford, Jeff Massey, Frank Ruvoli & Brian Mundee, and LeAnn Stutler. More: facebook.com/LiveAtTheRecordBin.
The online Region Radio network is the creation of local music fan Rich Warne, who some years ago, begin co-hosting a local music program on the low-power Valparaiso station, WVLP-FM. Fast forward a few years after that show came to an end, Warne reached out to his old WVLP show co-host, Lee Couch, with the idea of revisiting their broadcast passion. After months of research, some financial investment, and securing licensing and other necessary things, the RegionRadio.Live launched in early 2018.
"We took the love we had for promoting local music artists and ran with it to create the online radio presence of RegionRadio.Live, which now has a variety of independent channels," explained Warne, who now has a core team working with him.
The network has its own "App" and once visitors go to the Region Radio page, there is a drop-down menu to access the various channels. "The channel operating out of The Record Bin that carries the live Sunday performances, is actually its own free standing independent radio station called, 'The Vintage Lounge.' The format is classic rock and blues by both famous and local artists," said Warne. "The channel is broadcast live from their physical location in Hobart, where they play feature albums, chat with guests in the store, and play records from their used bins. When not broadcasting live, 'The Vintage Lounge' has its own custom-designed, automated play list of both popular songs, forgotten classics and very deep cuts."
The other channels featured under the RegionRadio.Live umbrella are The Lowell High School student-operated station, "RDP" which stands for Red Devil Pride, which is under the watch of Region Radio's Rich Jennings; "Mike Vet's Rockabilly & Blues" hosted by Mike Vetramilla; traditional country music channel "Bulldog" hosted by Warne; hard rock/alternative channel called "The Music Box" hosted by radio veteran Tony Arteaga; and the network's newest channel, "Spitwyre," programming only locally created urban music (rap, hip-hop, R&B, etc.).
RegionRadio.Live has already sponsored a few local charity events and hosted and produced its own summer festival. Warne has plans to do even more of those kinds of events in 2020. "We've worked our way through a variety of bugs and issues this first year. Now, we are really just getting things rolling," he said.
Country performer Jerica Paliga and her band are among those performing this weekend at the Lansing Association for Community Events' "Autumn Festival" at Fox Pointe (18140 Henry St.) in Lansing. Friday's entertainment: Cadillac Groove (4:45 p.m.) and Brian Grilli (7:30 p.m.). Saturday's entertainment: Double Treble (2 p.m.), Nawty (5 p.m.) and Latin Satin Soul (7:30 p.m.).
Paliga will headlining the event on Sunday, closing out the festival with a 3 p.m. performance of her original songs and contemporary country covers. The festival will also feature "Kids Zone", food vendors, beer garden and other activities, Admission is free all weekend for all ages. Bringing blankets and lawn chairs is recommended. More: lansinglace.com/autumn-fest-2019.html.
• Duffy's Place (1154 Axe Ave.) in Valparaiso has a trio of top live artists this weekend. Tonight from 7-10 p.m. Chad Burton performs a series of solo acoustic sets. Next up will be energized rock covers of The Muddsharks on Friday from 9 p.m. to 1 a.m.; followed on Saturday by another retro reunion show by Chad Clifford & Digital Hair. More: 219 462-1057 or duffysplace.com.
• Leroy's Hot Stuff (333 W. U.S. 20) in Porter features Thursday Karaoke at 9 p.m. The classic rock of Stealin' The Farm is the featured fare on the venue's AYCE Fish Fry Friday at 8 p.m., with Visions of Santana bringing their salute to the music of Carlos Santana to Leroy's on Saturday at 9 p.m. A special "Celebration of Life" event will take place in honor of Dana Shocaroff, with local blues bass man Kenny Kinsey hosting an all pro blues jam from 7-10 p.m. More: leroyshotstuff.com or 219-926-6211.
• An 11 a.m. "Ride for Vets" motorcycle (cars also welcome) is being presented this Sunday at The Fraternal Order of Eagles #2529 (13140 Lake Shore Drive) in Cedar Lake with an after party at 3 p.m. featuring the Billy Wahab Band. Proceeds donated to the Disabled American Veterans (DAV) and Operation Combat Bikesaver. Sign-ups 9:30-10:30 a.m. More: 219-374-9873.
• A fundraiser to raise money to purchase a headstone for Charles "Chuck" Herrera will be held this Saturday at Buddy & Pal's (1206 E. Summit St.) in Crown Point. Herrera, who passed away July 16 of this year, was a huge supporter of many local bands, in particular The Midnight Ramblers Band, who will be donating a performance in his memory at this 7 p.m. event. More: 219-662-0088
• The Cal Region's classic crooner, Jim Bulanda, will be belting out Sinatra and more on Friday from 7-10 p.m. at Blue Point Restaurant (13 Lincolnway) in Valparaiso. More: bluepoint-seafood.com.
• Catch the classic pop/rock covers of the Region's long-running quartet, Replay,  this Friday from 8 p.m.-12:30 a.m. at Buddy & Pals (340 U.S. 30) in Schererville. More: 219-865-8377.
• Another new "Open Mic" starts Oct. 17 and will then continue every Thursday from 7-10 p.m. at Region Ale Tap House & Eatery (1080 U.S. 41) in Schererville. This all ages welcome event will be co-hosted by Nicholas Kazonis and Michael Wilson. As with many of Kazonis' projects, including his open mic on Tuesdays at Gelsosomo's Pizzeria in Crown Point (11319 Broadway), this one will also benefit The Giving BackPack Foundation (thegivingbackpack.org) to help less-privileged children get the school supplies they need to learn. No cover. More: 219-322-2337 or facebook.com/Nicholaskazonismusic.
• Rock And Roll Hall of Famer Chris Hillman -- co-founder and member of such landmark groups over the years as The Byrds, Manassas, Desert Rose Band and others -- will be performing an 8 p.m. Eastern (7 p.m. Central) acoustic concert with his long time collaborator Herb Pedersen on Oct.17 at Acorn Theater (107 Generations Drive) in Three Oaks, Michigan. More: acornlive.org.