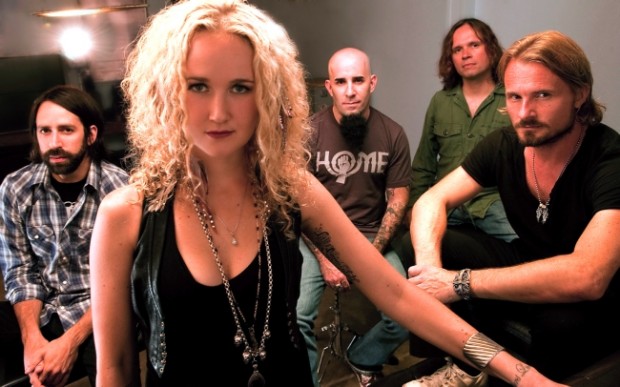 Pearl was the nickname of rock's first lady of rock, Janis Joplin, the musical legend after whom Pearl Aday was named.
It's also the name of the rising young star's new hard-rocking band, whose debut album -- "Little Immaculate White Fox" -- was just released via Megaforce Records. The 11-song collection features 10 original tunes and a raucous cover of Tina Turner's "Nutbush City Limits" that Aday pulls off with flying colors.
The stepdaughter of rock icon Meatloaf, whose last name she proudly bears (Meatloaf's real name is Michael Lee Aday), Pearl explained that her Joplin connection originated with her biological father, who had once been the drummer in Joplin's Full Tilt Boogie Band. Her middle name of Maria is in honor of her godmother, '70s folk-rocker Maria Muldaur.
It was because of her mother's respect and friendship with Joplin, she came to be called Pearl. The petite blond singer/songwriter made it perfectly clear with her next breath that despite the biological aspect of things, she considers only Meatloaf as "Dad."
"My mom met Meatloaf and married him about two years later and he adopted me when I was a baby. He's my dad! He's the only dad I ever had. I grew up with him, was raised by him and have his last name," she declared. "He's a wonderful man and he's taught me so much about so many things."
Pearl spent nine years on the road with her famous father as a back-up singer honing her rock 'n' roll abilities. And she returned to the studio with him recently to sing with him on a track she describes as "dirty country blues rock" called "Boneyard." The track will hopefully make the final cut on Meatloaf's forthcoming album, "Hang Cool Teddy Bear," scheduled for a May release.
"Working with him on the road really helped prepare me for what I'm doing now," she said. "Just watching him perform my whole life and being on stage with him for nine years, I've learned SO MUCH from my dad. The man is an incredible performer and takes his show very seriously."
Perhaps the most important thing Meatloaf has passed on to his daughter is his philosophy and outlook.
"He's always said this and I've always found it to be true," she said. "That being on stage is a privilege. It's not a right. It's not your right to expect people to flock to see you and pay money because you are fabulous. You have to prove to them at every show that they made the right choice in coming to see you by giving them the best possible performance you can. You have to give them a show and you have to give them one hundred and fifty billion percent every night and every time you are on stage, because without your audience you wouldn't be there. He appreciates and respects his audience so much. I've learned from watching him that you NEVER take them for granted."
While he did warn of the perils of performing professionally, Meatloaf never tried to deter his daughter from following in the family business. "He warned me this life was not an easy one. He told me you need a thick skin and a strong will if you want to chase this dream. And I said 'Bring it on!'"
After stepping out on her own, Aday freelanced a bit. She spent a good chunk of 2000 on the road singing with Motley Crue. "I toured the U.S. on the 'Maximum Rock Tour' with the Crue, Megadeth and Anthrax from June to September and then spent November with the Crue in Japan," she said.
"I was always ... and still am, a HUGE fan of Motley Crue," she continued. "I used to take my allowance and buy all the rock magazines like Metal Edge and Circus Magazine and cut out their pictures and put them up on my walls. They had girl singers called 'Nasty Habit' back in the day and I always wanted to be one of them and when I heard they were looking for new singers I auditioned and got the job."
It was during that fateful tour that Aday met her common-law hubby, Scott Ian of Anthrax. Ian plays guitar in Aday's PEARL band, along with guitarist Nallie Colt, bassist Marcus Blake and drummer Eric Andrews.
The new album has been a few years in the making but is a rock solid effort that Aday and her band are rightfully proud to promote. She wrote the lyrics for all but two of the songs on the CD, which was produced by Joe Barresi (Queens Of The Stone Age, Tool, etc.).
It's title -- "Little White Immaculate Fox" -- also has history that goes back to Aday's birth.
  "One of my mom's friends called her up just before I was born and told her that she'd had a dream about me and that I was a blue-eyed, blond girl wrapped in fox fur under a tree and that my name was Little White Immaculate Fox. My mom thought that was sweet, but told her she was convinced that I was going to be a boy. A few hours later she went into labor and I was born -- a blue-eyed, blond baby girl."
Since that was her first name, Aday felt the karma would be good to name her first-born album "Little Immaculate White Fox." "It seemed like the right name," she said.
Monday's concert at the Double Door will feature all the songs from the new album and few surprise cover songs that Aday was reluctant to reveal. "It is a high energy rock 'n' roll show that I know people are going to enjoy."
How could it not be, when this chip off the ol' block adheres to her iconic father's philosophy of "giving 150 billion percent" at every performance.
PEARL with Hush Drops and Fifth Story, 9 p.m. Monday
WHERE: Double Door, 1572 North Milwaukee Ave., Chicago
COST: $10-20 (21-and-older show)