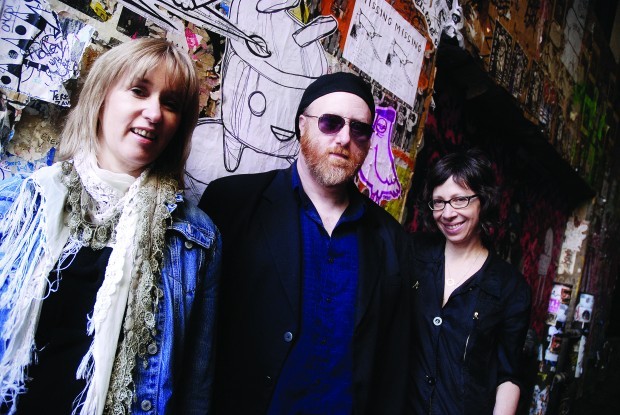 Arni Adler, region native and one third of the Seattle–based trio Uncle Bonsai, likes that her band is still evolving after a history that spans more than three decades.
"I think our goal as a band musically is to authentically reflect where we are in our thinking and in our musical development at that point in time," she said. "But we also want to do so and be as entertaining as possible. And it's fun to still be engaging with our audience at this time in our lives."
Slated to make their way to Cedar Lake's Great Oaks After 4 Club for a March 30 performance, Adler was reared in Dyer and graduated from Lake Central High School in 1976. She furthered her education after Lake Central at Bennington College in Vermont, where she met fellow founding Bonsai bandmate Andrew Ratshin.
Moving to Seattle in the early 80s, Uncle Bonsai's fusion of traditional pop and folk with the eccentric likes of Frank Zappa and The Roches proved a hit with audiences in and beyond their adopted home base. The band has released nine sets over the course of the last quarter century–plus and has performed for and alongside the varied likes of Bonnie Raitt, They Might Be Giants and Robyn Hitchcock, to name just a few.
After spending nearly a decade on hiatus, Uncle Bonsai returned to action, albeit with limited performances, in the late 90s. The band, which is currently rounded out by Patrice O'Neill, became a full–time concern once again for its members nearly a half decade ago.
Uncle Bonsai is currently working on their next set, which is tentatively titled "New Jobs for America" and will be their follow–up to their 2010 set, "The Grim Parade."
"We do have some new songs that relate to the 'New Jobs' theme,'" Adler said of their new material "We wanted to get involved in the national discussion, but in a satirical way. Obviously we're not the best equipped to talk about creating jobs, but here are some of our ideas, anyway."
Adler and her bandmates' current Midwest jaunt, which includes a March 28 show at north suburban Evanston's Space, marks their first time back to these parts in more than two decades.
Uncle Bonsai's March 30 show at Great Oaks After 4 Club is also serving as a benefit for region–based L'arc en Ciel Theatre Group. As a student, Adler lent her talents to several productions of the ensemble in its former incarnation as Lake Central Theatre Guild.
"I just wanted to pay tribute to (LCTG co–founders) Paul and Angie Lowe," she said. "Now that I have this distant perspective, I can really see how they really nurtured me and a lot of other kids in high school. The theater was such a loving and welcoming family, and I see that Paul and Angie have continued that work."
Stay up-to-date on what's happening
Receive the latest in local entertainment news in your inbox weekly!