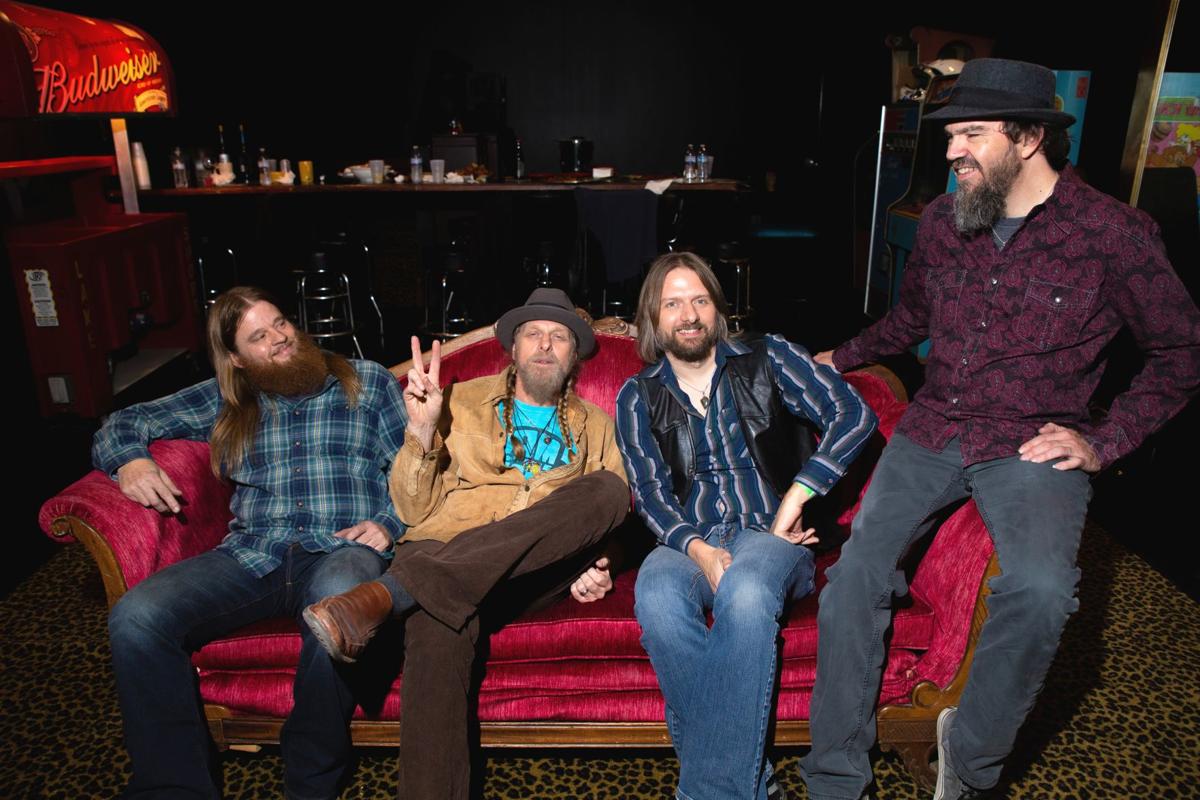 It's now official. The Steepwater Band will release its seventh and latest full-length studio album, "Turn of the Wheel," on April 24 via the band's own imprint, Diamond Day Records.
The 11-song set is the first to feature new bassist Joe Bishop. It was recorded last year on the shores of Lake Michigan at the new Vigo Street Studios in Miller Beach and marks the band's return to work with producer/engineer Jim Winters (brother of Steepwater drummer Joe Winters).
"Turn of the Wheel" will be the Indiana-bred, Chicago-based group's first new recorded work since 2016's "Shake Your Faith," which made the #1 slot on this columnist's "Top Ten Regional Albums of 2016" list.
According to drummer Winters, the new album will be released in multiple formats -- digital downloads, CD and vinyl. Rounding out the Steepwater line-up along with the rhythm section of Winters and Bishop, are guitarist Eric Saylors and guitarist/lead vocalist Jeff Massey. More: steepwater.com.
Joe Diffie rides the retro '90s wave into Hobart
In the 1990s, Joe Diffie was all over the country music charts with songs like "Home," "Bigger Than the Beatles," "It's Cold In Here" and "Prop Me Up Beside The Jukebox." Those songs and others from the famous Tulsa, Oklahoma native will be heard live this Saturday in the cozy and acoustically sound confines of The Hobart Art Theatre (230 Main St.) in downtown Hobart.
Diffie is back on the road and selling out shows from coast to coast. Among songs to be heard at Diffie's Saturday performance will be tunes from the latest installment of "The Hometown Country Jam Series." One is his new single, "As Long As There's A Bar." Music starts at 8 p.m. with special guest artist, Jonny James. Tickets: $40 general admission. More: 219-942-1670 or facebook.com/HobartArtTheatre.
'Opry Rock Party' heading to Region
Happy to report that one of NWI's very own musical exports -- country singer/songwriter and band leader Jimmy Henrich -- is back in the saddle, musically speaking. After taking an 8-year hiatus from performing to raise his family, Henrich is back with a new radio single "Kiss It Out," from his new forthcoming studio album.
Henrich called "The Local Scene" last week from his home in Nashville, Tennessee, to report a 2020 tour is being planned that will bring him to his old Region stomping grounds for a few live shows. Adding to the cool factor of that news was discovering Henrich's youngest son, Jonah, is the bass player and bass singer in the new family band called, Opry Rock Party, along with Henrich's guitarist nephew, Dakota Jackson.
The first hometown date has Opry Rock Party headlining a Feb. 29 cancer benefit at the Coolspring Township Fire Department (7111 W. 440 N.) in Michigan City for local resident Shana Strong. Others on the bill are Hoosier country favorite Jason Jakes and Nashville recording artist, Dustin Spears. A second date will bring Henrich and company to Hobart Art Theatre with Folsom: A Tribute to Johnny Cash. More: facebook.com/JimmyHenrichMusic.
• Chase away the cold and the mid-winter blues by escaping with the tropical sounds of Island 49 on Friday as Valparaiso's American Legion Post #502 (429 W. 750 N.) continues its ongoing "Friday Night Live Concert Series," with the Doug Lins-led quintet whose musical repertoire includes plenty of Buffett, Marley and beach songs. Guitarist/vocalist Lins encourages attendees to sport summer wear (tank tops, flip flops, straw hats, Hawaiian shirts, sunglasses, etc.) to complete the mood of the music. Hmmmm...might there be a limbo contest in your future? More: 219- 759-2121 or facebook.com/Island49.
• Enigmatic Racket -- an eclectic jazz-fusion trio featuring the stellar talents of Marco Villarreal (guitar), Kofi Baker (drums) and Kris Lohn (bass) -- gives a free all ages performance being broadcast this Sunday from the listening room of The Record Bin (218 Main St.) in downtown Hobart. The store hosts a weekly live broadcast from 4-6 p.m. that is heard live in real time via the "Vintage Lounge" channel of Region Radio through the local radio network's free downloadable app or online at RegionRadio.Live. Seats are limited and light refreshments are served. More: facebook.com/LiveAtTheRecordBin or 219-945-9511.
• Leroy's Hot Stuff (333 W. U.S. 20) in Porter features the acoustic sounds of singer/songwriter Junior at 8 p.m. Friday, followed on Saturday at 9 p.m. by the rock offerings of the Chronic Flannel. More: 219-926-6211 or leroyshotstuff.com.
• Northwest Indiana's Corey Dennison Band headlines the Jan. 27 1st annual Ronk 'N Roll fundraiser for The National Alliance on Mental Illness (NAMI) at the historic Wild Hare & Singing Armadillo Frog Sanctuary (2610 N. Halsted St.) in Chicago. Other bands on the multi-artist bill for this great cause include The Simple Remedy and Indika Reggae with acoustic sets by Andrew Fraker, Jimmy & Cait, and Bear & Jake. Doors: 6 p.m. Music: 7 p.m. 21 and older. Tickets: $20. More: 773-770-3511.
• "Beatles Brunch" at Byway Brewing (2825 Carson Drive) in Hammond kicks off at 10 a.m. this Sunday. It  features Chad Clifford of The Crawpuppies providing live music inspired by The Beatles, plus a mini market for folks looking to shop while they rock. It is a brunch, so Chef Brian Rance put together a special "fab" menu just for this all ages event. Tickets to attend are $5, plus the cost of food. More: 219- 844-5468 or bywaybrewing.beer.
• This Saturday's 21 and older annual Big Barn Beer Fest at Hobart's County Line Orchard (200 S. County Line Road) is officially SOLD OUT. The event features over 100 of the Region's best craft brews, food and live music by The Head Honchos and others, with proceeds benefitting The Lake Area United Way and local NWI food pantries. Those lucky enough to have secured tickets are encouraged to bring a non-perishable item for donation upon entrance into the event.
• Early warning! The next big events coming to County Line Orchard are: The Food Expo & Discussion on Feb. 7, the March 14 2020 K-9 Comedy Night and the 2020 Pet Rock Gala with Mr. Funnyman and Greg Ashby on March 21 (More: facebook.com/HumaneSocietyofNWIN).
• The Lake Effect Band will be dishing out classic rock covers Saturday at Finnegans Pub (1074 Joliet St.) in Dyer when they fire up the amps at 9 p.m. More: finnegansdyer.com or 219-865-9896.
• Buddy & Pal's Place in Crown Point (1206 E. Summit St.) will be rockin' the classic hits all this weekend with 9 p.m. shows by Hail Mary on Friday and Sticky Scissors on Saturday. More: 219-662-0088. The Buddy & Pal's location in Winfield (10685 Randolph St.) will do likewise as it welcomes The Aftermath on Friday and The High Street Band on Saturday for 9 p.m. shows. More: 219-661-0088.
• "Midwest BEAT with Tom Lounges" on 89.1FM-Lakeshore Public Radio will be rocking from 1-3 p.m. Friday. From 1-2 p.m., Region guitar virtuoso Marco Villarreal will guest to discuss his new Enigmatic Racket trio project with Kofi Baker and Kris Lohn, among other things. The second hour guest from 2-3 p.m. will be regional singer, songwriter, producer and marketing guru Nick Kazonis, who at any given time has several musical projects to chat about and showcase. Tune in at 89.1FM on the dial or stream in real time at lakeshorepublicradio.org.
12 Things to do in the Region this week