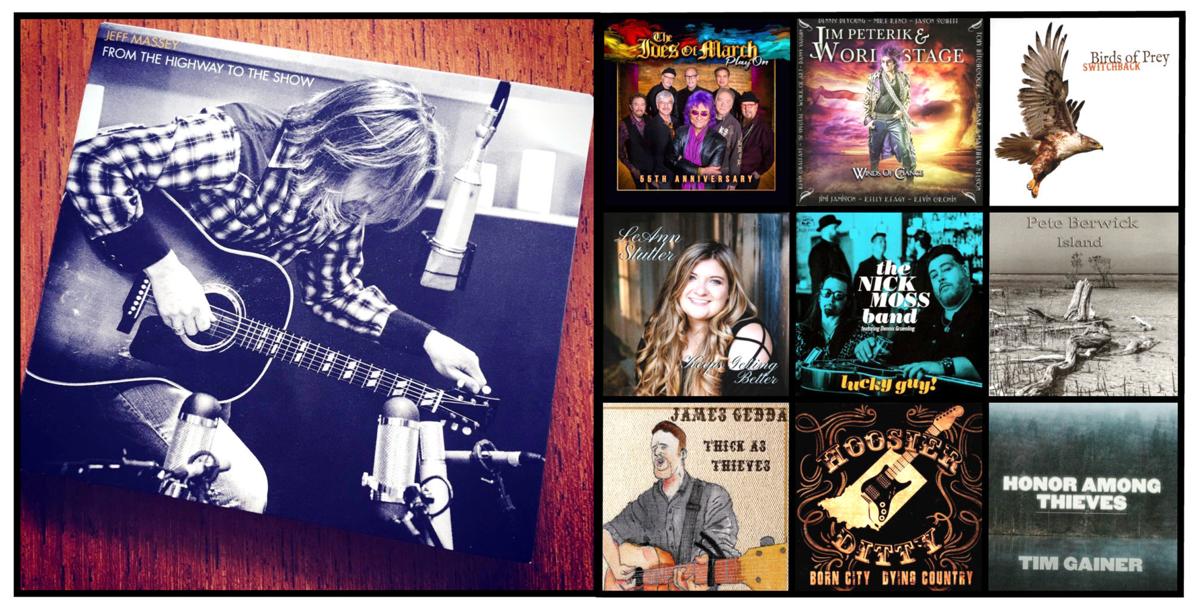 The requirement for this Top 10 list is that albums must be released within a 15-month period (October 2018 - December 2019), contain at least 25-minutes of original music by a regionally-based artist and be commercially available for purchase. Dozens of albums come my way each year, but only 10 make the cut for this annual list of personal favorites.
1) JEFF MASSEY -- "From The Highway To The Show" (Diamond Day Records)
Those eagerly anticipating this release since learning that Massey, the guitarist/vocalist of the Steepwater Band, had a solo album in the works will NOT be disappointed.
Massey puts his fingerprints on a few select covers made famous by Muddy Waters, Neil Young and Bob Dylan. He also gives a few stripped down versions of vintage Steepwater tunes to show how they sounded when first written, and includes the newly written "Oklahoma Sunrise" and "Abandon Ship." Those songs may one day be rocked out by the full band, but here they are delicate and beautiful offerings revealing Massey is only getting better at his craft.
2) IDES OF MARCH -- "Play On: 55th Anniversary Album" (Ides of March Records)
The cavalcade of celebrity guests featured here may help sell copies, but The Ides Of March really need no help creating great music. From the start to the finish, the venerable Chicago-based band gives us just that on this album.
The Ides have one of rock music's most consistent and finest songwriters in Jim Peterik, and a chemistry that only comes from having all four original members still invested and in fine form. It's available as a single CD, or 2-LP vinyl set. The latter includes a full side of Ides songs pulled from the 1966-1971 original master tapes.
Among those sitting in on selected songs to make an already great album even greater, are Paul Shaffer (of "Late Night with David Letterman" fame), guitarist/vocalist Mark Farner (Grand Funk), vocalists Tom Doody (Cryan' Shames) and David Pack (Ambrosia), blues greats guitarist Joe Bonamassa and saxophonist Mindi Abair. Solid production throughout courtesy of Fred Mollin.
3) JIM PETERIK'S WORLD STAGE -- "Winds Of Change" (Frontiers Music)
Ides of March band leader Jim Peterik clearly had some extra time on his hands last year as he released a second star-studded album of 12 songs. Peterik collaborated here with several past writing partners, including Kevin Cronin (REO), Don Barnes (.38 Special), Toby Hitchcock (Pride of Lions), and Kelly Keagy (Night Ranger), all of which perform as well.
Also adding their vocals to the mix on tunes here are Kevin Chalfant (The Storm), Mike Reno (Loverboy), Gunnar & Matthew Nelson (Nelson), Jason Scheff (Chicago), fellow Chi-town music icon, Dennis DeYoung (ex-Styx) and Peterik's late friend, Jimi Jamison (Survivor).
4) SWITCHBACK -- "Birds of Prey" (Way Good Music)
Musical duo Brian Fitzgerald and Martin McCormack (aka Switchback) have been making Americana music flavored by their own Celtic heritage for decades in various incarnations -- duo, trio and as a full band -- always delivering a high level of passion and musicality. For this 14-song album, they welcome an abundance of brilliant accompaniment from a variety of invaluable guests.
Like mid-20th Century Americana icons, The Louvin Brothers, Switchback blends both folk and bluegrass flavorings at times to their classic country sound, while often sprinkling in a wee bit of traditional Celtic influences to keep things interesting and fresh from track to track.
5) LeANN STUTLER -- "Keeps Gettin' Better" (Independent)
Stutler showed potential in local Battle of the Bands while in her mid-teens. Now freshly graduated from Columbia College in Chicago, she lives up to those early expectations with her 10-song debut album. Stutler has clearly grown up and transformed into a fine young music maker.
Like the artist, her original material has matured and blossomed. Stutler wisely surrounded herself with some of her gifted Columbia classmates in the studio and they clearly contributed to her sonic evolution, most notably guitarist Myles Bacon.
Country music fans will not be disappointed by Stutler's album, but one listen to the rock guitar Bacon provides on "Out of Time," reveals a broader appeal. One would be remiss to not mention the strong production by Rick Barnes at Chicago's Rax Trax Recording Studio.
6) NICK MOSS BAND featuring Dennis Gruenling -- "Lucky Guy" (Alligator Records)
Band leader Nick Moss and harmonica sideman Dennis Gruenling took home a BMA award in 2019 and have proven to be quite a team at making refreshingly vibrant and original blues music.
With solid backing from Taylor Streiff,, Rodrigo Mantovani and Patrick Seals,  Moss and Gruenling skirt traditional blues trappings, while adding an infusion of more soul (check out "Hot Zucchini"). Solid writing, impassioned performances, and a willingness to be innovative in a genre too often reluctant to break molds, earmark this band for greatness.
7) PETE BERWICK & THE MUGSHOT SAINTS -- "Island" (Shotgun Records)
Berwick is no stranger to this annual Top 10 List. Berwick's somewhat caustic, spit in your eye, outlaw style has been fairly consistent from album to album. The rebel sound may have returned thanks to Shooter Jennings, Jamie Johnson and others, but it has been Berwick's wheel house since he first helped to pioneer the Chicago cow-punk scene decades ago.
On this latest collection of self-penned tunes, the venom in Berwick's voice heard on his older songs like "Standing at the Gates," "See You In Hell," and "Only Bleeding," is tempered with (dare I say it?) a bit more softness and optimism. Berwick has a great band backing him here in The Mugshot Saints.
8) JAMES GEDDA -- "Thick As Thieves" (Independent)
James Gedda is an Americana Hoosier singer-songwriter with a resonant voice akin to mid-period Johnny Cash, an artist whose songs in fact pepper Gedda's live performances. Although relatively young, this Crown Point singer/guitarist shows a penchant for writing songs that stick in your head. His lyrics are his strongest suit. Of the five original songs featured on his debut EP, "Thick As Thieves," there's not a filler in the mix. All five are meaty, well-written story songs worthy of repeat listens.
Crisp, clean and uncluttered production by Merrillville studio engineer Nicholas Kazonis shows a respect for the songs and helps Gedda in carving his own niche.
9) HOOSIER DITTY -- "Born City, Dying Country" (Independent)
This NW Indiana band's sophomore album has 9 tunes written or co-written by vocalist/guitarist Rick Michael, and while it has plenty of knee-slappin' honky-tonkin' tunes ("Out of My Way" for instance), the guys have considerably expanded the country trajectory of the first album "Blackjack." This album find them adding in elements of blues, rock, and even a light touch of the islands on the song, "My Last Beer."
"Why We Stand" is wonderful salute to the U.S. military and along with the mid-tempo title track should get this group on the country music radar, while "Fool Me No More" may surprise some with its R&B groove. More: hoosierditty.com.
10) TIM GAINER -- "Honor Among Thieves" (Independent)
Chicago-based rocker, Tim Gainer opens with "Love and Death and an American Guitar," written by Meatloaf lyricist Jim Steinman. The remaining 9 tracks are a mix of Gainer's own songs and a few more tasty treatments of covers, like Uriah Heep's "Lady In Black," Bob Gibson's "Dime A Dozen Times," and Bob Seger's rollicking "Get Out of Denver."
Gainer's own songs may not catch the pop charts on fire, but they are enjoyable offerings and underscore the power of music. Read Gainer's short liner notes to appreciate the artist's fortitude and to enjoy the experience of an album he calls his "7 year odyssey."
12 Things to do in the Region this week
Stay up-to-date on what's happening
Receive the latest in local entertainment news in your inbox weekly!