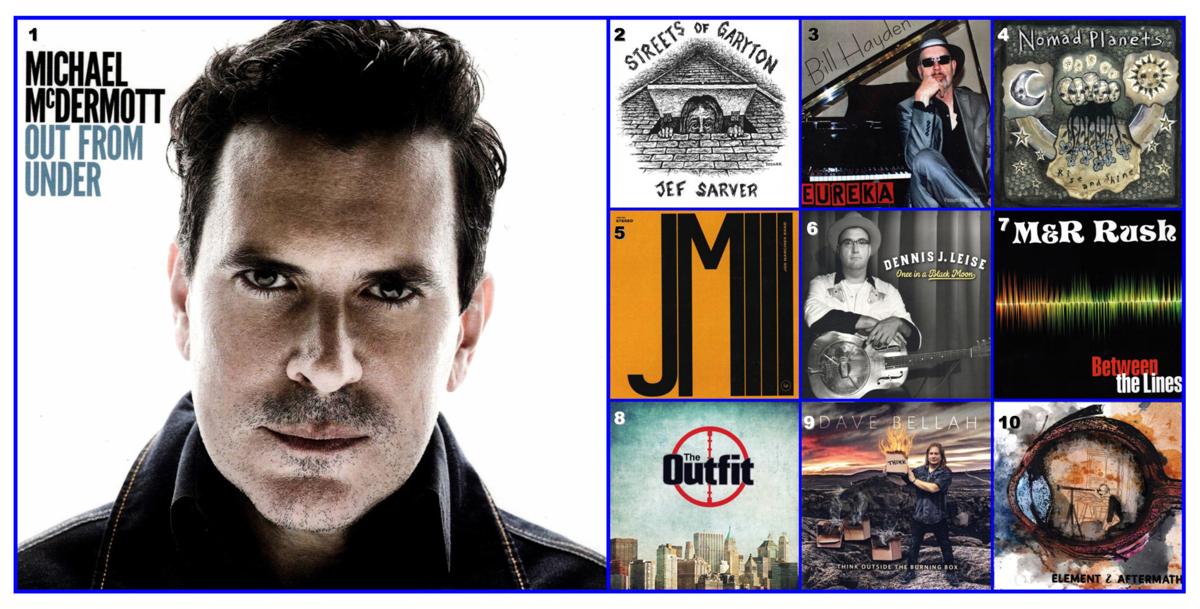 The requirement for this Top 10 list is always that albums must be released within a 15-month period (October 2017 - December 2018), contain at least 25 minutes of original music by a regionally-based artist and be commercially available for purchase.
Dozens of albums by regional music makers came my way over the past year, but only 10 make the cut for this annual list of my personal favorites.
1) MICHAEL McDERMOTT -- "Out From Under" (Pauper Sky Records)
Michael McDermott has made this annual list a few times in the past, as he consistently offers solid collections of songs that often reflect upon the human condition. His 11th studio recording, "Out From Under," released in Spring on Pauper Sky Records, finds McDermott riding the crest of the critical and commercial success of 2016's "Willow Springs." That album, like this one, finds McDermott drawing inspiration from a more positive place, thanks no doubt to a clearer vision and appreciation of simpler joys in life that sobriety now affords him.
McDermott's continued climb out of the darkness is generating a renewed drive in his writing and musical performances. There is a lot of passion here. "Out From Under" is a wonderful listen from start to finish. Highlights are "This World Will Break Your Heart," "Never Going Down Again" and "Knocked Down." More: Michael-McDermott.com.
2) JEF SARVER -- "The Streets Of Garyton" (Independent)
This Northwest Indiana singer/songwriter has been releasing records on his own dime for two decades. His 2017 offering "Scribbler On The Roof" made the #1 spot last year on this list. "The Streets of Garyton" is the second installment of what the artist describes as a musical trilogy he is creating with his producer John Carpenter at Hammond's Thunderclap Studio. Sarver's life experiences have metastasized into the best music of his career on these albums which are not only well written and passionately performed, but brilliantly produced and mixed.
Sarver's writing style is unorthodox and wholly his own. Colorful words and imagery populate his songs. This collection is very much a continuation of the last album from the similar sparse cover graphics by local artist William Bodnar, a worthy companion piece that leaves the listener yearning for the third installment of Sarver's masterpiece. Highlights: "Tears of a Clone," "Willow Creek," and "Streets of Garyton." More: facebook.com/jef.sarver.7.
3) BILL HAYDEN -- "Eureka" (Possum Records Ltd.)
The 13 songs on "Eureka" are a comeback as Hayden had not released an album of original music in over 20 years. This set is derived from the latest years of the artist's journey -- from dark to light, resulting in the most personal and powerful album of his career. Like his past albums, Hayden's writing skills shine but "Eureka" showcases Hayden's piano skills more than former offerings.
This album is primarily built upon a piano, bass and drums foundation, with a bit of guitar and brass added to accent and complete. Hayden's vocals have not changed, remaining gritty, in a John Mellencamp/Bob Seger fashion. Highlights are "Lonely Town," "Our Love Song" and "Summertime," the latter featuring legendary Northwest Indiana vocal group, The Spaniels Forever. More: soundcloud.com/billhayden.
4) NOMAD PLANETS - "Rise And Shine"" (Fairbanks Record)
Another of Northwest Indiana's truly unique sounding groups, Nomad Planets, has consistently released great albums readily embraced and appreciated by Chicago music fans, but too often overlooked by Regionites. That has been changing, and this album will surely further that change. Lead vocalist/co-guitarist Mark Mybeck provides powerful and haunting lyrical content perfectly coupled with the musicality of longtime bandmates, guitarist John Carpenter, drummer Terry Boylan and bassist/keyboardist Phil Rapchak. Carpenter's production skills have long been a major part of the group's appeal and sound. While not derivative, influences ranging from Lou Reed to R.E.M. can be heard. Highlights include the groovy "Red Light," the sparse "We're Together Now," the alt-pop of "Come On Carolina," the Doors-ian "Everything You've Ever Done Has Prepared You For Now" and the smooth "Tell Me That You're Missing Me" featuring tasty saxophone provided by guest musician Tony McCullough. More: ThunderClapRecording.com.
5) JOE MARCINEK BAND -- "JM III"" (JMB Music)
Joe Marcinek's latest album "JM3" generated a buzz locally several weeks before its November release due in part to the online video for the album's first single, "Mojo." The buzz was warranted for this self-produced 8-song collection. It offers the level of musicianship and songwriting one has come to expect from this genre-surfing, improvisational artist who easily cascades from rock to jazz to blues and back again. Complimenting the broadness of the sound is a wonderful sequencing of tracks, making the album flow smoothly despite the variances of sound. Highlights: "Mojo," "Terre Haute Blues," "What Cha Gonna Do," and "Mercy Boogie." More: joemarcinekband.com.
6) DENNIS J. LEISE - "Once in a Black Moon" (Towering Gringo Records)
Multi-instrumentalist Dennis J. Leise's new album showed up in my mail slot one day and impressed with its old-timey sound that blends a variety of folksy Americana styles running the gamut from ragtime to honkytonk, bluegrass to country and western to swing. Leise is a transplanted Chicagoan who now calls Miller Beach home. The album is delivered with a vibrant and rich voice.
Superbly produced at Reliable Recorders in Chicago, this collection features outstanding performances by not only Leise, but Brian Wilkie (pedal steel guitar), Marc Edelstein (upright bass), Casey McDonough (guitar, bass), John Rice (fiddle), Joe Camarillo (drums), and Scott Ligon (piano, harmonica). This is the kind of album that comes my way in, well…"once in a black moon."
7) M&R RUSH -- "Between The Lines" (Eminar Music/Ready Records)
"Between The Lines" is the sixth and latest album by this veteran group who has rocked since the mid-1970s with the original line-up intact. The M&R guys always deliver just what their fans expect of them -- straight ahead guitar-driven rock with a '70s/'80s flavoring that recalls the many arena rock groups who inspired them. What's always been pleasing about M&R albums is how the songwriting is as good or better than that of their more famous, classic rock contemporaries. That holds true again on the dozen tracks here, with the John McFarland-written title track opening on a strong note and setting the tone of what's to come.
"Between The Lines" is different from past M&R albums in that it's more diverse, with songs covering broader ground, such as the Jeff Luif-written "Sky," and Paul Martin's delightfully abstract "When Melvin Drives The Bus." This is a solid collection, enhanced by "Reckless Love," a tune written by Jim Peterik. While they kill it when covering Head East's "Never Been Any Reason" at the end of the album, one wishes they had instead used the space for another of their original tunes. More: mandrrush.com.
8) THE OUTFIT - "The Outfit" (Pavement Records)
Having not heard of The Outfit before this CD arrived, discovering this slab of hard rocking, guitar-driven original music was a nice surprise. There are no frills here. What you get are 9 straight ahead heavy rhythmic tunes with plenty of guitars which serve as the base for the strong rock voice in Andy Mitchell. The Outfit brings a late '90s groove to the party. This one has heads bopping from the first note to the last. Guitarist/vocalist Mitchell, bassist Mike Gorman, drummer Mark Nawara and guitarist Matt Nawara make up one of the best hard rock bands from Chicagoland this writer has heard in quite some time. Highlights: "Soldier Boy," "Just As One" and "Miracle."
9) DAVE BELLAH - "Think Outside the Burning Box" (Bellah Music)
Veteran Chicago rocker Dave Bellah does a nice job with the writing on this collection and proves to be a capable vocalist and guitarist. Bellah is a bit of a renaissance man who has surrounded himself with decent players, but the production on this otherwise strong album is too thin. This album needs more punch. Highlights: "Running Out of Love," "Lonely Nights/Lonely Days" and "Heart In Chains." Bellah is a gifted writer and performer who could benefit greatly with the right production. More: DaveBellahMusic.com.
10) STOP.DROP.REWIND - "Element & Aftermath"
Northwest Indiana's Stop.Drop.Rewind offered up "Element & Aftermath" in spring and performed a series of live gigs to showcase this interesting collection of 10 original songs designed to take their fans further down the rabbit hole of their ongoing journey into modern progressive rock. There are strong elements of funk and jazz infused into their brand of rock, which has a distant kinship to another like-minded, albeit better know trio, Rush. This is melodic rock often built upon odd time changes, giving opportunities for the members to show off improvisational skills. More: stopdroprewind.com.
Stay up-to-date on what's happening
Receive the latest in local entertainment news in your inbox weekly!