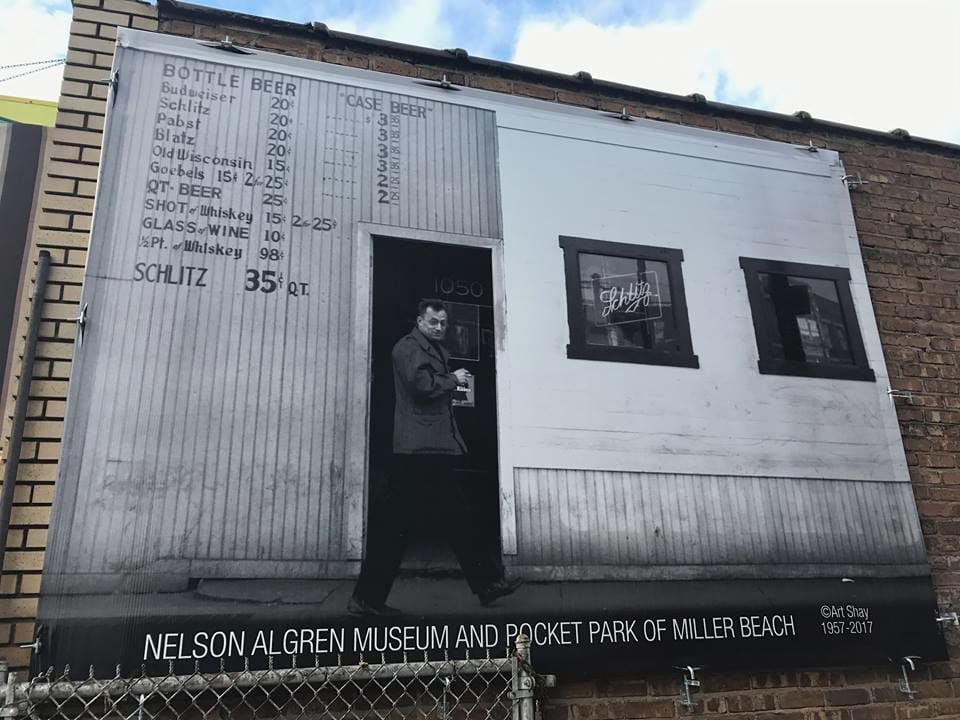 Nelson Algren biographer Colin Asher will share stories about the National Book Award-winning author of "The Man with the Golden Arm" in Gary's Miller neighborhood next Friday.
He will give a speech and read from his new Algren biography at 7 p.m. April 26 at the Nelson Algren Museum of Miller Beach at  541 S. Lake St.
"His book is called 'Never a Lovely So Real: The Life and Work of Nelson Algren' and it is wonderful," museum co-founder Sue Rutsen said. "The new information is what the FBI had on Algren and how he was monitored in Miller by the Gary Postmaster and FBI agents."
"Never a Lovely So Real: The Life and Work of Nelson Algren" has been reviewed by the New Yorker, The Nation and The Wall Street Journal.
Both Newsday and Publisher's Weekly named it a book of the week.
"Aiming to place Nelson Algren in the literary canon, Asher, a literature instructor at CUNY, offers a thorough, admiring, and, most likely, definitive biography," Publisher's Weekly wrote in the review. "Asher attributes this once-acclaimed author's truncated career to a decades-long FBI investigation into his Communist Party ties and to changing literary fashions that overshadowed Algren's achievements—foremost among them, alchemizing his observations of the mid-20th-century Chicago underclass into masterful novels."
The book details Algren's life and his relationships with luminaries like Simone de Beauvoir, Richard Wright, and Don DeLillo.
"Asher relies on the primary material assembled by previous biographers, filling in the blanks with a nearly unredacted version of Algren's FBI file," Publisher's Weekly wrote. "The result is a generous, stylish portrait of an impulsive, directionless outsider who nonetheless established a place among the lions of mid-20th century American literature."
Asher said he will discuss Algren's FBI file and the role the FBI had in derailing his literary career.
He's been working on the sweeping biography for seven years after writing an article about Algren.
"Originally, I found great resonance with his work," Asher said. "He has a sensibility that's very unique in American literary. He could write about working-class life and poverty without mythologizing and sentimentality. There was no distance. It's been said he could write about poor people without an intellectual portage. He didn't write about people as specimens. He wasn't condescending and didn't write at a distance."
During his heyday, Algren sold millions of books but his literary reputation nationally has since diminished.
"He was a public figure and probably the most famous writer in the country after winning the National Book Award," Asher said. "But I've been playing a parlor game where I'll mention Algren's name to see if anybody nodded. Few nod."
Asher, who hails from a working-class background, said he could identify with Algren's work and wanted to show him in a new light.
"I wanted to place him and his characters back in the canon," he said. "He is as much of a part of American literature as Richard Yates or Saul Bellow or writers who focus more on the middle class."
Asher painstakingly researched the book, finding that Algren told lies about his own life such as by presenting his youthful self as more cynical than he really was or claiming he had been an awful student who failed everything and hung around playing baseball and smoking cigarettes.
"His report cards showed that he got good grades," Asher said. "I had to piece together his story with archival resources, trying to correct public statements he made himself."