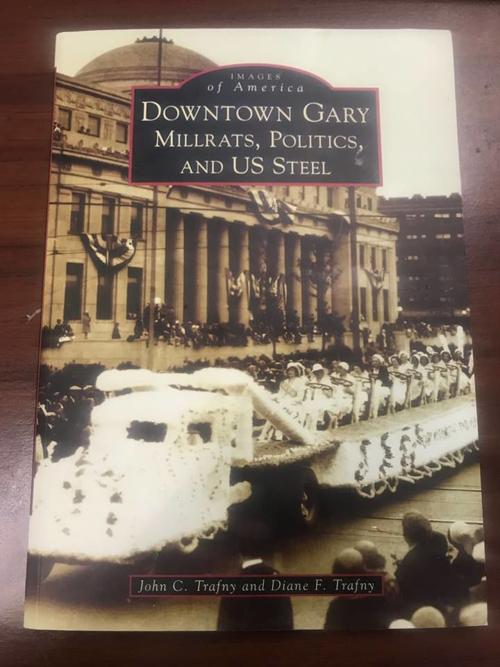 A new book looks back at the history of downtown Gary back when it was "the social, cultural and political center of the blue-collar industrial community."
The brother-and-sister duo, John C. Trafny and Diane F. Trafny, published "Downtown Gary: Millrats, Politics and U.S. Steel" with Arcadia Publishing through its "Images of America" series.
"'Downtown Gary: Millrats, Politics, and U.S. Steel' provided a glimpse not only of the stores of yesteryear but also the politics, churches, schools, and of course, United States Steel Corp. and the millrats," Arcadia Publishing said in a press release.
Filled with many vintage black-and-white photos, the history book looks at the heydey of downtown Gary between the 1920s and 1960s, when it was a major shopping destination and gathering place in Northwest Indiana.
"People from throughout the Calumet Region flocked to the Steel City's popular stores, theaters and restaurants by car, bus and the South Shore Railroad," Arcadia Publishing said in a press release.
"For many, Gordon's, Lytton's, Sears and Goldblatt's bring back memories of window-shopping, making layaway plans, visiting Santa, and being asked 'May I help you?' by courteous employees."
The 128-page book is the fifth former steelworker and U.S. Army veteran John Trafny has written about Gary. The Gary native and Emerson High School graduate is now a lecturer at Purdue University. He co-authored the book with his sister, Diane Trafny, a Gary native and current Griffith resident who graduated from Andrean High School and Indiana University.
It features notable figures such as astronaut Frank Borman and actor Karl Malden, photos of early businesses, and descriptions of political happenings such as when President Dwight Eisenhower made a whistlestop speech in downtown Gary, or when a train car "loaded with cattle, hogs, calves, sheep and clams" arrived for a Democratic barbecue just before an election in 1907.
Readers can see the interurban rail lines that used to run over the downtown and massive but long-bygone department stores like the four-story H. Gordon & Sons Department Store that was known for its landmark clock before it shuttered for good in 1972.
One can glimpse the inside of a packed Palace Theater or Seaman Hall in City Methodist Church, glance at old class photos, or see the idyllic beauty of the leafy Horace Mann High School grounds back in its prime.
The book retails at a suggested price of $21.99 and is available at local bookstores.