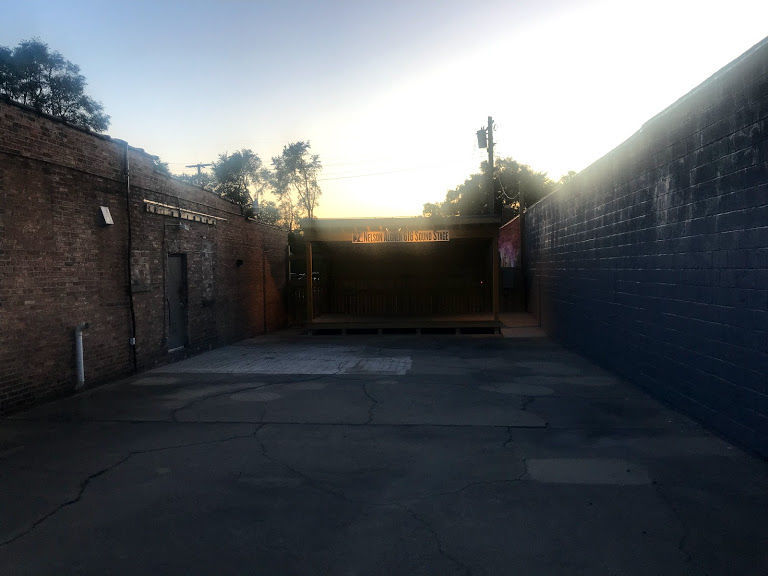 Gary's lakefront Miller neighborhood has a new live music venue that will soon make its debut.
Community activists George Rogge and Sue Rutsen, who also founded the Nelsen Algren Museum of Miller Beach, built the new Nelson Algren 616 Sound Stage on Miller's main commercial drag. The intimate outdoor music venue is located at 616 S. Lake Street next to the Thumbs Up Tavern and features a specially fabricated metal fence with a musical score.
"Built with a generous grant from the John S. and James L. Knight Foundation Donor Advised Fund through the Legacy Foundation, the Nelson Algren 616 Sound Stage was re-purposed from a blighted area into a community space for public use," Rutsen said in a press release.
18th Street Brewery down the street will host the inaugural event – a Halloween party in which people are encouraged but not required to dress in Halloween costumes – from 5 to 11 p.m. Friday, Nov. 1. It's in conjunction with Miller's First Friday event in which the shops and galleries stay open late and offer specials.
Attendees of the free event can enjoy music, food and craft beer.
Rogge said they hoped to bring more traffic to the Miller businesses, which have been struggling because of two years of road construction that has left Lake Street torn up and blocked off.
Community members are invited to contact the Nelson Algren Museum of Miller Beach if they're interested in scheduling concerts or other events of their own at the Nelson Algren 616 Sound Stage.