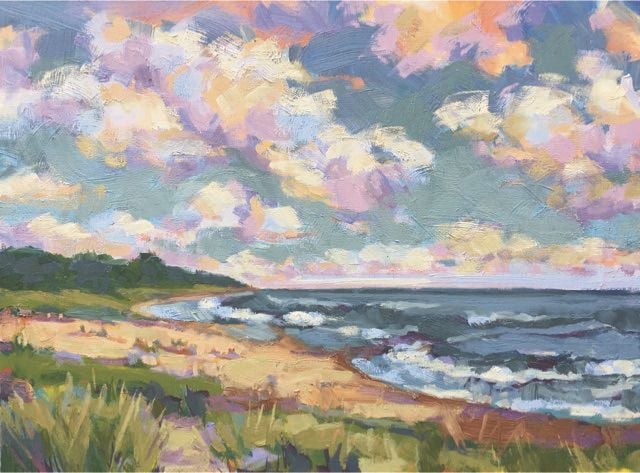 It's a summer of landscapes in Miller Beach.
The Miller Beach Arts & Creative District is inviting artists to participate in its first annual Miller Beach Arts Plein Air Event later this month and staging a "Reconnect" exhibit of landscape paintings by the artists Anne Corlett, Royce Deans and Angela Mathias Saxon who all grew up along the southern shores of Lake Michigan.
"Reconnect" opens on Aug. 17 in the Marshall J. Gardner Center for the Arts at 540 S Lake St., and runs through Sept. 9. An opening reception with a cash bar will take place from 6  to 9 p.m. Aug. 17, giving those interested a chance to meet the artists.
"As busy human beings, it is easy to lose touch with our surroundings. We have deadlines and responsibilities and not nearly enough time to pause and look around," the artists said in a press release. "As plein air artists, our inspiration comes from observation. It is essential to look, listen and feel the surrounding landscape. For us, that is Lake Michigan's shoreline."
"The beach's tumultuous skies, roaring lake and graceful dunes have woven throughout our lives, an endless source of intrigue. We grew up swimming these shores, sinking our feet into the sand and allowing the wild winds to clear and reset our minds. Through observation and painting, we continue to absorb and retell the wisdom of this slice of nature. Our hope is that by contemplating our work, viewers will feel the wonder of nature and its endless expanse of power, reconnecting with this glorious place we call home."
Saxson, a Miller native with a Bachelors in Fine Arts in Painting from Indiana University, has painted landscapes for three decades. Deans, an American Academy of Art graduate, considers himself a representational expressionist.
And Corlett, a University of Wisconsin graduate who has studied at the Art Institute of Chicago and the Royal Academy of Art in London, works in oils, pastels and watercolors.
"Paintings are a place to explore my relationship to life," she said. "When working, I take hold of the energy around me and focus it onto the canvas. This action celebrates existence."
As part of the exhibit, Corlett, Deans, Saxson and other artists will paint landscapes outdoors across the Miller neighborhood on Aug. 25, an event that will be followed with a reception at 6 to 9 p.m. where they'll exhibit and sell the newly created work.
"The Miller Beach Art & Creative District invites artists to participate in our first annual Plein Air Event, a day of painting and drawing on locations in and around Miller Beach," Director Meg Roman said in a press release. "Plein-air painting refers to the technique of painting out-of-doors which was initiated by the French Impressionists in the mid-nineteenth century. The aim and challenge of plein air painting is to 'capture the moment,' working quickly to complete a painting in a fairly short period of time."
The Marshall J. Gardner Center is open from noon until 6 p.m. Thursday, noon until 9 p.m. Friday, 6 until 9 p.m. Saturday and 1 to 4 p.m. Sunday.