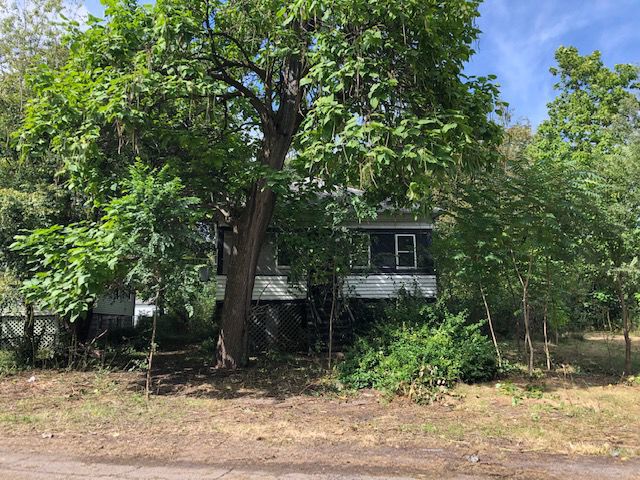 An artist plans to transform a long-abandoned house in Gary into a sparkly source of light for a city that's long suffered from blight and abandonment.
Gary resident Jennifer Taylor, a self-taught painter and actor who's appeared on shows like "Chicago Fire" and "Empire," is closing her Painted Board Studio at 621 S. Lake St. in Miller and moving her operations to the century-old house at 6128 E. 6th Place in Gary.
The white clapboard ranch house that's currently engulfed in trees and shrubbery will serve as an art studio, have wine-and-painting parties, host visiting artists for residencies and offer classes to the general public. Oh, and it will be literally covered in sparkles.
"It's startling and deeply sad to see so many homes around here simply collapse after being abandoned," Taylor said. "I can't imagine how painful it must have been for families to realize that, for a variety of reasons, they could no longer stay in their homes and the only solution was to simply walk away. This is one of those houses and it's been calling to me.  I want to revive it — not only to its former self — but to a place of glory."
Taylor has been clearing brush and trees around the house and hired a local contractor to rebuild the interior. She plans to paint it and cover the exterior in rhinestone, glass and mirror sparkles. She also intends to turn the side lot into a "labyrinthine" sculpture garden where local gardeners will be invited to plant flowers and vegetables and artists will be encouraged to create sculpture.
"My intention is simply to do something fun while also enabling this little Sparkle House to 'spark change' in our Gary community," Taylor said. "People have been relating their memories of this house and the neighborhood. I hope to hear many more."
She hopes to turn the neglected house into a major landmark.
"I see it as a destination point," she said. "My goal is to have a sign off the Borman Expressway saying the Sparkle House is this way." 
It's similar to other do-it-yourself public arts projects like The Heidelberg Project in Detroit, which transformed a dilapidated inner-city block with bright polka dots, salvaged items and eccentric artistic installations.
Taylor is no stranger to such projects. She and fellow Miller-based artist Deborah Weiss hung the dresses that mysteriously appeared last year on the second floor of the long-abandoned Holiday Inn on Dunes Highway between downtown Gary and Miller.
She enlivened the empty, shoebox-like concrete frame of the bygone motel, vacant since the 1990s, with formal dresses on hangars that rippled in the wind after she was "suddenly overwhelmed with sadness when we thought of what it used to be, how many people stayed and played there, and how many people worked there" and how "all that was left was empty memories."
The artist opened Beach Art Studios with fellow artist Leslie Green on Lake Street in Gary's Miller neighborhood in 2016 and then struck out on her own the next year to open Painted Board Studio at 621 S. Lake St. She painted there, sold her art, taught classes and did commissioned pet portraits.
Taylor, who has recently exhibited her work at the Marshall J. Gardner Center for the Arts in Miller and the Fluid Coffee Bar in Valparaiso, hopes to have more privacy while painting in the Sparkle House, which is located in a more residential area.
"People can't just walk in," she said. "Anybody that makes anything creative understands there's a zen thing where you get lost in the process. When people are always looking in the windows or popping in, that breaks the privacy. I get really productive when I get my quiet."
She hopes the unique art house will inspire other property owners.
"I hope it sparks interest in making the neighborhood brighter and cleaner," Taylor said. "There's junkmobiles outside houses, garbage on the street and houses that ought to come down. I just want to inspire someone else to do the same. It's so sad to see all the abandoned housing in Gary. I just want to take something that was neglected and make it beautiful, shiny and new, to make it sparkle."
Stay up-to-date on what's happening
Receive the latest in local entertainment news in your inbox weekly!