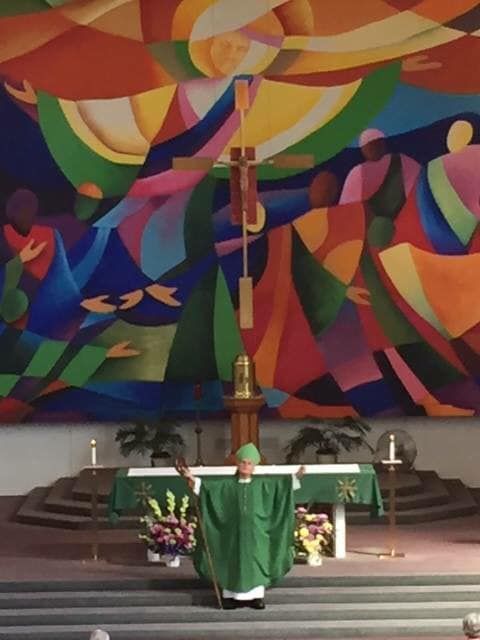 St. Mary of the Lake in Gary's Miller neighborhood, which was saved from closure a few years ago in what was hailed as "a minor miracle," now has a huge and brightly colored mural depicting The Ascension when Jesus rose from the dead directly to heaven on Holy Thursday.
The half-century-old Catholic church at 6060 Miller Ave. in Gary will show off the vibrant new mural titled "The Ascension" behind its altar to the public at an open house at 3 p.m. Sunday, followed by a dedication service at 4 p.m.
Visitors will have the chance to meet Edgardo De Guzman of the Philippines, who created the mural, and celebrated local muralist Felix "Flex" Maldonado, who transferred it onto the wall at the church in Miller.
After the dedication mass, visitors will get a chance to see more of De Guzman's work and enjoy light refreshments at Lessard Hall.
Church leaders wanted a new mural on the wall to symbolize a new chapter at the church, whose congregation has grown since a community-wide campaign to save it. The huge contemporary artwork took Maldonado, the artist behind the Jackson 5 murals downtown and in Miller, about a month to paint.
"It's a modern piece," St. Mary of the Lake Parish Life Director Judith Siroky said. "It's definitely impactful because of the size and the color. I do see Christ in it, telling us to go out and serve. I get a different feeling every time I look at it."
Everyone is welcome to come check out the piece Sunday, whether Catholic or not.
"Former parishioners have come back to see it," she said. "There's an awe factor."
For more information, call 219.938.1373 or find St. Mary of the Lake on Facebook.