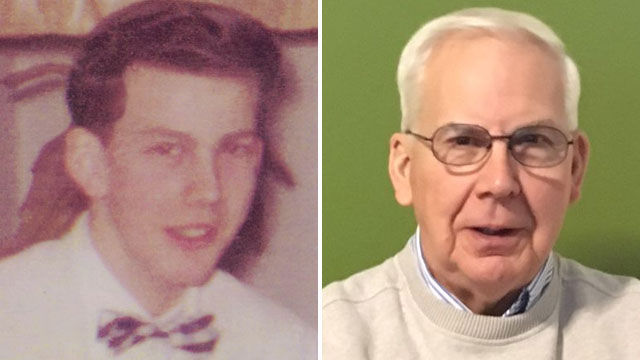 DYER — Growing up in the 1950s, Albert Koch didn't have 500 cable channels to choose from. TVs only had four channels, but that was fine whenever "American Bandstand" with Dick Clark was on.
"I grew up in Whiting and hung around with my buddies after school," said Koch, 75, and now living in Dyer. "Then a new show came on NBC, and it just hit a chord. We saw kids just like ourselves but who were not relegated to being seen and not heard. We tuned in every day to see how the kids danced and to listen to the music. We realized all the kids were the same.
"It opened up a social door for us. We got a glimpse at how other kids spent their time, and it was cool," Koch said. "We really identified with those kids. The show was our soap opera. It became a part of our lives, and it was a cool time to be a kid."
In 2014, Koch read a column in The Times of Northwest Indiana describing how Sharon Sultan Cutler was putting together a book of memories from people who were on the show or who, like Koch, just loved watching it. He wrote to Cutler, and his memories are among those included in "Bandstand Diaries" about the early years of the show from 1957 to 1963 when it originated in Philadelphia.
Cutler, of Chicago, was a fan of the show, like Koch, and wondered whatever happened to the clean-cut, neatly dressed teens who danced on the show. Through social media she found Arlene Sullivan, who, with her boyfriend, Kenny Rossi, was a popular regular on the show. Through word of mouth, Cutler eventually made contact with more than 40 former regulars over the past three years.
"They were very willing to share stories about what life was like while they were on the screen," Cutler said. "They were the first reality stars. They were seen as movie stars. They got fan mail and stories in fan magazines. For the most part they accepted that it was an interesting part of their lives, but they have moved on."
Sullivan co-wrote the book with Cutler and Ray Smith, another regular on the show, and the book includes more than 700 pictures. As a result of the book, a reunion was held at which 40 or more of the dancers attended and were introduced to the public, which also could attend. Many of the regulars had others from the show sign copies of the book as though it were their yearbook and they were at their high school reunion, Cutler said.
"One of the happiest memories I have is of coming home from school to see Bandstand," she said. "I identified with the kids and knew all their names. It was an era when we respected the teenagers on the show and we adored them."
Koch said, "Rock 'n roll was part of our way of life. We were quick to adapt the hair, dress and dance styles. One of the things that impressed me was the way the kids could get in front of the cameras and be so natural. They made it look easy. The fact we could watch these kids was good. It was like being invited to a dance party and being able to watch everything."
Koch, like many others who watched the show, danced next to his TV. He said the closest he ever came to getting in to see the show was when Dick Clark brought the show to the Detroit State Fair in 1959. Koch and a couple of his friends drove to Detroit hoping to see the 14 bands on the bill. Unfortunately, the show was sold out at $3 a ticket, so all he got was a program, for 25 cents, and they all listened to the music from outside the arena.
Koch eventually went on to become a teacher for 44 years, 20 years in vocational education and 24 in special education at several schools, retiring from Lake Central in 2010. He said the book is like "opening a time capsule and revisiting once-upon-a-time. So many moments; so many memories." He said it's like "a visit from an old friend, and it doesn't seem like that long ago."
Cutler said the book also has information about the fan clubs and explains why there were never any reruns (the shows were live and not taped.). The show moved to Los Angeles in 1964, but Cutler said it wasn't the same and, just maybe, the kids outgrew it.
Koch also contributed a poem titled "Lookin' Back" that is included. He said he plans to get several copies to give to some of his former Whiting classmates (class of 1958).
Reminiscent of a regular Bandstand feature, Koch said, "Treasure the moments, savor the memories. It's got a great beat. I'll give it a 95."