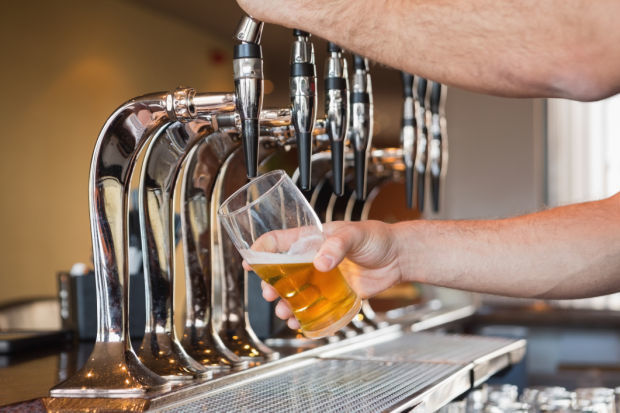 The Catholic Church aims to pique the interest of young adults or keep them engaged by inviting them out for a beer.
Theology On Tap returns to Northwest Indiana this summer, with St. Mary Catholic Church in Crown Point celebrating for the 11th straight year and two churches participating for the first time.
Catholic churches in Crown Point, St. John, and Schererville will host Theology On Tap events when speakers talk to young adults in their 20s and 30s about various religious issues, such as choosing God or looking at social issues through a spiritual lens. Young adult Catholics, both married and single, are invited to share their faith at the free events in which food and beverages are usually served.
"Theology On Tap was started in the Archdiocese of Chicago by a group of church leaders seeking a creative and effective way to reach out to this important age group," the Diocese of Gary said in a press release. "The program has since grown nationally, and is in its 19th year in the Diocese of Gary. The mission of the program is to provide young adults from all walks of life straight talk, hard facts and real answers about faith –  and its implications on their lives, the community and society."
St. Mary Catholic Church will host Theology On Tap events at 7 p.m. on four consecutive Wednesdays – July 11, 18, 25 and August 1 – at Crown Brewing at 211 S. East St. in Crown Point.
St. Michael the Archangel Catholic Church will host Theology On Tap at 7 p.m. three straight Thursdays – August 9, 16 and 23 – at Region Ale Tap House & Eatery at 1080 US 41 in Schererville. 
And St. John the Evangelist Catholic Church will host its first Theology On Tap gathering on July 24th at St. John Malt Brothers Craft Brewing at 9607 Wicker Ave. in St. John.
"Speakers and participants at the Crown Point series will discuss such topics as spiritual pilgrimages, relationships, self-image, and the importance of our faith witness," the Gary Diocese said in a press release. "Speakers and participants in St. John will hear a dynamic young priest share his story of choosing God. In Schererville, speakers and participants will explore timely social topics, and Bishop Hying leads a conversation August 23rd about the connection between sports and religion."