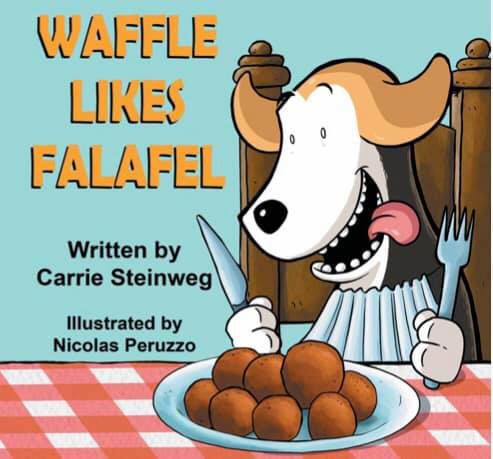 Carrie Steinweg, an author, blogger, photographer and freelance writer for The Times of Northwest Indiana, can now add award-winning children's book author to her many accomplishments.
Steinweg's "Waffle Likes Falafel" won an award from the Illinois Women's Press Association. The book about a dog named Waffle who learns about eating more adventurously took home third place in the children's book/fiction category in the 2020 Mate E. Palmer Communications Contest.
The Lansing resident also won awards from the Illinois Women's Press Association for two The Times of Northwest Indiana articles she wrote and earned another honor for an article she wrote for the Lansing Journal. She won first place for writing/news story for "Stanley Cup Winner Works to Educate, Raise Self-Esteem for Those with Dyslexia" and second place for feature story for "Auburn Cord Duesenberg Museum Highlights Past Luxury," both of which were published in The Times. She also won second place for a news story for "White Sox Organization Hosts Birthday Party for Lansing's C.P. Crawford" in The Lansing Journal.
Steinweg made her own dog Waffle, now 14, the main character in her now-award-winning book. 
"In the book he is a picky eater who won't try new things," she said. "However, in real life he's the complete opposite. He eats pretty much anything - loves carrots, apples, bacon and popcorn the best. And he is a master at catching food in his mouth. Ninety-five out of 100 times he's going to catch it before it hits the ground, even if is a tiny crumb."
Steinweg, who writes the food blog Chicago Foodie Sisters with her younger sister Becky, was inspired to write the book by her efforts to convince kids to expand their culinary horizons. 
"I'm a mom of five boys and had one son, in particular, with a picky appetite who is now a teenager. At one point I could count on two hands the number of foods he would eat. Luckily, he's outgrown it. However, I wrote it with my niece, Ari, 4, and nephew, Eli, 6, in mind," she said. "I had been babysitting them one day a week and it was such a challenge to make their meals since there were such a limited number of things they would eat. I hoped to encourage them to try new foods through the story. I'm still working on it. Their mom and I do a food blog together and are very adventurous eaters."
She and her sister Becky have always enjoyed dining out, shopping at gourmet stores and attending food festivals. Nearly a decade ago, they decided to start writing about it and have since built up a large following.
"In 2011, she had a dinner party at her house where we made a French-inspired meal she learned to cook at a gourmet cooking class she'd recently attended. At the party we were chatting and one of us said, 'We should start a blog,'" she said. "A few days later ChicagoFoodieSisters.com debuted. We just celebrated our blog's 9-year anniversary on July 1. It's grown to be a recognizable brand among Chicago area foodies and those in the food industry and we have an online following of over 20,000 on social media. I just love that food is this universal thing that brings people together and can conjure up wonderful memories."
With "Waffle Likes Falafel," she hoped to spread the foodie gospel.
"As a foodie, I love when kids - or even adults - are willing to try new foods," she said. "You never know if you'll like something until you try it. And sometimes when you try something, you discover that you've been missing out on something that is delicious. I wanted to get that message to kids."
She wrote the short 24-page rhyming story in one sitting and collaborated with illustrator Nicolas Peruzzo.
"He did a great job," she said. "I sent him pictures of my dog, Waffle, and he was pretty spot on."
Steinweg has written seven books, including two previous children's books.
"It's such a nice departure from worrying about word counts and deadlines. I love singsongy, rhyming stories, like the books written by Margaret Wise Brown and Dr. Seuss. That style seems to come pretty easy to me," she said. "It's fun to have the freedom to write about any topic and make it fun. It's great to have an opportunity to use your imagination like you did when you were a kid. The most fun comes when I visit schools, libraries, MOMs Clubs or other groups to read my books aloud to kids. I always say that if I won the lottery and didn't have to worry about paying bills, I'd want to spend my days writing children's books, giving them away and reading them to classrooms full of kids. COVID-19 caused cancellation of several classrooms visits, appearances and book signings I had scheduled and I really miss sitting in a classroom, reading my books to young kids and seeing how excited they get about the stories."
The book is available at Barnes and Noble's website bn.com, amazon.com, and the gift shop at the Center for Visual and Performing Arts.