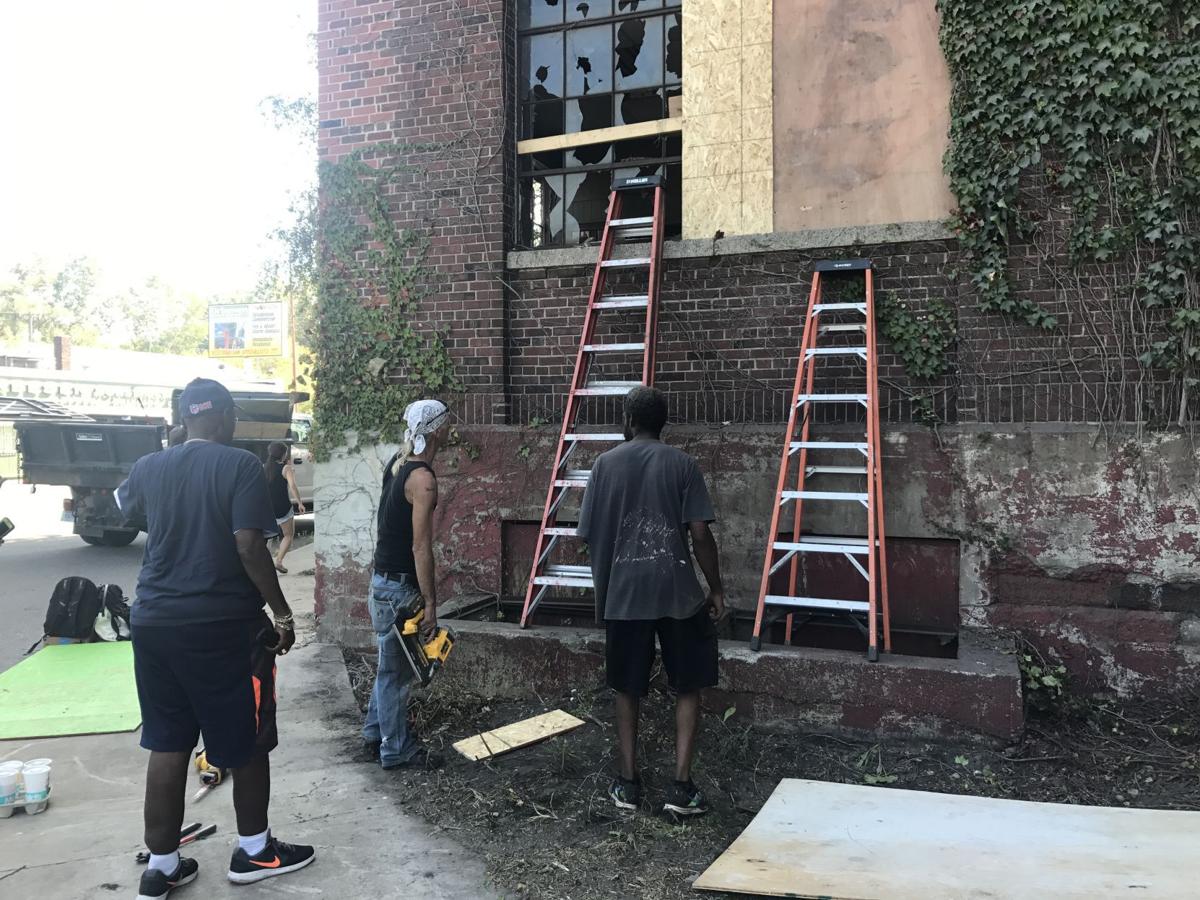 Dozens of volunteers gathered Saturday to fix up Gary's abandoned General Services Building to ready it for the onslaught of winter.
With help from city government, volunteers with The Heat Light Water Project, the Calumet Artist Residency's Gary Poetry Project, the Steel City Academy and other groups boarded up windows, cleared weeds and painted poetry written by city residents on the building's facade.
"Our project is thinking about this building as something that is valuable to save for the community," said Chicago-based artist and educator Jan Tichy, who leads the Heat Light Water Project. "What happened here today was amazing. It just shows people will come together, and we have earned maybe another year because it's now boarded up for winter."
Noted architect George W. Maher, who designed the Gary Bathing Beach Aquatorium and many other buildings across the Chicago area, designed the Prairie Style General Services Building at 900 Madison St. as a warehouse for the Gary Heat, Light and Water Co. in 1926. It was used as the City of Gary's General Services Building for many years and still is a recycling center and storage spot for unused police cars, tires and other sundries.
The Heat Light Water Project aims to set up artist studios inside the massive three-story building, but it's also looking at fulfilling a number of other community needs after talks with neighborhood residents, administrator Kyle Terry said.
The sprawling building also could be a safe place for kids to hang out, and a meeting place.
"Other than government buildings and churches, there aren't really any places to meet," he said. "It's a basic need it could meet."
There's also talk of the building housing a coffee shop, a recording studio and a craft brewing incubator where home brewers could come in and brew test batches on a larger system before investing in their own brewery equipment, or that transient gypsy brewers could rent as needed.
The Heat Light Water Project is pursuing grants to pay for an $11,000 environmental study that would determine what would be needed to shore up and stabilize the General Services Building so it could be occupied again. 
Once that's done, it could present the findings to large institutional foundations to pursue the estimated $2 million that would be required to restore the relatively stable building, which is still filled with paperwork that dates back to the 1990s.
"It's nothing compared to what would be needed for some of the other vacant buildings in the city," Terry said. "The Post Office would cost tens of millions to rehabilitate."