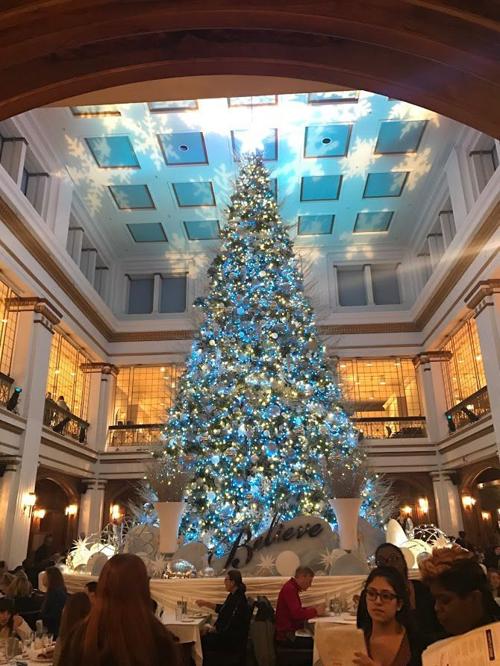 CHICAGO — The Walnut Room in Macy's on State Street in downtown Chicago, a longtime Christmas tradition in Chicagoland known for its towering and highly photogenic tree, is restricting itself to reservations and takeouts during the coronavirus pandemic.
For the 113th straight year, the elegant restaurant with imported Russian wood paneling and Austrian chandeliers in the former Marshall Field's will serve a traditional Christmas dinner under the landmark Great Tree that's adorned differently every year. But it's asking for reservations through OpenTable.com and offering the classic Mrs. Hering's Chicken Pot Pie for pickup or delivery.
The dining room will allow reservation-only, dine-in eating on a socially distanced basis. The menu this holiday season includes chicken pot pie, cider glazed turkey and Frango ice cream pie.
"We've reimagined the Walnut Room experience while maintaining holiday traditions near and dear to the heart of generations of Chicagoans — from the beloved items on the menu to new ways to capture a memory in front of the Great Tree or make a wish with the Fairy Princess," said Matt Sarosy, Macy's on State Street store manager. "We are committed to providing the quality experience our customers expect as well as providing a safe and healthy dining experience, following the Centers for Disease Control and local guidelines. The safety of our customers and colleagues is our top priority."
Diners may reserve socially distanced tables of up to six people in the Walnut Room on the seventh floor of the Macy's at 111 N. State Street between Nov. 7 and January 3 with a $19.95 deposit per person. Meals kits that can serve four to six people will become available on Nov. 27 through GrubHub and Seven on State.
Macy's is taking multiple coronavirus precautions, including enhanced cleaning and daily wellness checks of employees, and requires masks except when eating or drinking.
The Pav at Wolf Lake has some more PSAs
Stay up-to-date on what's happening
Receive the latest in local entertainment news in your inbox weekly!