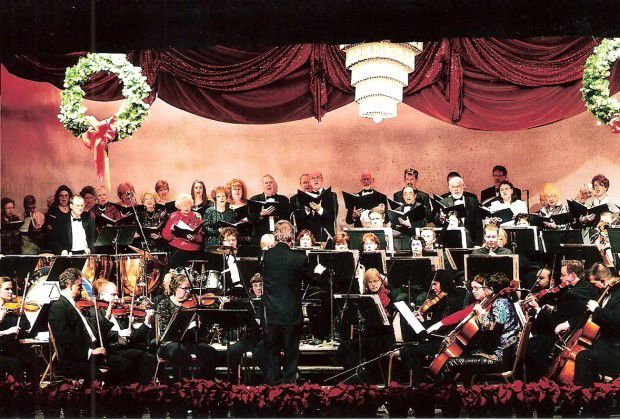 The Whiting Park Festival Orchestra will perform four free concerts at the Whiting Lakefront Park on Lake Michigan this summer in its 20th season.
All of the concerts will take place at 7:30 p.m. on July 13, Aug. 3, Aug. 17 and Sept. 1.
Whiting native Marty Dybel and musical director Robert Vodnoy founded the orchestra, which performs pop, Broadway tunes and classical masterpieces like Rimsky-Korsakov's "Scheherazade" and  Ludwig van Beethoven's "Symphony No. 5." It now draws about 9,000 people a year to the Lake Michigan lakefront.
"It has been a wonderful and rewarding partnership with the people of Whiting-Robertsdale and the City of Whiting, and particularly gratifying to be celebrating this 20th season of the founding of the Whiting Park Festival Orchestra. Last season, we celebrated the 25th anniversary of the 'Summer with the Symphony' concert series," Vodnoy said. "It's truly amazing to see how our audiences have grown and become more diverse as the years have gone by. On a typical concert evening, we see our many long-time supporters at concerts, along with new, young families, and people from all over Northwest Indiana and the southern suburbs, too. It's great to be able to showcase the city and our spectacular lakefront park to so many people."
The opening night program is titled "Pierogis and Mascots" in honor of Pierogi Fest and the National Mascot Hall of Fame.
"After the traditional singing of 'The Star Spangled Banner,' we will open the concert with Mikhail Glinka's 'Ruslan and Lyudmila Overture,'" Vodnoy said. This was the overture which opened the WPFO's first concert in July 2000."
The program includes traditional Polish folk music, including a Polka, a Polonaise and a Mazurka.
"These three dances are the essence of Polish folk music," Vodnoy said. "We will begin with Johann Strauss II's 'Thunder and Lightning Polka' which is always a crowd-pleaser. Then we'll play Rimsky-Korsakov's 'Polonaise from Christmas Night.' We have played this work many times on holiday concerts, but this will be the first time we will play it in the summer. Think of it as Christmas in July."
To celebrate the new National Mascot Hall of Fame, the orchestra will then perform a medley of football songs, including fight songs from the University of California, University of Illinois, Indiana University, University of Michigan, University of Minnesota, Notre Dame, Purdue, the University of Southern California and the University of Wisconsin.
The Aug. 3 concert is "Get Happy! A Judy Garland Celebration," while Aug. 17 is Russian Night and Sept. 1 is Americana Night.
All the concerts are free but reserved seating is available for subscribers.