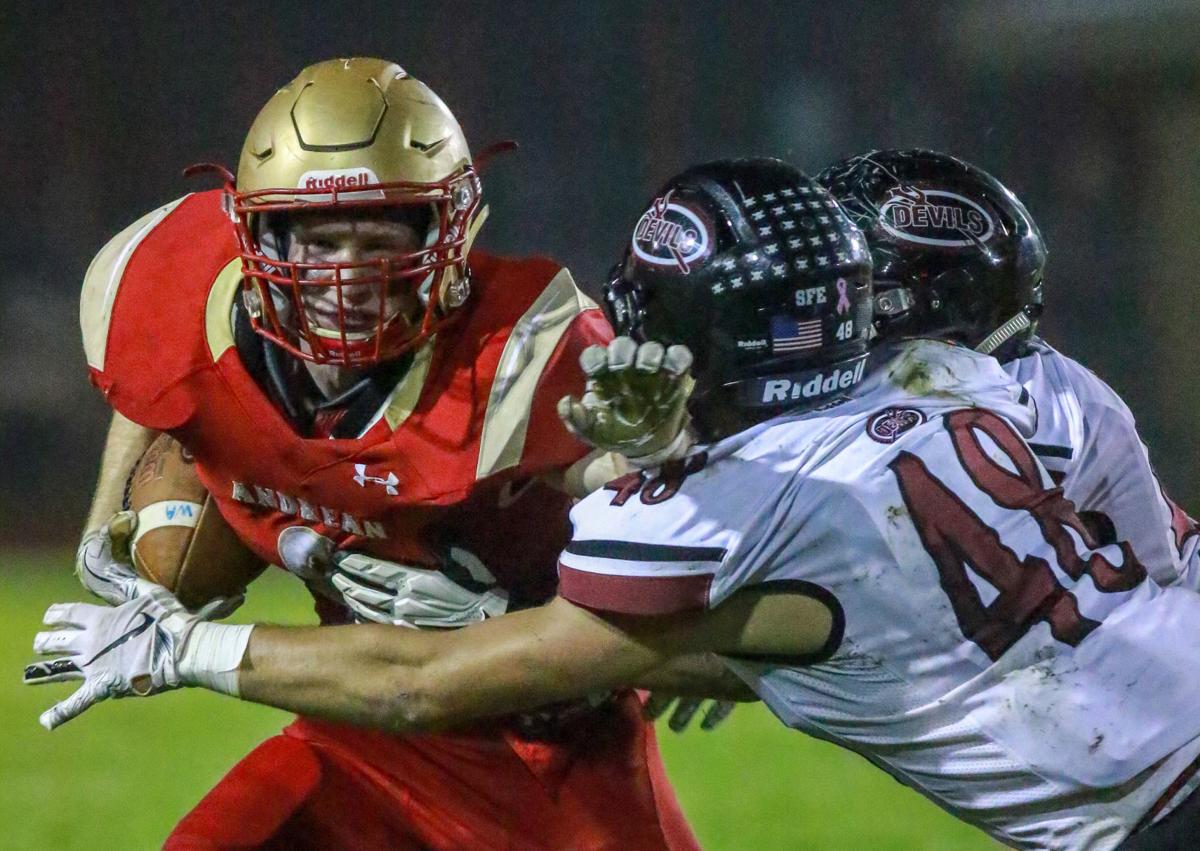 MERRILLVILLE — Andrean was able to savor its convincing 27-0 win over visiting Boone Grove on Friday in a Class 2A sectional semifinal at Father Eckert Stadium — at least for a little while.
The Andrean defense shined in shutting out Boone (10-1) and its formidable ground game, but it now must turn its focus toward Rensselaer (9-2) — another team that likes to run the ball — next Friday at home in a Class 2A Sectional 33 final.
"I have a lot of respect for (Rensselaer), their program and their coaching staff," Andrean coach Chris Skinner said. "Their coaching staff has been together for a long time. Those kids always play hard."
It will be a rematch of the 2012 sectional final won by the Niners (8-3), also at Eckert.
"They're tough kids," Skinner said. "They play hard, they punch above their weight. I know for a fact they're going to be ready and prepared and they're going to bring physicality.
"So we've got to do our work. We've got to do our part to get ready for it."
While the defense was pitching a shutout, junior Ryan Walsh was powering the offense, gaining 201 yards on 25 carries and two touchdowns. Walsh's 74-yard sprint with 1 minute, 25 seconds left in the game was the exclamation point.
"Credit the offensive line," Walsh said. "They were moving bodies, and they were making lanes. The field was a little bit slippery, a little bit muddy so I had to get my footing. Those guys really are the reason that we got to move the ball they way we did."
Robert Stanley added 39 yards rushing and a touchdown, while all-everything back Nicholas Flesher ran for 31 yards, one touchdown and caught six balls for 49 yards.
"We really dictated the game up front," Skinner said. "That was key for us because it gave us a lot of options of what we wanted to do."
It was Flesher's first game back since breaking his left collarbone in Week 2. He felt no ill effects from the injury.
"Honestly, in practice I was a little nervous to get hit for the first time," he said. "After that first hit I was like, 'I feel no pain,' so I've just got to go into it."
Skinner said it was tough having a player of his caliber out of the lineup all year.
"To have him back in there is great," he said. "It gives us a lot more options."
Walsh said it feels great to be able to play for a sectional championship, which would be Andrean's first since 2014.
"We're going to approach it the same way we do every week with 'We can't lose or we're going to go home' mentality," he said.
Boone was denied a chance to play for a sectional championship for the third straight year, but it still accomplished a lot this season, including an undefeated regular season and the Greater South Shore Conference South division title.
"This is the best season Boone Grove has ever had," senior running back Andrew Eriks said. "We broke many school records, and we couldn't have done it without Jake (Mayersky), Brae'ton (Vann) and the rest of the other 15 seniors. It's been a great season."
Andrean held Boone to just 101 total yards of offense. Boone couldn't open up enough holes to run the football consistently.
"We prepared all week for Andrean, but it wasn't enough," Eriks said. "They were definitely the better team (Friday) night."