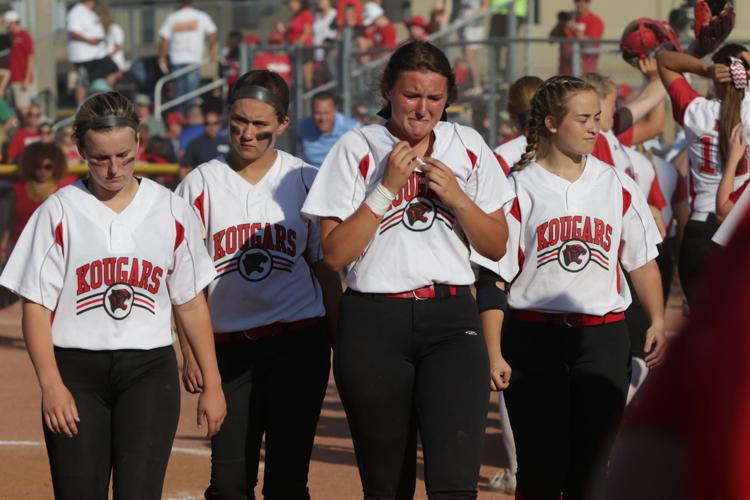 INDIANAPOLIS — It's been around since the first softball game was ever played.
It's not a theory. It's a fact. In stone.
Nothing changes the momentum of a game faster than some defensive miscues. It opens a door for the other team's offense that is very difficult to slam shut.
And top-ranked New Palestine is no ordinary team.
Kankakee Valley tied Saturday's Class 3A state championship game in the bottom of the third inning. Emma Maple's double into left field at Ben Davis High school plated Lindsey Stokes, who was hit by a pitch, and Maddie Swart, who singled.
It was 2-2 heading into the top of the fourth with the large throng of Kougars fans making new noise.
The Dragon's Michaela Jones hit a bloop single to short right. Mary Crumlin hit a grounder to K.V. second baseman Lindsey Stokes and the ball scooted under her glove. Emma Tucher bunted and Maple's low throw went into right field.
Later in the inning, Ashley Prange launched a three-run homer to left. Prange's 21st homer, her 67 RBIs and the team's 57 total home runs are all state records.
In its 13-6 win, New Palestine (31-2) scored eight runs in the fourth.
"That was the game," K.V. coach Brian Flynn said. "Our defense has been so good all season and we made some mistakes against a very good hitting team. (Maple) lost her confidence a little bit and we have to play behind her better."
Maple had only allowed one earned run in five postseason games for the Kougars (22-9). The standout junior allowed 17 hits and six earned runs.
Crumlin hit two doubles, while Emily O'Connor and Michaela Jones also doubled.
Keep reading for FREE!
Enjoy more articles by signing up or logging in. No credit card required.
"They had a very good lineup," Maple said.
Symbolic of the day, Maple started limping around the circle the final four innings. A sharp pain in her knee had bothered her for much of the final third of the season. Maple didn't throw a pitch during practice this week, trying to save it all for her second state final game in two seasons.
K.V. lost to 2-1 to Lebanon last June.
"I liked how we fought back," Maple said. "We didn't quit. They got a big lead on us (11-2) but we kept fighting. I am very proud of that."
The Kougars scored two in the fifth inning. Maddie Swart had a one-out single. She scored on an error and Kaylee Barrett scored on Ashley Fisher's double.
"We finally got our bats going, it was just a little late," Flynn said.
The Kougars scored two in the sixth when Lindsey Stokes singled and Swart's double brought her home, then K.V.'s catcher scored on two New Pal errors on her hit.
K.V. had four errors and the Dragons had three.
"They're a good team, you have to give them credit," Swart said. "They had that big inning and we shouldn't have let that happen. But we kept fighting. We kept having good at-bats.
"To make it to state two years in a row is pretty special. We hear we're going to be (Class) 4A next year. It'll be a little tougher but we can do it."
Swart went 3-for-4 and scored three runs. Stokes was 1-for-3 and scored twice. But the biggest story was the play of Mia Adams, who went 4-for-4, even though she'd been diagnosed with a torn ACL earlier in the week.
"I'm so proud of these girls," Flynn said. "You can't fault our heart or fight. They didn't quit, even after that tough inning. The girls have a lot of fight."