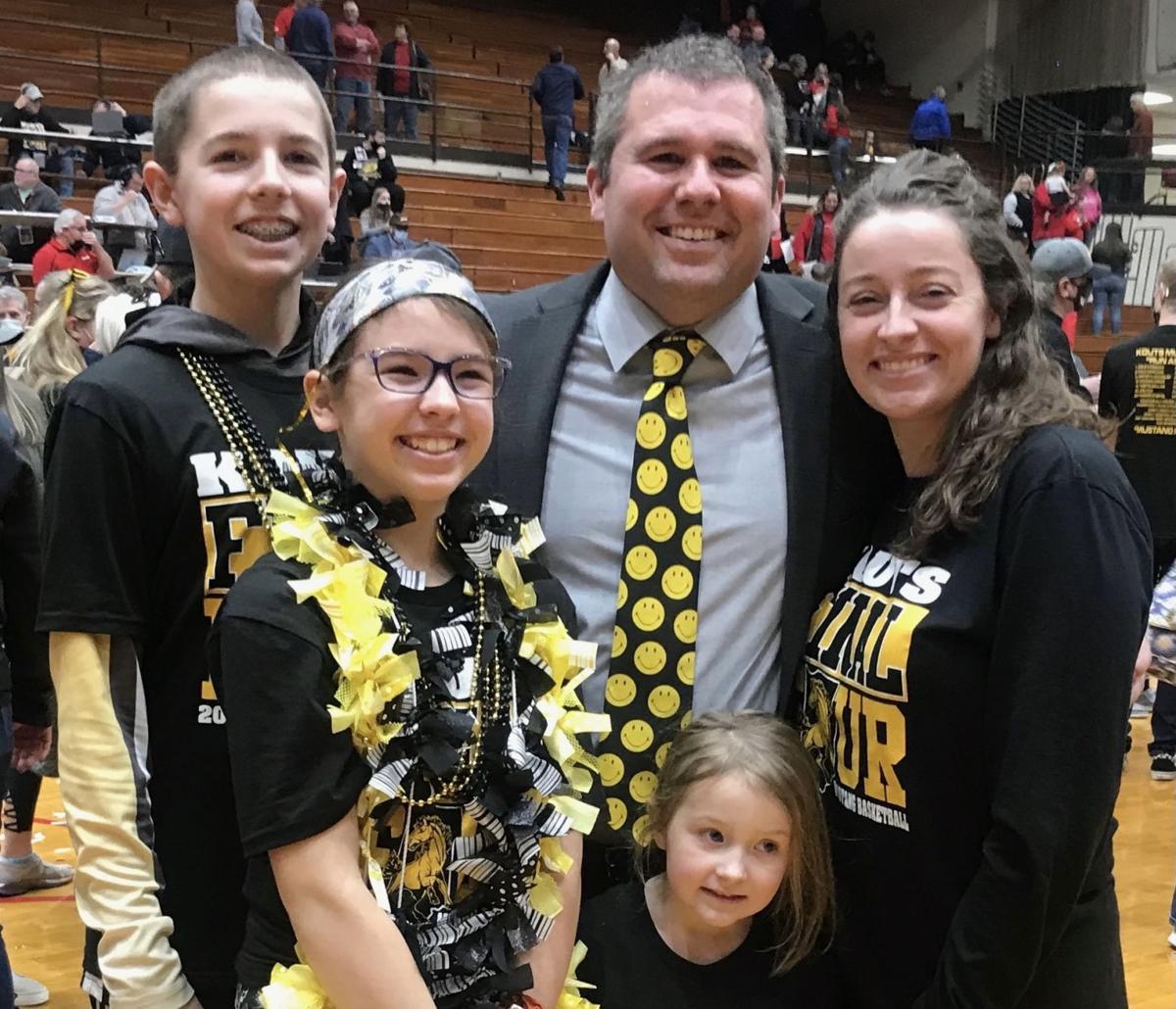 KOUTS — There are a lot of excited families in Kouts. Families who have waited for this moment, for the Mustangs to go on a run, for the Mustangs to break through.
For the Mustangs to play in a state championship.
The Overholts are one of those families, and on Saturday morning they will finally see it happen. Kouts will appear in its first state final in program history, taking on Barr-Reeve in the Class A title game at Bankers Life Fieldhouse in Indianapolis at 9 a.m. Region time.
Jeff Overholt is the Mustangs' varsity assistant coach, working under coach Kevin Duzan. Overholt's wife, Andrea, is the Porter County Conference secretary. Both are Kouts lifers and former athletes, graduating from the high school in 1995 and 2001, respectively.
"This is what we've wanted to do since the very beginning," said Andrea, who's been the PCC secretary for eight years. "To live here, to raise our kids here and to be involved with this community."
The couple, who have been married since 2003, have no plans on leaving their hometown.
For generations Kouts has always been more than enough for their family and their loved ones who came before them.
"My grandparents came over (from Illinois) in the early 1900s and bought the property we live on," Jeff said. "My grandpa was a farmer, and I always knew that I wanted to be a farmer, too. We basically still live in the original house. It's just that my grandpa added a bunch on to it, but it's still pretty neat. When we talk about legacy and the heritage of basketball here, it's the same way I view farming. I just try to teach my kids that the legacy we leave is important.
"It means a lot to be a part of this team and especially this town."
Jeff has been a full-time farmer, overseeing 1,700 acres of corn and soybeans in Kouts, for over 20 years, and he's been on the Mustangs coaching staff for 19 seasons.
But long before his autumns were filled with harvesting and his winters were filled with practices and games, Jeff was another wide-eyed, starstruck kid.
He remembers "falling in love with basketball" as he watched the Kouts boys basketball team capture the PCC Tournament title in 1985. In 1987, when Jeff was in fourth grade, the Mustangs won their first sectional title.
"I just knew then that all I ever wanted was to be a Kouts varsity basketball player. I really looked up to those guys, and Craig was one that I idolized," Jeff said. "Eventually, I was able to be a part of a sectional championship in '95, which was a huge deal for me. ... And that's the great part about Kouts. I tell these guys all of the time, 'You have no idea how much you mean to these younger kids.'"
One of those "younger kids" Jeff is referring to is his son, Jesse. The 13-year-old is one of the team's biggest fans, and Andrea said from his perspective it's not enough for the Mustangs to be known as great players.
He wants them to be known as great people.
"My son actually does really funny interviews with them, and he posts them on YouTube so that people can get to know them better than just watching them on the court," Andrea said. "He always tells me, 'These guys are so cool and so much fun,' and he just needs everyone to know that.
"It just feels like we're all a family, and I think that's why we all truly want these boys to excel."
So far, they've done just that.
The Mustangs are 29-2 and one win away from fulfilling Jeff's "lifelong dream" of being crowned the state's best. It's been a dream for Andrea, a former junior varsity girls coach, as well and countless others in their close-knit town.
No one has to tell the players how much a state championship would mean to their community.
But, if they needed one more reminder, one more vote of confidence, Jeff used his farming skills to make sure they could see just how much they're loved and supported.
"I took out one of our tillage tools and just went out to one of our fields and starting drawing," Jeff said. "I didn't know how it was going to turn out because you can't exactly see what you're doing and can only go one letter at a time, but it actually turned out pretty good."
What exactly did Jeff carve into one of his family's crop fields last week?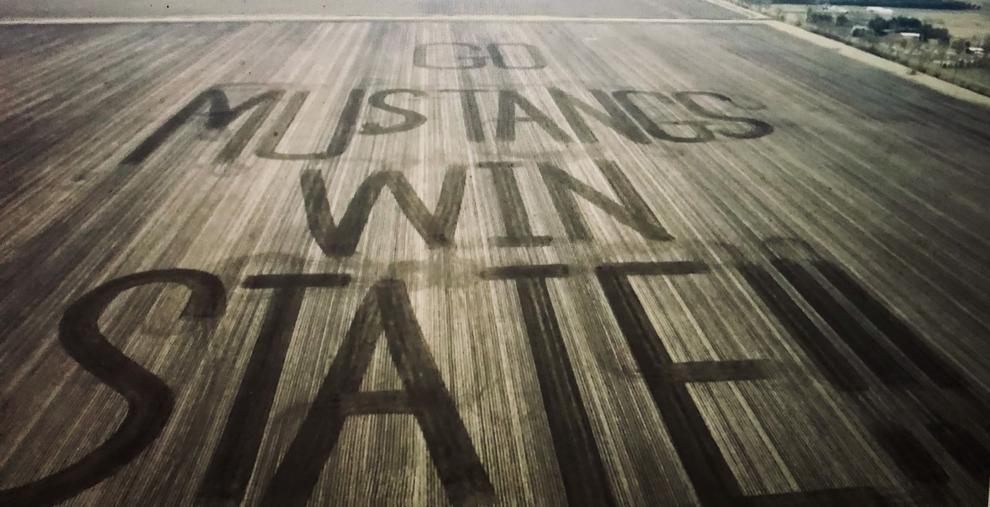 Four words equating to one message.
One message the whole town, including the Overholts, believes is possible.
Meet Kouts' 2020-21 state-bound boys basketball team