ST. JOHN — Things are a little different this time for LaTreasure Johnson.
The Lake Central sophomore admits she was a bit overwhelmed at the state track meet last year. But she overcame the freshman jitters to finish ninth in the long jump.
"I was so nervous, but this year I know the setup. I know how everything's going to go so I'm not as nervous," Johnson said. "I'm nervous for the competition but the setup, not too much. I know how it's going to be."
This year, Johnson is seeded second at state behind Warren Central senior Prommyse Hoosier. Johnson's seed jump is 18 feet, 3.5 inches. Hoosier's is 18-6. But Johnson's personal best is 19-4.
The state meet is scheduled for Saturday in Bloomington. Johnson is the only underclassman among the top eight seeds.
"I always ask the girls (before state) if they're nervous and if they say, 'Yes,' I say, 'Good. That means you care,'" Lake Central coach Ron Fredrick said.
Johnson's confidence grew over the course of her freshman season as the wins piled up. She won the Duneland Athletic Conference title, then the sectional crown and eventually advanced to state to medal.
"That's when I was like 'Wow, I'm actually good,'" she said. "In middle school, I didn't have as much confidence. I wasn't as good as I thought everyone else was. It was just constantly winning and winning big meets in high school against seniors and upperclassmen. It finally hit."
Another boost came with a technical adjustment Johnson made at the beginning of the season. She added the hitch kick to her repertoire. It's a technique that can add height — and thus length — to a jump by moving in a way that almost looks like running in the air.
An offseason's worth of weekly 5 a.m. workouts resulted in a consistent 8 to 10 extra inches to Johnson's jumps.
"Anything that'll make me better, I'm down to try," Johnson said.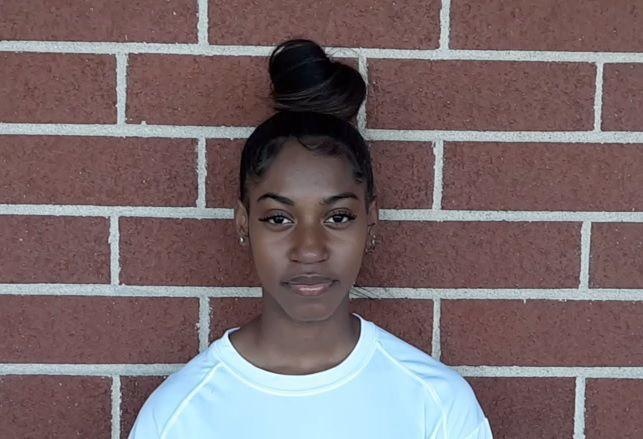 Johnson will also compete at state with the Indians' 4x100-meter relay team, which is seeded 20th. Fredrick said she's always had a team-first attitude, which can be rare with a specialty athlete like a long jumper. She's run sprints and relays to help the team even though it wasn't her strength.
"She's still got room to grow, but I think she's there right now," Fredrick said. "I don't see why, if she continues to improve and she stays healthy, if all things work out, I don't see why repeatedly going down to state and competing for one or two state championships is beyond what she's capable of doing."
Johnson's aim for Saturday is over 19 feet, she said. Fredrick wants to see her consistently jump six times in the mid 18-foot range. She had six jumps between 18-2 and 18-8 on Wednesday night, Fredrick said.
"If I don't compete to my capability I get down," Johnson said. "I want to stay at my seeding. My pressure is to just jump to my full potential. I just want to get a ring. One or two is my goal."