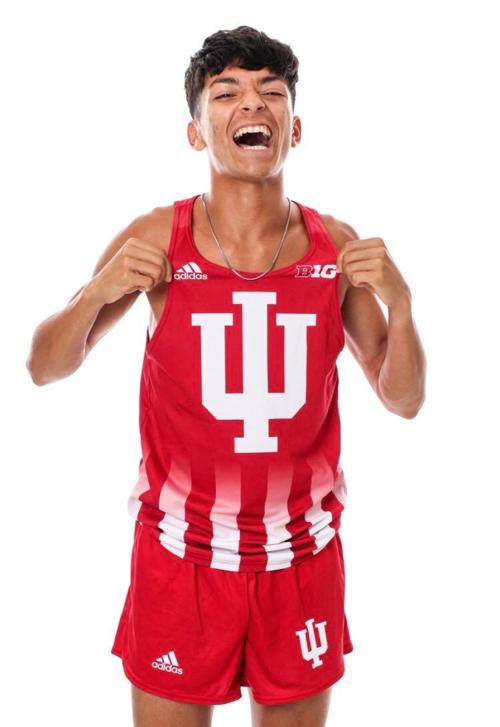 Gabriel Sanchez has been running for a long time.
Although he didn't start taking the sport seriously until his sophomore year at Lowell, his mom remembers that even as a kid there was hardly anything that could slow him down.
"He's always been like that," Sencia Sanchez said. "When he was little, he couldn't go to sleep. So what I would do is make him run. I would be like, 'You have to run up and down the hallway,' just to expend some of his energy."
Those days have been over for quite some time, yet Sencia Sanchez still laughs when she thinks about the creative methods she used to get her son to close his eyes. Neither one of them knew that years later he would emerge as one of the top runners in the Region and the state and earn a scholarship to Indiana.
But after hundreds of hours and thousands of miles of training — Gabriel Sanchez has done both.
Sencia Sanchez said her son hasn't let his rise to local stardom swell up his ego. His focus usually remains on the next race and possibly the next win. However, Saturday presented a rare opportunity for Gabriel Sanchez to make an exception and relish in all of his hard work.
"I was going to announce my commitment last Wednesday, but then another girl (Maddie Russin) from Crown Point announced hers, and I was like, 'Nah, I'm not going to do it the same day she did it,'" said Gabriel Sanchez, who ultimately chose Indiana over Purdue. "And then I was like, 'You know what? I'm just going to wait until the weekend at conference. Hopefully take a 'W', make a post and have the weekend be about my commitment.'"
With a plan in place, the standout senior led the Red Devils to their fifth consecutive Northwest Crossroads Conference title and did so in historic fashion. He edged out Highland junior Lucas Guerra by one second to claim the individual championship in a time of 15 minutes, 32 seconds — breaking his own course record at Lowell from last season.
Hours after claiming his first-place hardware, Gabriel Sanchez capped of his memorable performance by announcing his verbal commitment to the Hoosiers on Twitter. Lowell boys cross country and boys track and field coach Jake Rakoczy believes Gabriel Sanchez's milestone accomplishment couldn't have happened to a more humble prep athlete.
"He is very inclusive, when he could use his status as a way to not be a part of the group," Rakoczy said. "There's plenty of days when maybe his mileage calls for more running, and he'll be like, 'Hey, is there any way we can work this so I can do some of my run with the guys?'"
Gabriel Sanchez has made a conscious effort to remain grounded because he knows he wouldn't be where he is without the support he's received from his school and loved ones. His widespread gratitude includes his mom, coach and teammates, along with his older sister, Sabrina Sanchez, and former Lowell star and current Purdue runner Alec Fleming.
A couple years ago, Fleming befriended Sanchez and convinced him to join the cross country and track programs. And despite being an undergraduate student over 100 miles away at IUPUI, Sabrina Sanchez is still her younger brother's biggest fan and loudest cheerleader.
The Indiana recruit hopes to continue making them and the rest of the Lowell community proud as his senior year goes on.
"A state title would be nice," said Gabriel Sanchez, who was the runner-up last fall at the cross country state meet and runner-up in the 800 meters during the track state finals in the spring. "My coach has never had a state champion, so I want be the first one."
Be the first to know
Get local news delivered to your inbox!