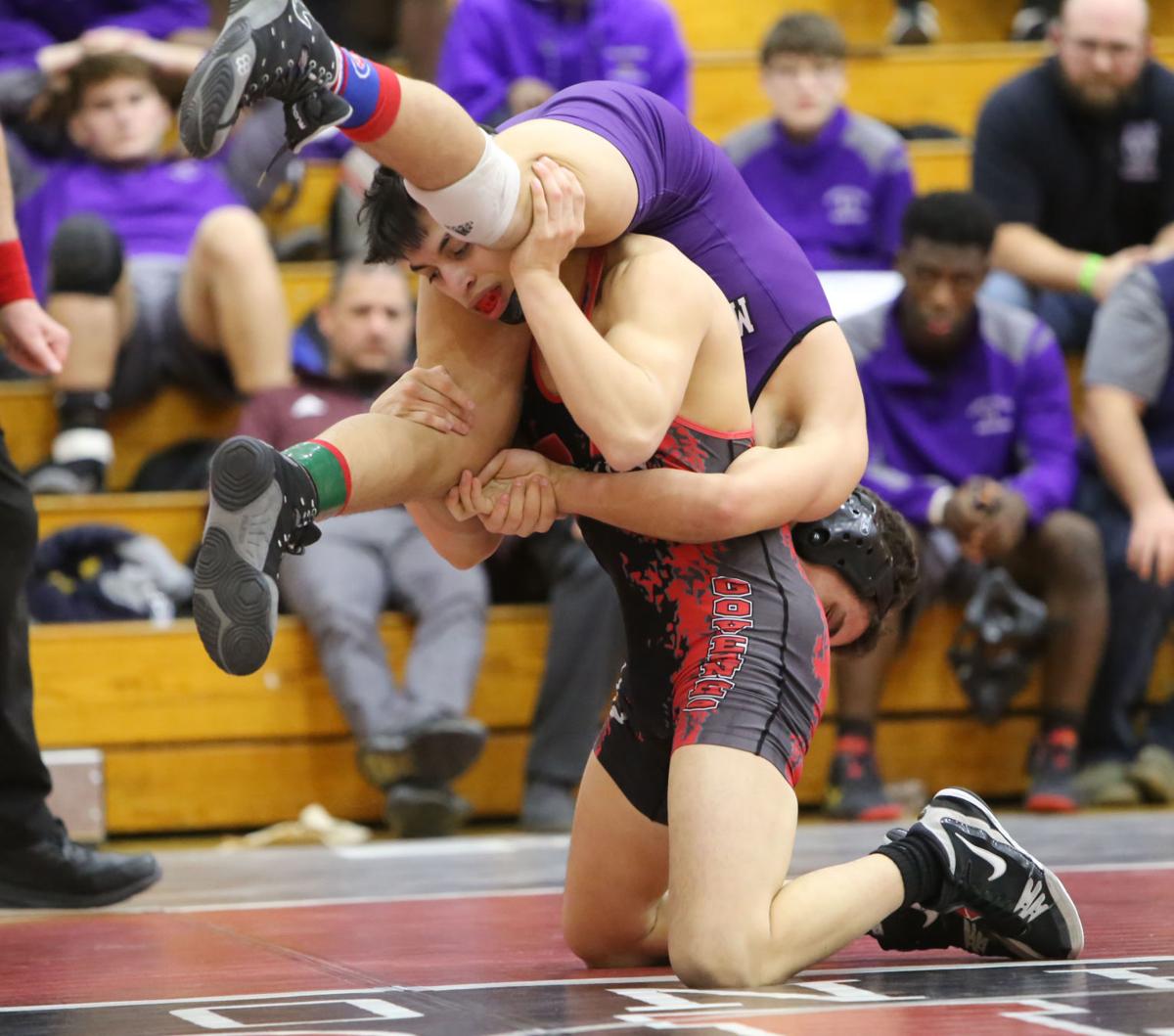 EAST CHICAGO — Reese Rodriguez is making up for lost time.
Morton's senior 132 pounder is headed to state for the second time. It may have been his third if not for an injury suffered during last season's regional championship match.
Wrestling Portage's Alec Luna in the 126-pound final at the Hobart Regional, Rodriguez forgot to wear his mouth piece. Luna went for a cross face and knocked Rodriguez, whose mouth was open, in the teeth. Several teeth were knocked out, held in place only by his braces. The match was called.
The next week, Rodriguez lost 7-2 to Wawasee's Geremia Brooks in the first round at semistate. He was less than 100 percent.
"Last year was not the best year," he said. "I did not want to lose (this year at semistate)."
Brooks, ranked No. 4 in the state this season, beat Rodriguez again in the E.C. Central Semistate final Saturday, 12-6. But Rodriguez ended the seasons of Lowell's Andres Moreno, South Bend Washington's Todd Hardy and Rensselaer's Elijah Hickman to get to that match.
He admits he was wrestling with a chip on his shoulder. Failing to qualify for state as a junior hurt his reputation, he believes.
"Nobody has access to Reese's button but Reese," coach Kevin Persley said. "It's days like (semistate), you can watch him press it and zone. I love to watch that out of him."
Rodriguez was up until 1 a.m. the night before semistate thinking about how he could find a way back to state with Moreno, 25-1 and ranked No. 6, in the way.
"Everyone kept telling me that (Moreno) was going to be hard. He was going to keep going, keep going. So, that's what I had in my head, to keep going for three periods," Rodriguez said. "Some people had confidence in me. (My brother) Rickie did. My parents and coaches. But some people didn't."
Rodriguez is the third member of his family to come through Morton's program. Older brothers Ruben and Rickie both qualified for state but neither made the podium. Ruben punched his ticket in 2014 and Rickie in 2015.
"I want to place this year. It's my last year ever," Rodriguez said. "I could hold that over (my brothers)."
Indianapolis Cathedral's Logan Bailey finished the regular season ranked No. 5 in the state at 132 pounds. He beat Rodriguez 7-2 during the preseason, Persley said. Bailey lost in the quarterfinals of the New Castle Semistate, while Hernandez has advanced to state. The Morton wrestler will meet No. 7 Logan Boe of Plainfield in Friday's opening round.
"Reese practiced for only about three weeks when we went down to wrestle that kid. We weren't practicing every day. If he opens up his offense, I absolutely think it's possible (to medal)," Persley said. "The bigger the prize, the harder he wrestles. The grind of the season isn't his favorite. He doesn't like wrestling that 2-24 kid. He wants to compete with (state-level wrestlers). He doesn't just wrestle to wrestle. He wants something to be on the line."
Something will be on the line Saturday at Bankers Life Fieldhouse.