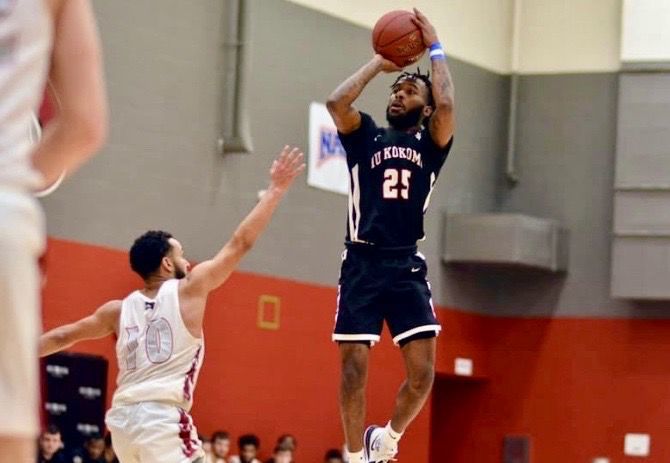 Akil McClain was 12 points away from becoming Indiana University Kokomo's all-time leading scorer in men's basketball.
Twelve points shy of making history.
All he needed was one more game to move into first place and continue the Cougars' dream season, but he never got that chance. The coronavirus pandemic soiled the end of his senior year and abruptly shut the door on his college career.
However, the 2016 Bishop Noll graduate was still able to leave his mark. On May 30, McClain became the first player in IU Kokomo history to sign a professional contract. He has not been assigned to a specific team but will most likely continue playing in either Italy or Germany.
"I didn't even know that I was the first player," McClain said. "My coach told me, and I was definitely surprised. It was just a blessing for me to be able to do that and to be able to put my school out there, as well."
McClain, who barely played at Trine and transferred to IU Kokomo midway through his freshman year, spent three seasons with the Cougars. During that span, he averaged 15.2 points, 4.8 rebounds and 1.5 assists per game. McClain also shot 42.0% from behind the arc and became the fifth player in program history to eclipse 1,000 career points (1,488).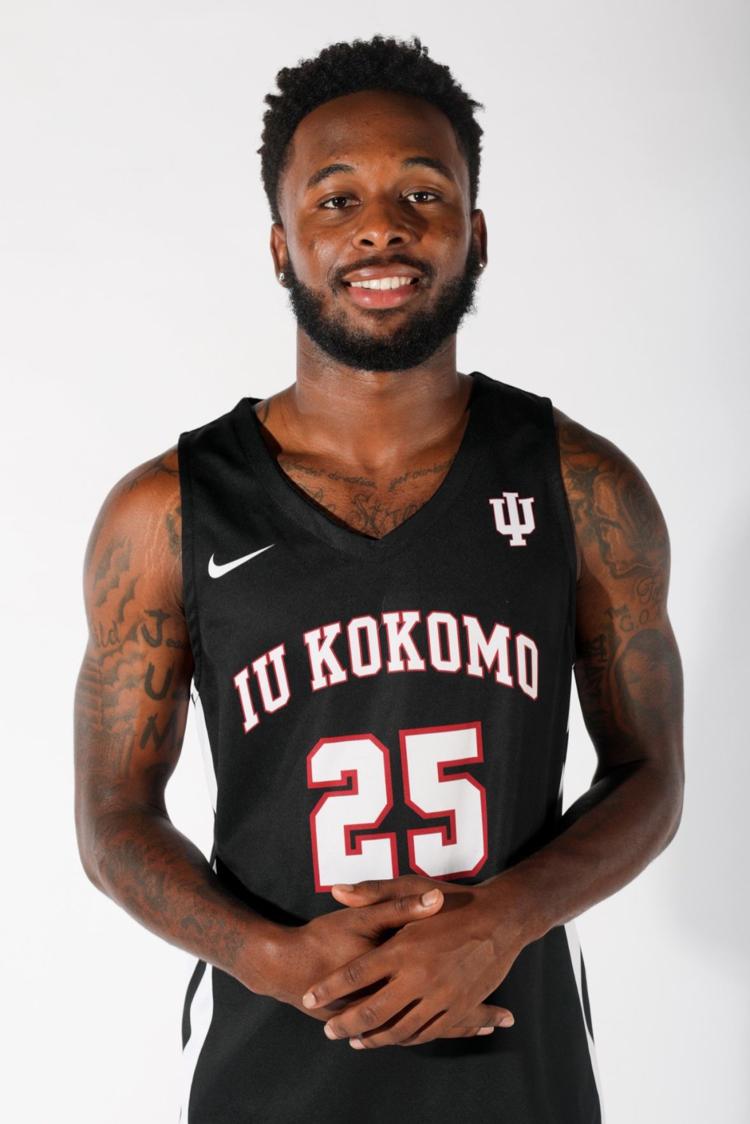 Aside from excelling individually, McClain was clearly a catalyst for the program. IU Kokomo went 10-20 during the 2016-17 campaign, one season before McClain's arrival. Once he got on the court as a sophomore, the team never looked back. He guided the Cougars to their first postseason win in 2017-18, helped them earn their first trip to the NAIA Division II Men's Basketball Championship tournament in 2018-19 and led them back to the tournament with a program-record 27 victories in 2019-20 before the rest of the season was canceled.
"We started to change the face of the program. The last two years we went to the NAIA Division II national tournament and made it to the Sweet Sixteen both years," McClain said. "So, I can say that I've had a huge impact on the team, along with a lot of other guys who played a big part, as well, at IU Kokomo."
Despite the deflating conclusion to a special campaign, Cougars coach Eric Echelbarger is grateful that the COVID-19 outbreak did not ruin McClain's opportunity to fulfill his dream. He believes his former star guard has the talent and determination to succeed on any court in any country.
"He's dedicated his whole life — since he was a young, young man — to wanting to be the best that he can be, and that's what I really appreciate about Akil," Echelbarger said. "He's really set the tone for our program as far as the kind of work ethic we want to instill in our younger players to be able to achieve these kind of goals."
Before he made history at IU Kokomo, McClain's love of basketball started in sixth grade at Clark Middle School. He gives Roman Penn, who is preparing for his junior season at Drake, credit for "inspiring him." Watching Penn on the hardwood made McClain want to take the sport more seriously, and the two of them have been best friends ever since they started playing together as youngsters.
Eventually, they both enrolled at Bishop Noll. But after one year, McClain was forced to transfer to Bowman due to financial issues. He spent his sophomore and junior year with the Eagles — joining them for their Class 3A state runner-up finish in 2013-14 — before eventually returning to Bishop Noll as a senior.
McClain hardly played at Bowman and admitted that he had a tough time with the Eagles, but when he came back to the Warriors, he shined. The resilient guard averaged 13.3 points, 3.4 rebounds and 1.2 assists per game and helped Bishop Noll clinch its third straight Class 2A sectional championship. The highlight of the Warriors' postseason run was a 62-59 upset of Bowman in the sectional semifinals. McClain led the way with a team-high 18 points against his former program.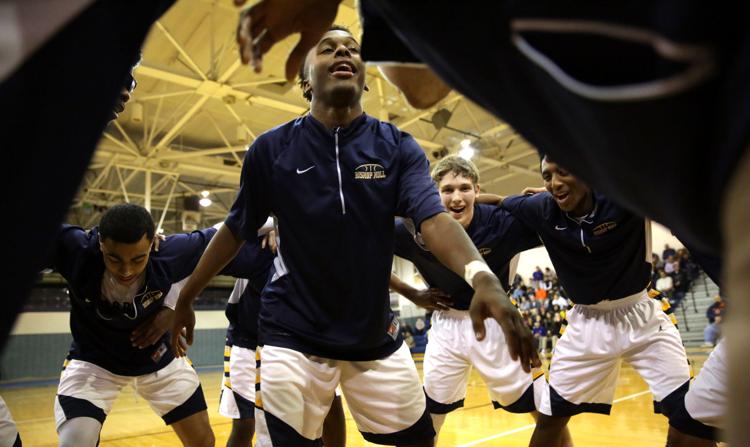 "They were predicted to go to state that year. They had a few D-I players, so just beating them meant a lot because I struggled so much at Bowman," McClain said. "But it all developed me as a player. My sophomore and junior year at Bowman developed me mentally and helped me grow."
Penn said he was thrilled to accompany McClain for his breakout senior season. He added that he always knew McClain had the potential to be a standout player, and he isn't surprised that his former teammate's career has continued to blossom.
"Just knowing that he came from an NAIA school and he's making a dream happen that a lot of people couldn't accomplish even at the Division I level, I'm just overly proud of him," Penn said of McClain's professional contract. "As a brother, it's just exciting to see him live out his dream. It's only the beginning for him."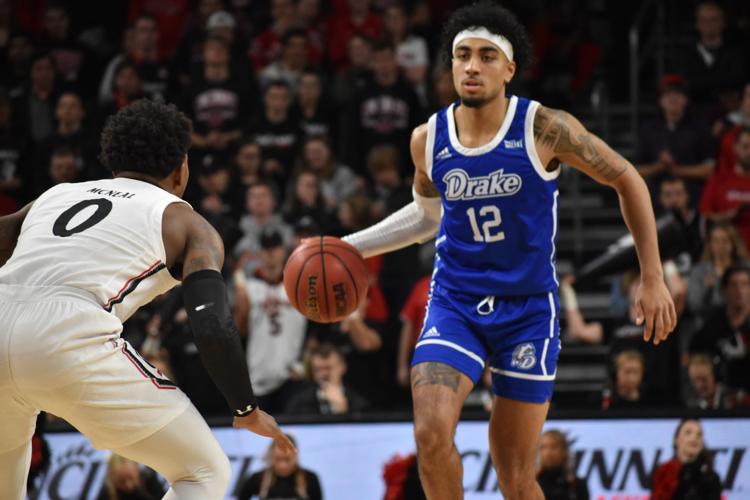 Former Bishop Noll coach Josh Belluomini also thinks McClain is just getting started, especially considering how much he has evolved since leaving high school. During McClain's prep career, Belluomini said he mostly utilized him off the ball as a shooter. Now, it's clear that McClain can run a team's offense.
"These pro teams found him because he's a talented player," Belluomini said. "It didn't matter if he was NAIA or NCAA or D-1 versus D-II. They found him because of how good he is and a lot of that is because of his work ethic."
McClain has been working out and training at the Hammond YMCA as he awaits the next steps of his basketball journey. If all goes as planned, he will head overseas in October to officially begin his professional career.
The 6-foot-1, 180-pound guard anticipates that adapting to a more physical style of play on the court and a new culture off of it will be challenging. However, throughout his career, McClain has always bet on himself and found a way to succeed.
"My message to the kids that may be overlooked is that rankings and statistics don't matter," McClain said. "Only you know the potential you have as a player, and that's all you need."
The Region's All-NCAA tournament team
Be the first to know
Get local news delivered to your inbox!